Greetings, friends!

It took me a while to sort out some of the material accumulated during my summer trips, but here I am with my first extensive post about Barcelona, one of the greatest cities in Europe. This part will be about sculpture. Statues and other artworks on the streets, squares, in parks, and in galleries, on the walls of buildings, etc.

And it is far from all of it. It is what I picked for you today. With more to follow.

I'd like to begin with sharing images of what I knew I would find there. It was little enough. What I knew, I mean, not what I found.




One of the sites I was looking for was the Column of Columbus, also known as the Barcelona Column. Please, forgive me if I make mistakes. I only write what I know, what I think I know and what I remember.

So, I knew there would be a lot of details sculpted upon that column. In quite large a scale.



The way it looks from afar.
By day...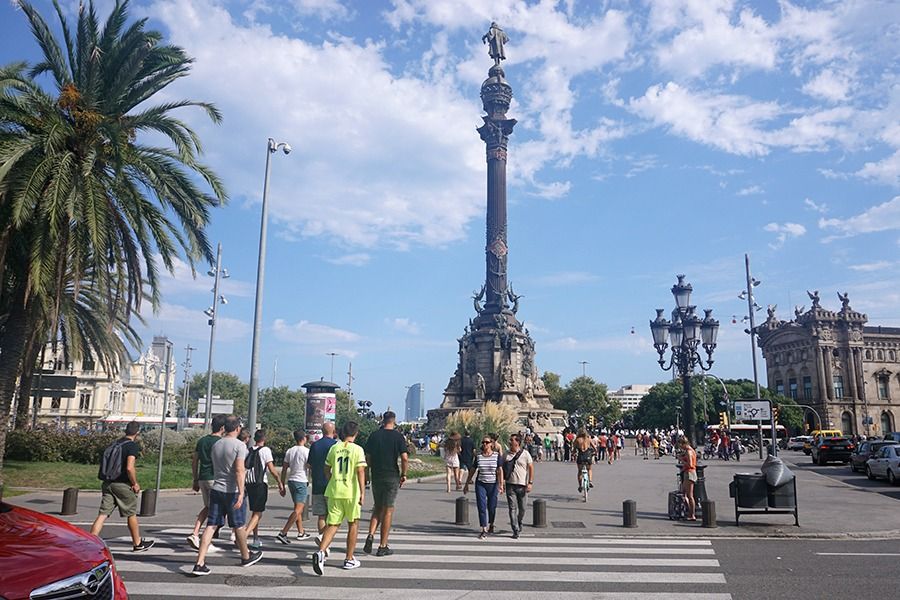 ... and by night.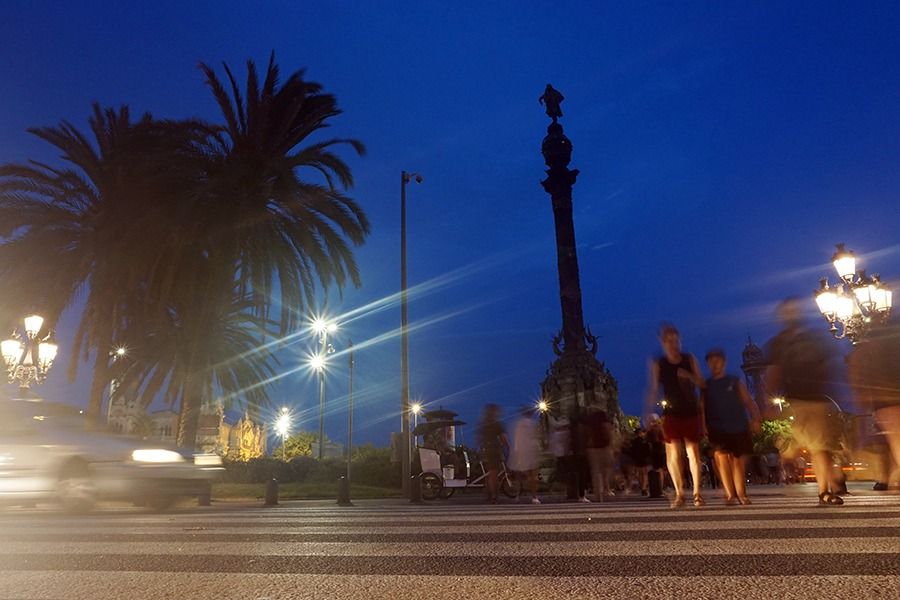 And there are those artists who would dress as sculptures and pose along La Rambla. Here's again, Columbus himself.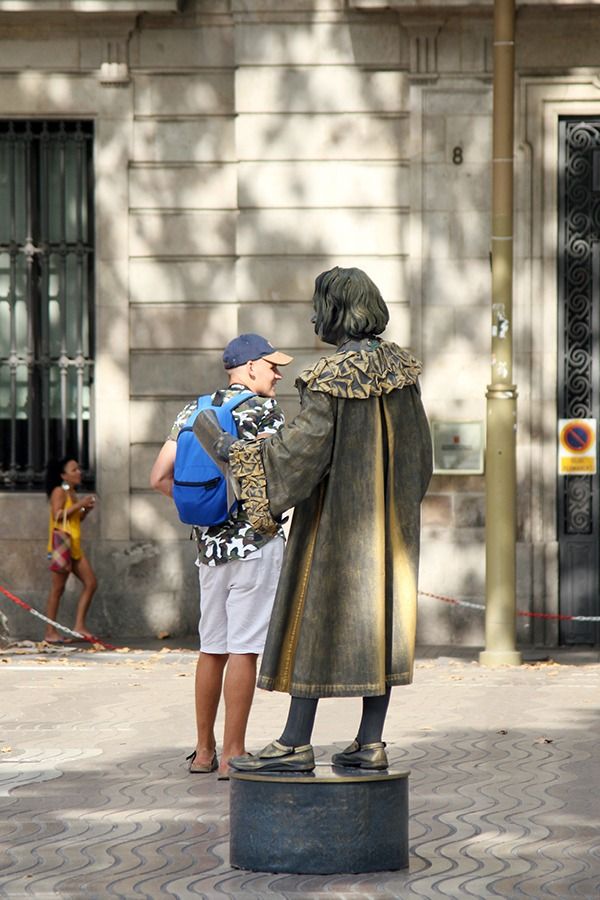 Behind the column are the harbor and the great pedestrian terrace of a street, overlooking the Mediterranean Sea.
Upon that terrace, a happy little huge lobster resides. I've shown this dude in color when I posted a teaser what feels and what is...months ago.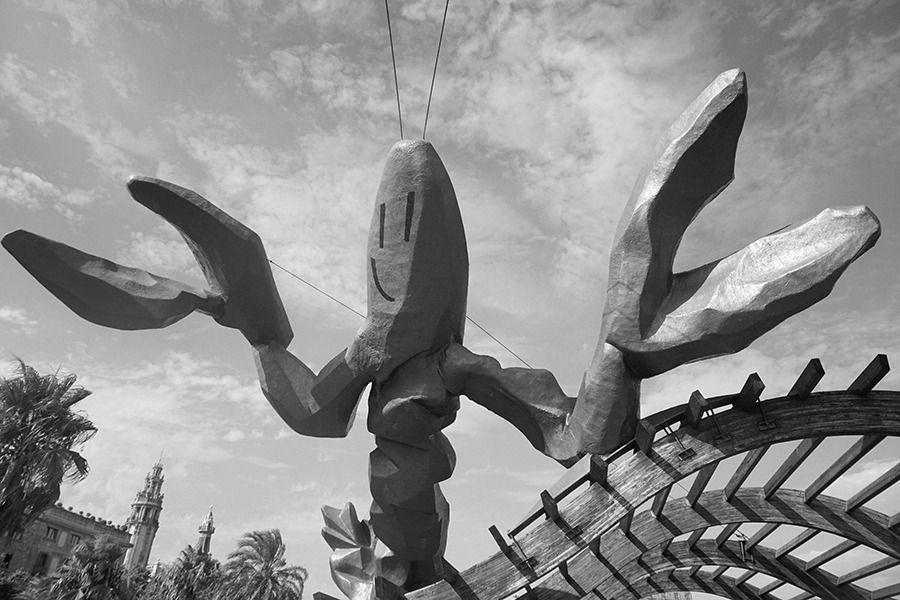 The other known site was, of course, the Sagrada Familia cathedral. Not looking as you might expect from seeing popular pictures of it. Well, a lot of construction is currently going on there. With new and even greater in size sections being added to the old structure.
This is not the place for me to rabble about it, though, I shall just stick to the plan of this post and focus on the detailed relief it has. So many figures and scenes all across the facade!
I love the old section's earthly tones. I remember when I first saw a picture of the building in a History textbook as a schoolboy. It looked to me as if made by wet sand on the beach. Only slightly more ginormous.
Unfortunately, you can't see the cathedral today as it looks on painters' artworks depicting it. I had the chance to talk to one such artist right in the park next to the building. We both agreed some of the new additions spoiled the glory of it.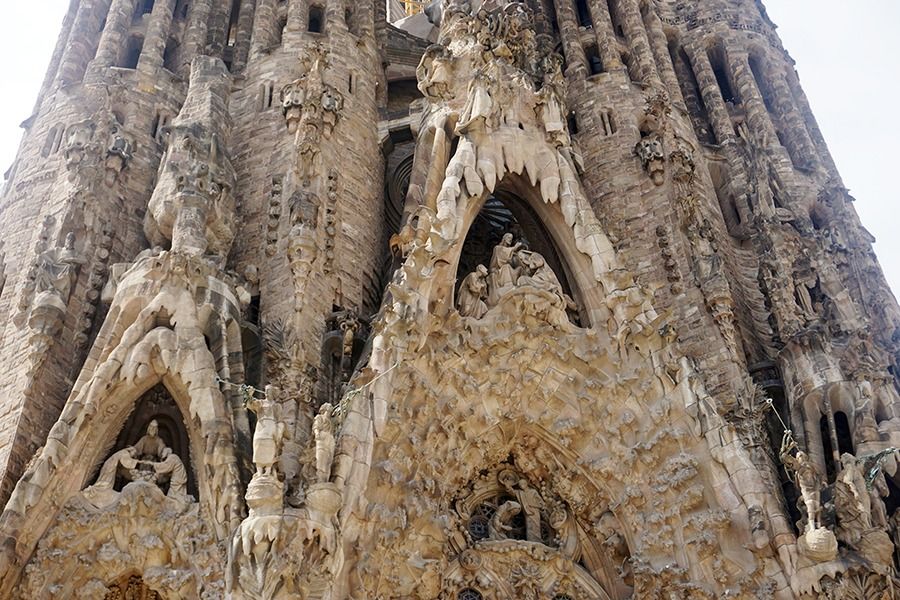 Fine, I'll cut it here and rewind a bit. So, these two sites checked out, let's go back to where I arrived in the city.
I was with my wife, Silviya, known here as @silver.art. We took a subway train from the airport on our way downtown and this is where we came above ground — at the square where the famous La Rambla boulevard starts from and runs towards the seaside.
We had a brief walk before it got dark on our first evening there. A flight would be caught on the next morning. We were going to Tenerife for a week. Our Barcelona crawl would begin when we would stop here for two days on our way back from the island.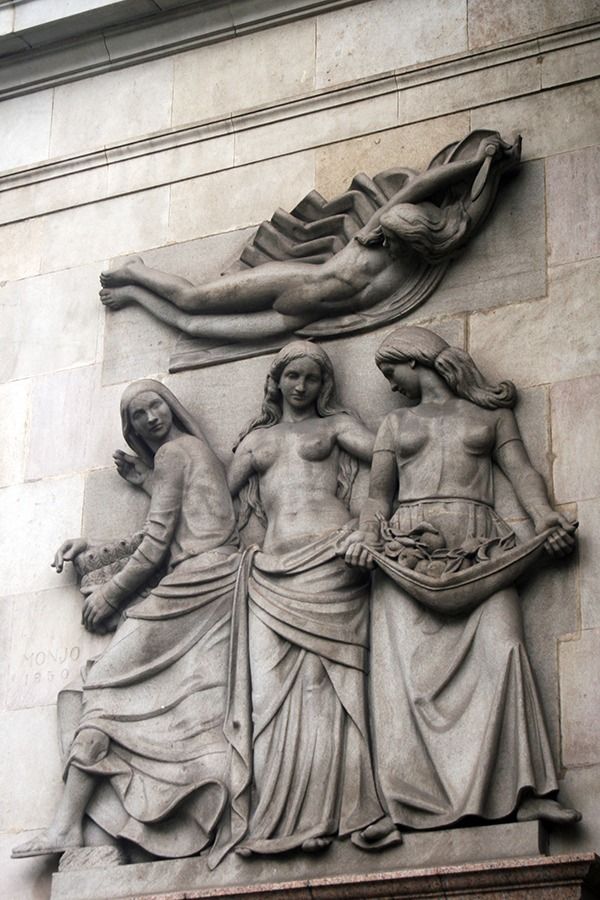 So, the first thing when we got back to Barcelona was to leave our luggage at the hotel somewhere in the Gothic Quarter, grab a map and go visit a few places of interest. Of interest to my artist of a wife, that is. Like the museum of one Joan Miro.
It might sound simple but it turned out that few people knew where that was. We got to a park bearing his name first. And there was this huge modern sculpture of his, reaching the sky as...
...an erect slug trying to drink from a bottomless paper cup of coffee...with horns upon it.
Well, really, that's what I see there.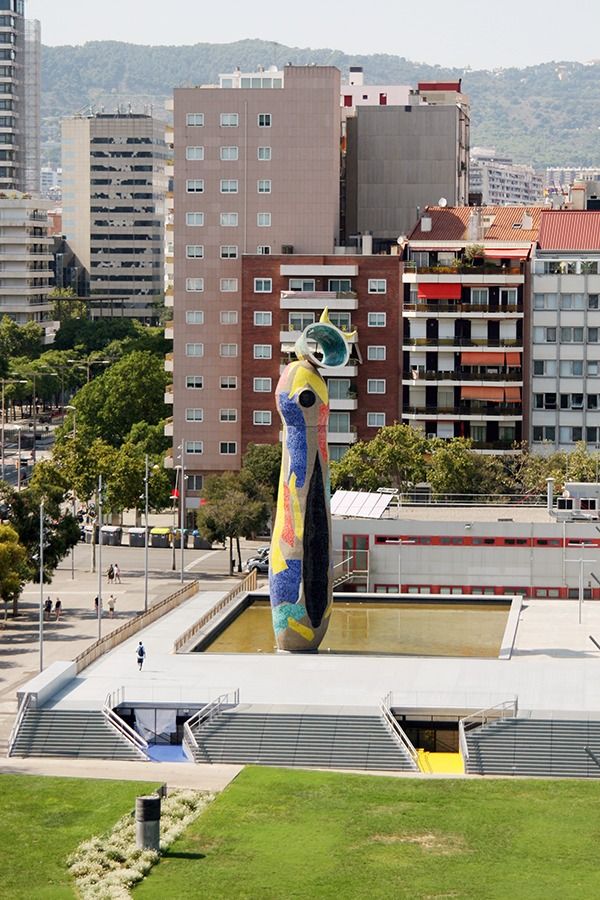 And I see it reflecting in the buildings around.
We took a break and climbed on the last floor of the Arena Mall, taking a look around. It turned out we had to cross the Square of Spain below us with its sculptures in the fountain...
...and go for that hill, the Montjuic, where the Olympic Stadium spire can be seen.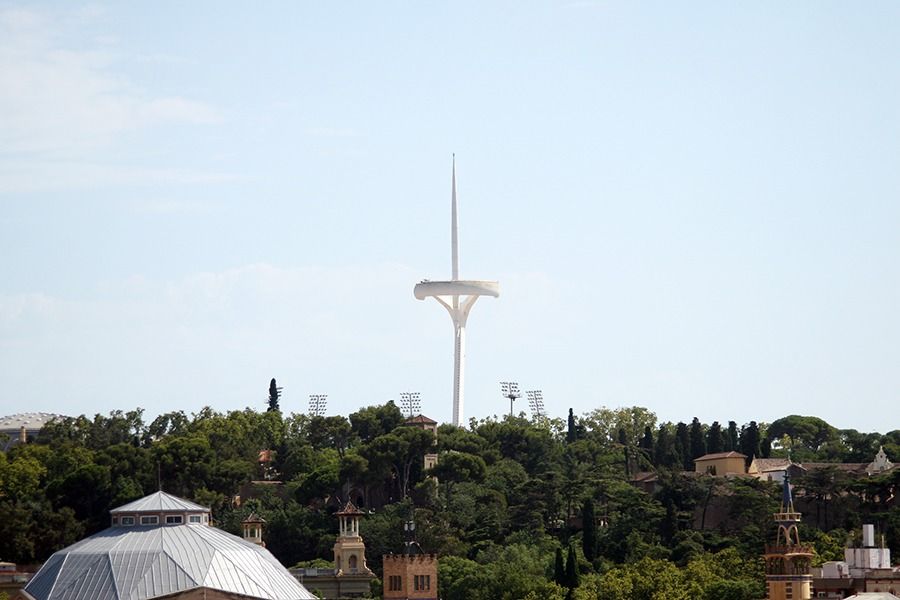 That same hill was also the home to the National Catalan Gallery of Arts...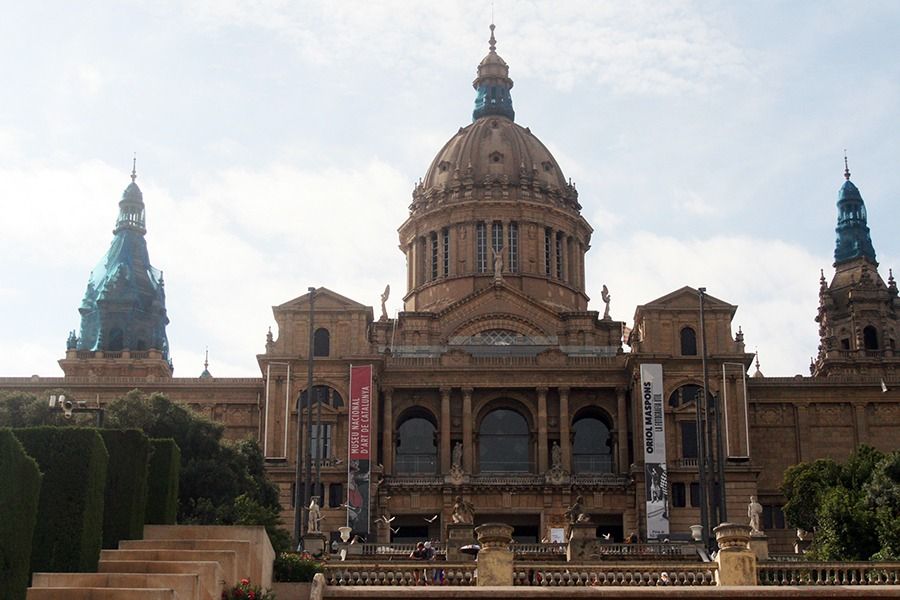 ...In partial reconstruction, of course. All the famous buildings always are. At least when I visit. The climb up the hill was among other sculptures, lining the stairs, hiding in the bushes.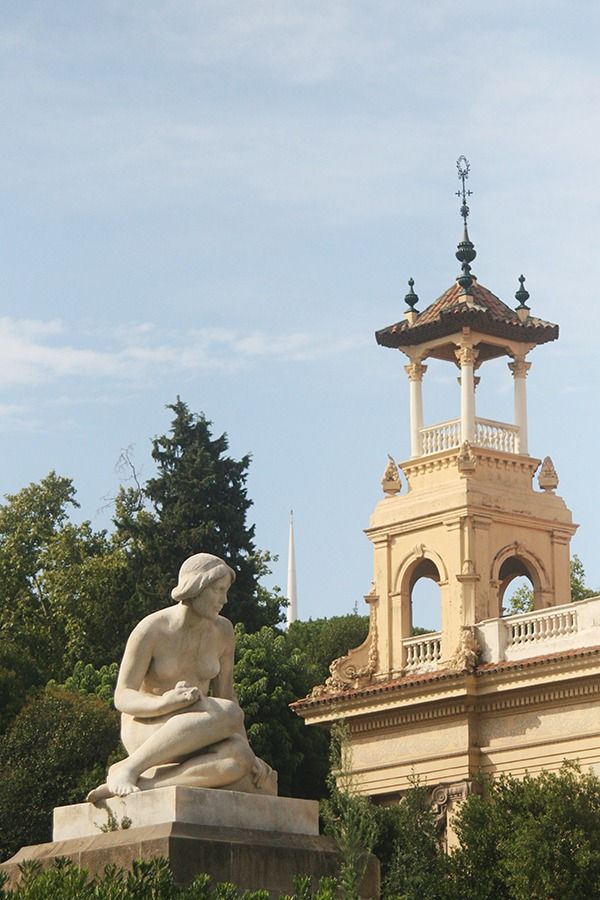 The view back towards the square is grand, all right.
The gallery itself was grand enough as well. Enough to tire you senseless. We had about two hours and a half of relatively brisk walking, as far as you can be brisk in a gallery and still get to see everything.
Out of respect for the collection there, I blurred some of the environment around the sculptures I want to share with you. The truth is, one has to go in there and see for oneself.
Enjoy the sneak peek ;)
Of Rennaisance...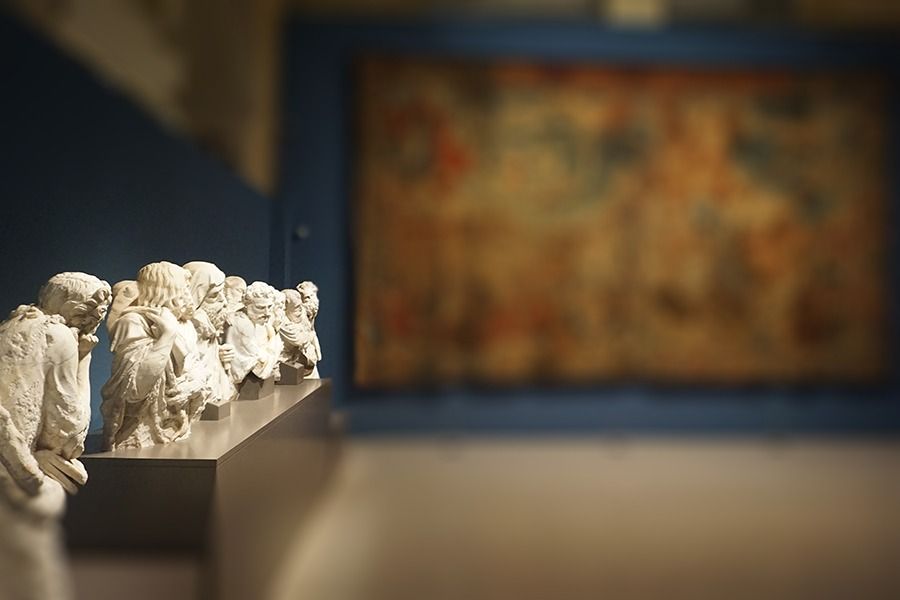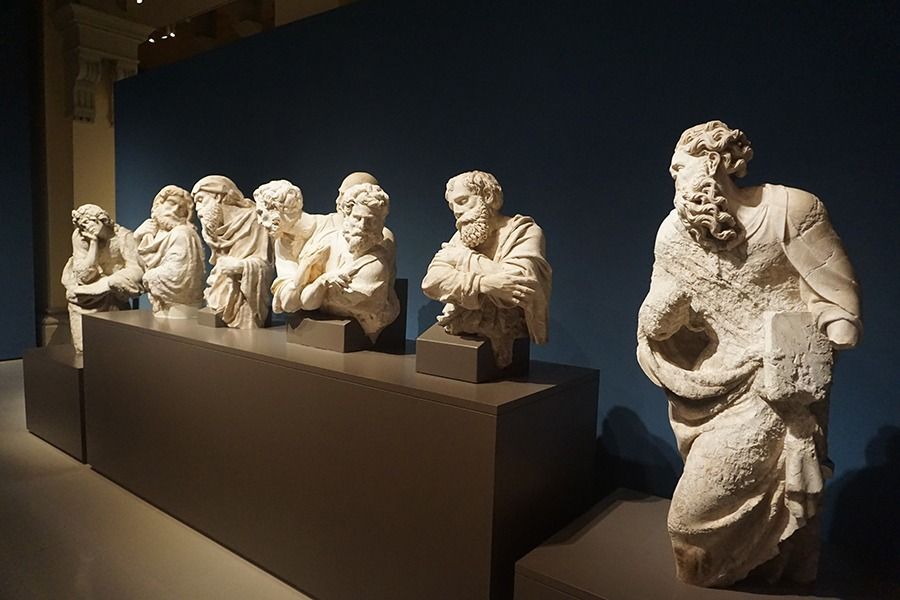 ...Of the Death of Cleopatra which certainly took long enough for somebody to capture it on sculpture...
...Of Romanesque style...
...And Modern style.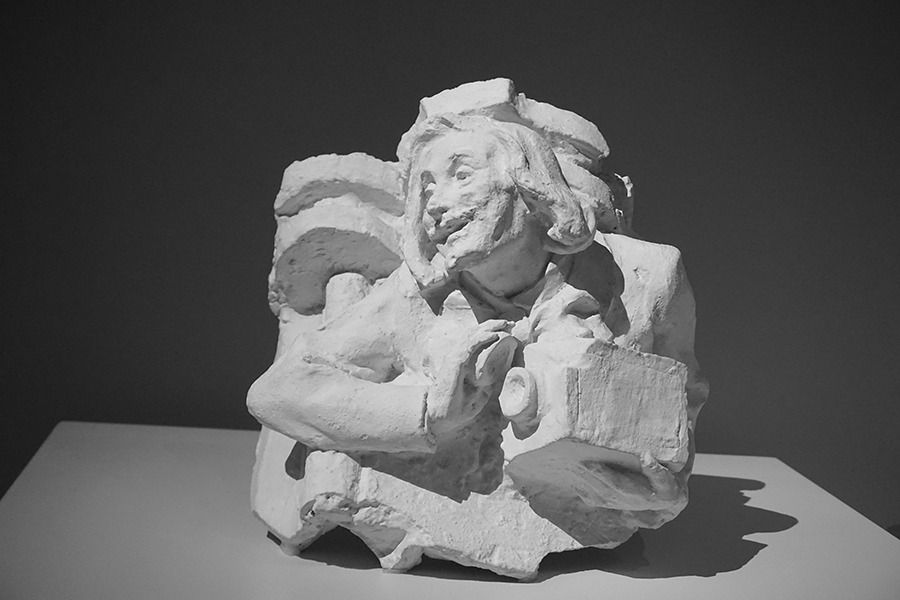 ...And more.
Behind the gallery, the great park continues. An unknown statue made a fine impression upon me because of its weathered look. Weathered states are best captured by Photography. They will later change. Time does that to it all.
Maybe unless you are an alien sculpted by Joan Miro.
Just maybe. It's alien tech, after all, and we know nothing about it. Close to what I know about the sculptures of Barcelona.
Thank you for coming with me! Safe travels and keep on learning about the world!
Yours,
Manol