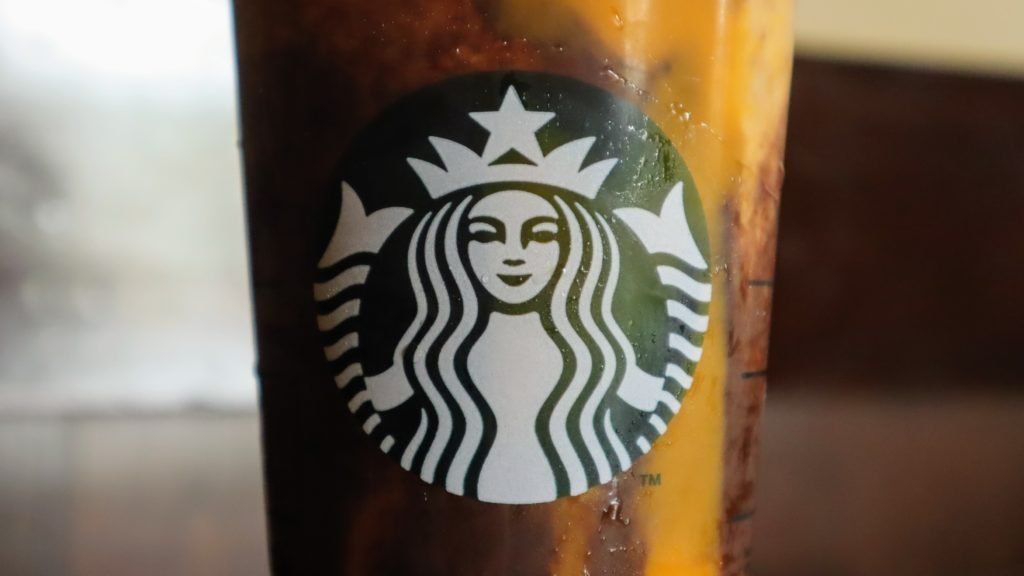 Read "LUCUMA DRINK - Starbucks in Peru 🇵🇪
" on TravelFeed.io for the best experience
---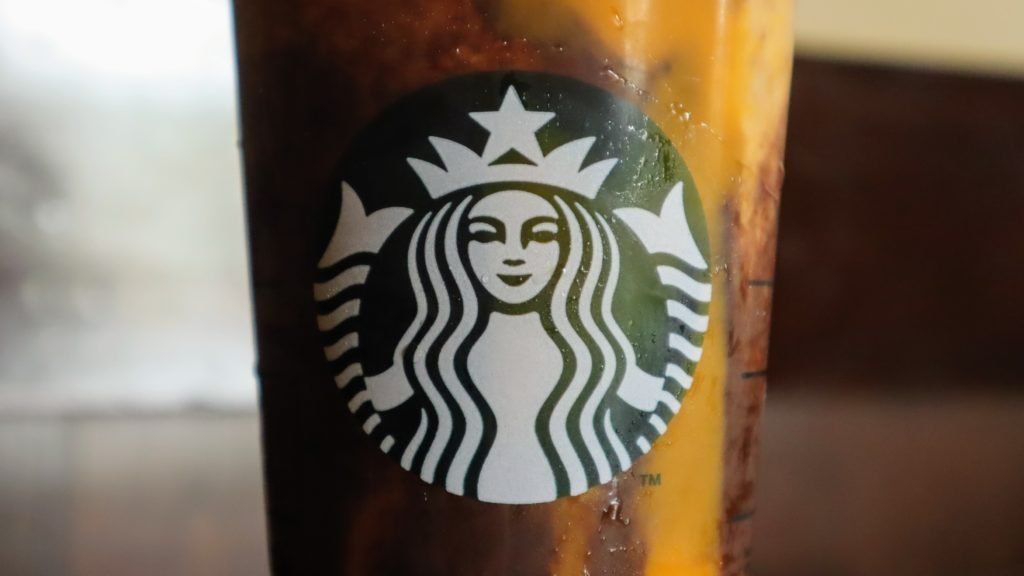 How lame traveling all the way from another continent but end up drinking a franchise coffee company like Starbucks... Wrong! It's not just Starbucks but more like, Starbucks in Peru. It's a bit beyond what you might be thinking right now.
Starbucks
Starbucks is an American coffee company and coffeehouse chain. Starbucks was founded in Seattle, Washington, in 1971. As of early 2019, the company operates over 30,000 locations worldwide.
30,000 locations! That's crazy!
Just like when we visited Japan and Starbucks in Japan offer a Sakura drink. As sweet as sugar and no any other Starbucks in other countries offer it. Also, a cute pink coffee mug that make it so Japanese. I'm sure, they have their own unique drinks, cups, coffee mugs and more in every City tourists go to. Just like this Starbucks in Lima, Peru.
By the way, while writing this blog, I'm having a bottle Pale Ale 6.1% Alc right by a window enjoying a nice garden view from Airbnb I'm staying at. Just so you know, if anything in the post goes so wrong, be sure to not blame me but this small little fancy Peruvian craft beer, Candelaria.
Starbucks in Peru
I honestly enjoy something more local owned or local run. Like, here in Barranco, Peru, I would totally go for Tostaduría Bisetti, one of the oldest coffee shops in town. As classic as it could get. Love it there!
Though, once in a while I also wouldn't mind checking out Starbucks in whatever country I visit if I haven't done so already. As mentioned, they also got some fun gimmicks going on. This Starbucks in Barranca, Peru operated in an original Spanish-colonial building. It looks old-school, classic and no, this Starbucks is not so green but quite yellow-ish. Differently pretty.
On the wall from outside even have a big board talking about Peruvian history just what going on around that area in Barranco. I love learning those small little details and just looking at all the old photos also makes me feel heart-warming.
Inside this Starbucks in Peru, there's no way they don't sell Peruvian coffee beans or Peruvian ground coffee. Comes in a beautiful artistic package. A few styles of coffee mugs telling the stories of 2 famous cities in Peru like Lima and Cusco.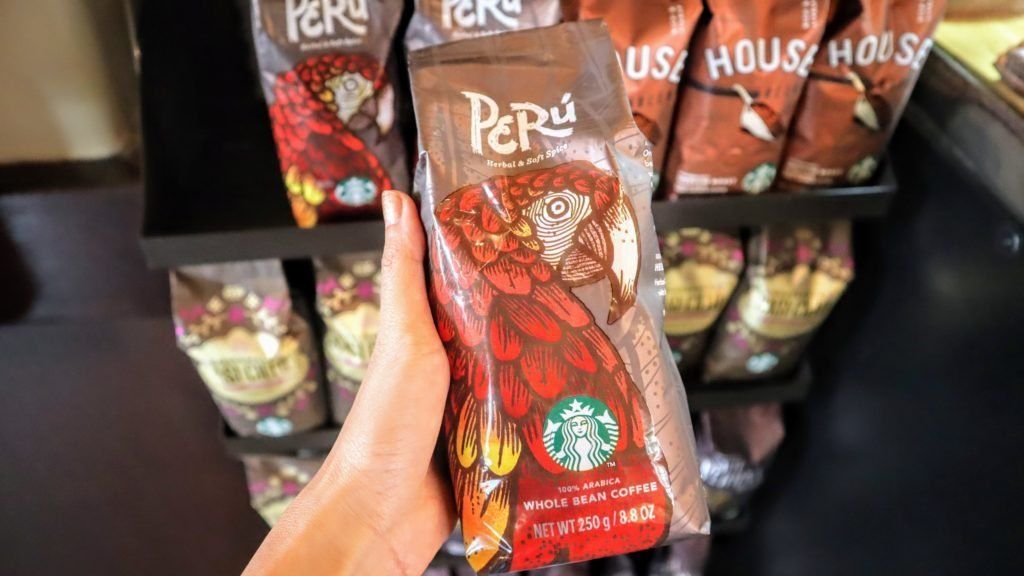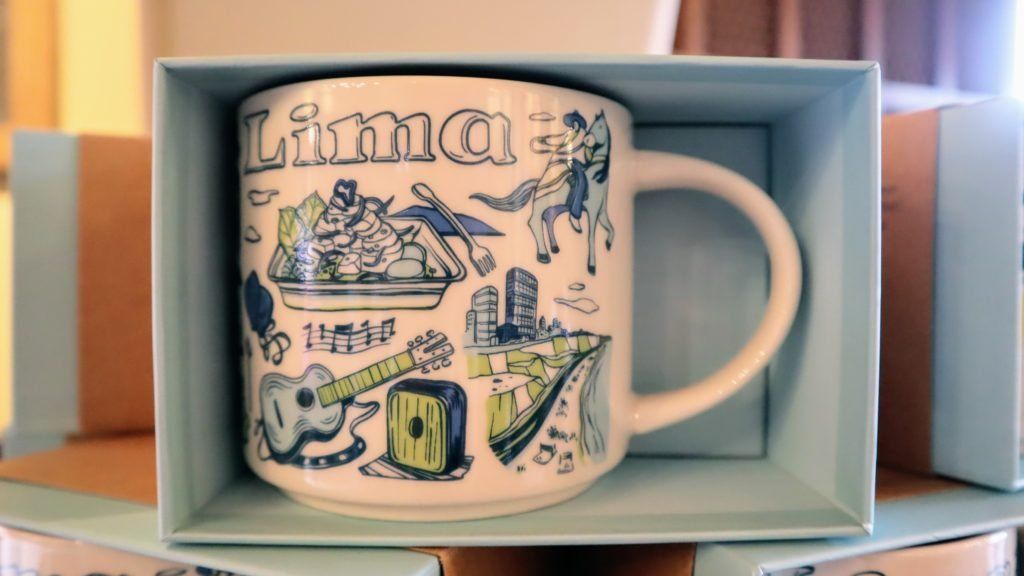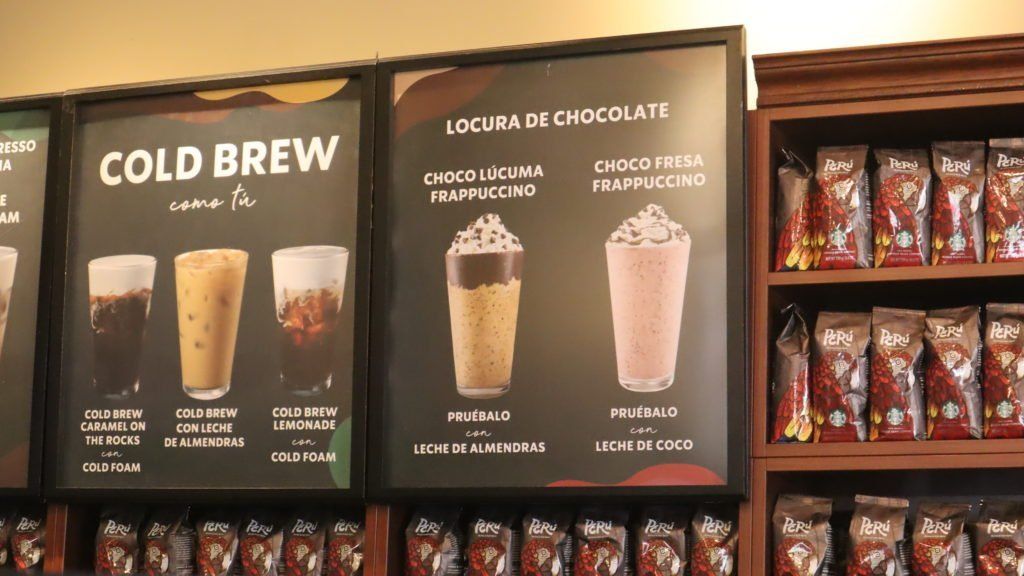 Lucuma drink at Starbucks in Peru!
Well, well, this is actually something we came for. I went in to check out the store the day before just to see if they actually offer some Starbucks in Peru only drinks. I found this Choco Lucuma frappuccino and I was like 'We're coming here again tomorrow!' and here we are! Got just exact same think like I wanted.
Choco Lucuma frappuccino (S/ 17)
I learned about Lucuma just when I arrived in Peru. There's a lucuma ice-cream, lucuma popsicle, lucuma juice and now here we go again, Choco Lucuma frappuccino.
Lucuma is a fruit originated to South America. It has a green peel, an orange inside and a seed that resembles one found in an avocado. They are cousins! though, lucuma is way sweeter just taste almost caramel-like. This Peruvian fruit is high in beta-carotene, iron, fiber, zinc, calcium and protein. Antioxidants promote heart, immune and skin health.
Alright! Now you're getting all excited. Sweet, creamy and full with benefits. Also, related to the king of fruit, avocado we all love. Now let's just dive into the cup of this bright orange Starbucks drink like we've never seen it elsewhere. No, actually I have never seen one like this... The pretty Choco Lucuma frappuccino.
How does Choco Lucuma frappuccino by Starbucks in Peru taste like.
Like mentioned before, lucuma is as sweet as caramel (a little less but you know) of a fruit. Being in a Starbucks drink, it's still as sweet as it is and maybe a little sweeter because of other additive sweetener they put in. Contrast with a bit of the bitterness from the chocolate, I think it's quite delicious though very sweet!
Don't imagine yourself drinking a cup of strong coffee that would wake you up nor a quality cup of pure cocoa. It's more like a dessert in a cup with Starbucks brand that instead would give you a sugar high.
Sure perfect for a sunny day on a beach of Barranco and hey, Barranco beach is actually just 5 minutes walk from this Starbucks! Lovely!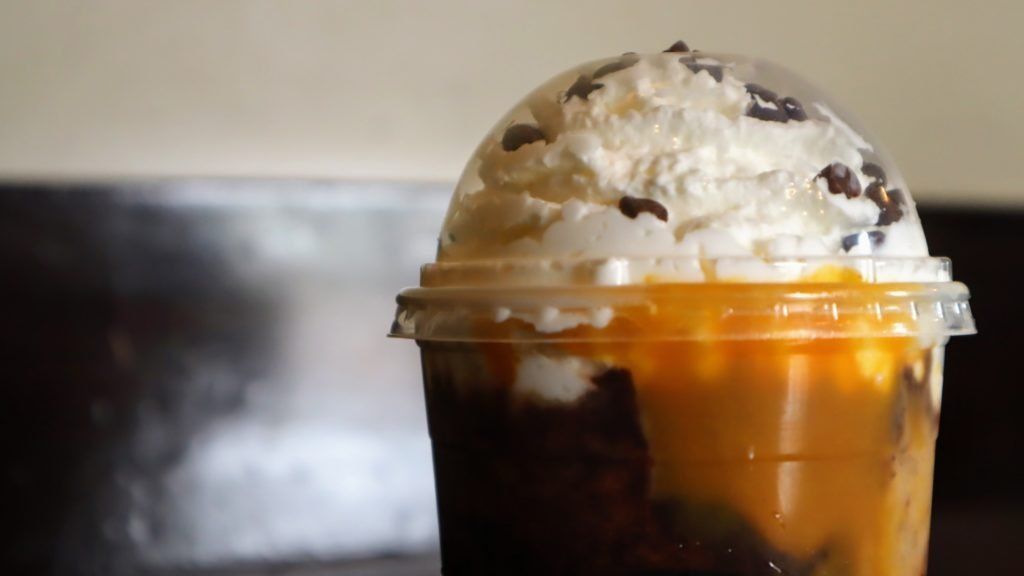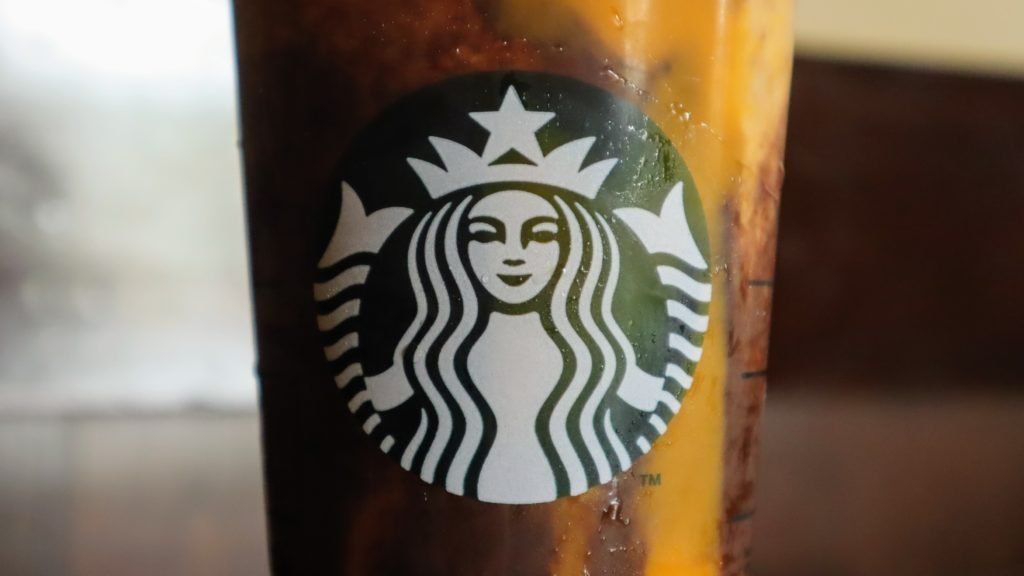 Bonus! Fun facts about peru.
Is Peru safe to travel?
We talked about this Starbucks is operated in an old colonial building, next door also another well-know chain from the US, KFC. We were laughing a bit about how secure this KFC would be. All caged. We have actually seen this kind of super duper secure cages quite a lot in Peru. Some money exchange places even have 2 layers security with cage and the cement wall inside where the money is kept. #whoa! Now, the question is popped right after if it's actually safe to travel here in Peru.
Personally, I think it's quite safe. People are friendly though most of the time they don't like to smile at you. We have never gotten over-charged for anything or if so, it's just a time or two. I have always been somewhere where people go and most of the cities are quite touristy. It's more of hard-working people than the robbery. It's been a month and I'm still safe and sounds so... I don't think there's so much to be worried.
If I actually get robbed or stolen, lucky you bastard, I got like 20 bucks in my pocket XD #lol
It's good to experience and try Starbucks in different countries with their own interesting drinks and stories. I still prefer the local ones as mentioned though. This one in Barranco I like quite a lot, Tostaduría Bisetti where we had these 2 beautiful cups of coffee. Check it out if you're in town. It's quite lovely.
Starbucks in Barranco, Lima, Peru
Address: Pedro de Osma 102, Barranco 15063
㋡ Get $55 TRAVEL CREDIT
㋡ GET PAID to Google Search
㋡ EARN CRYPTO while browsing
🎥 Check out all MY GEAR
---
All copy and photos are original content by me.
TO SUPPORT WITH LOVE 💙 PLEASE SUBSCRIBE!!! TO MY SUPER DUPER AWESOME FOOD VLOG CHANNEL AND THE BRAND NEW 360° VR TRAVEL CHANNEL. SUPER FUN! COME JOIN! :)