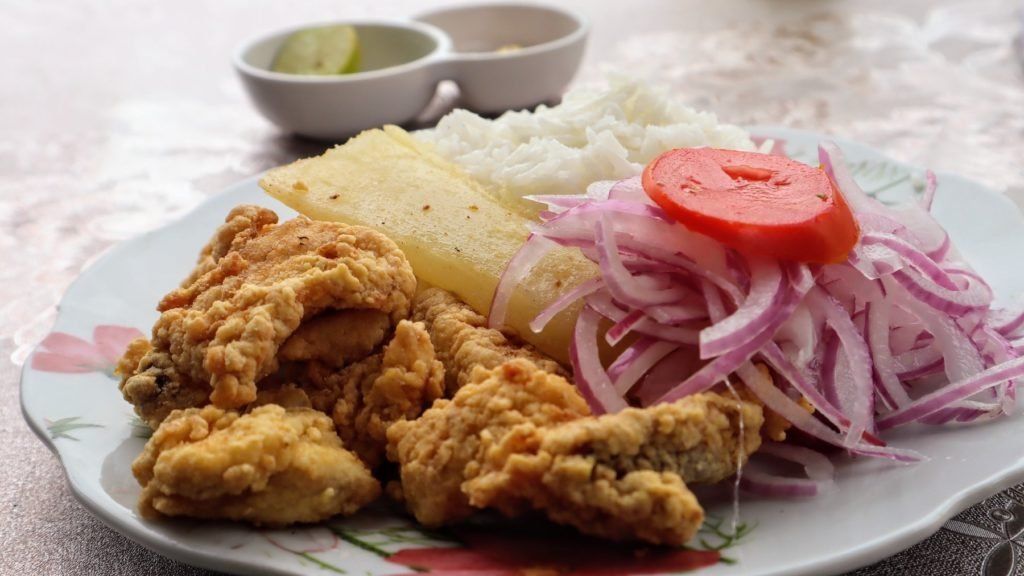 Welcome to Paracas, Peru!
Welcome to this small beach town on the West Coast of Paracas, Peru. We came here without planning much in advance but hey, we love it! We ended up spending quite a few days (+ Kev got food poisoning too, that's another reason #lol). To get to Paracas from Lima is less than 4 hours so easy peasy and not too much of an effort if you'd like to give laid-back little town a go. Anyways, without any more ranting, we're going straight into our favorite topic, food! I would love to show you our favorite local Peruvian food spot in Paracas. Love it so much that we went there so many times in not so many days. Let's eat!
What and where to eat in Paracas, Peru
Paracas is not that big. You could totally walk the whole town in an hour or less. There are a few areas that group up the same types of places to eat: the local ones, the gringo touristy ones (not to be racist), and some other Peruvian street food we're obsessed with. Not to mention those duper duper delicious dulce de leche churros #omg Can't wait to get into that.
Anyways, eating situation is not bad at all here in Paracas, Peru. We have enjoyed all the seafood dishes, the famous Peruvian Ceviche and lots of lots of juice. Happy day drinks too! (VS happy hour drinks) I think that's pretty hilarious. It's either a Peru's or Paracas' thing. Either way, it's kinda cute.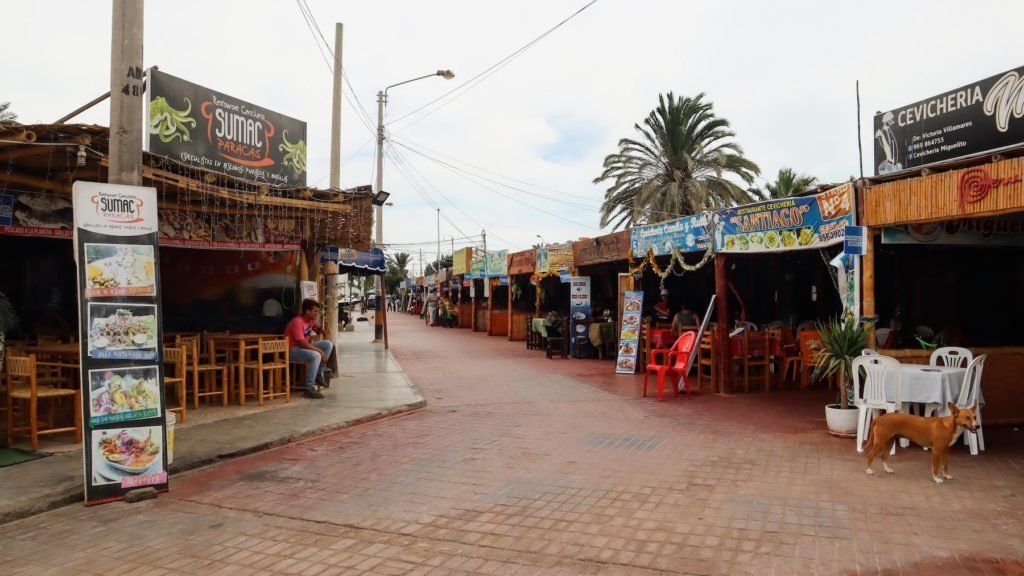 Our favorite Local Peruvian food in Paracas, Peru
Just right after we checked into this laid-back local-owned hostel, we right away asked the owner which place locals usually go for food around here. My magic word 'Comida rica y barata (Delicious and cheap food)' Bwahaha, they smile every time and it always works! We got what we want. A real local Peruvian food with decent price.
Estefania & Marlon and Beckham, Paracas, Peru
It's two not one! These 2 places, Estefania & Marlon and Beckham, located right by either other just like they are having coitus all the time #oops! sorry, Sheldon somehow came to mind... Nevertheless, both of them are as good as each other.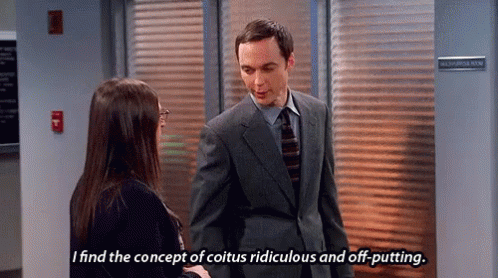 Both places open for breakfast and lunch. It's always packed with locals during this time. Cevicheria and jugueria meaning a place that sells ceviche and juice. Surprisingly, first time dining at Estefania & Marlon cevicheria
Ceviche please.
No, no ceviche at the moment...
I was like 'Are you cereal?' That was a bit funny how ceviche place was out of ceviche. Though, we went for some other Peruvian seafood dishes and we were not disappointed. The food was good and such reasonable price that we went back again and again. It turned out to be 2 places that we visited the most often while we're there in Paracas.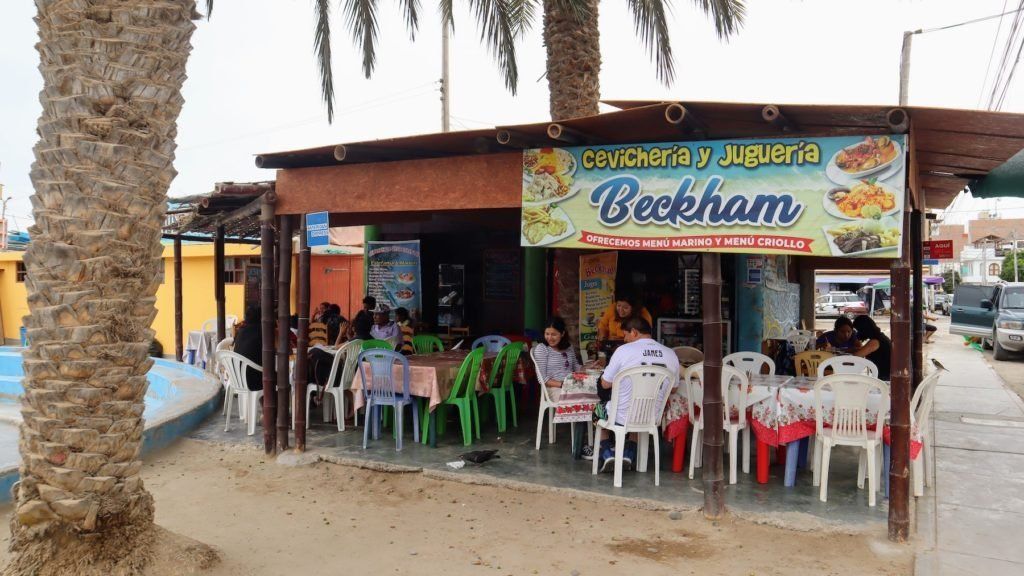 Local Peruvian food at Estefania & Marlon and Beckham, Paracas, Peru.
To not confuse myself with all these delicious Peruvian seafood dishes, I would just showing you dish by dish and not place by place. As mentioned, they're so close to each other just like they're the same place. The food they offer is pretty much the same exact dish. I honestly don't remember which dish is from where so... Let's just corn nuts and lime!
As always, corn nuts and lime always.
Peru has 55 varieties of indigenous corn of all different shapes, sizes, and colors, including purple, white, and blue.
This doesn't surprise me no more. Corn nuts, lime and maybe some hot sauce are always offered just right before the food is served. Great crispy appy I quite enjoy. Peru has a huge variety of corn so sometimes, you might find it yellow as you're used to. Sometimes, you will be a bit surprised the corn nuts are somehow purple. The texture can be quite different though I love them all!
Peruvian fish soup
Oh my, this bowl of Peruvian fish soup just remind me of my home, Asia. I love soup so much, all kind! We have been having quite a lot of soup in Peru as the appetizer on Menu of the day is always soup or salad. Though, I have never had it this Asian-like. I think, the fact that it's a bit fishy from the fish just reminds me of fish sauce at home. Also, it's RICE SOUP... 2 factors combined, Oh! That's why I love the dish so much #lol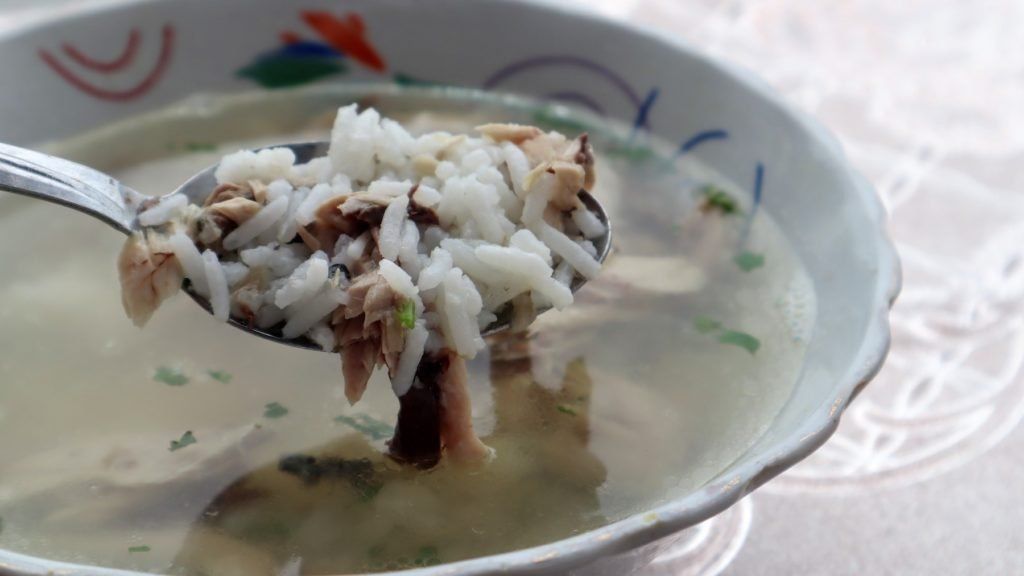 Deep fried fish
Seems like deep-fried fish is a thing. We also feel safe eating it as you know, deep frying... Most of the time the fish is battered so it comes with that crisp. Served with a few different things like bread, salad or rice. My fav is with rice, of course. With a bit of squeeze of lime on it together with salad, perfect combination!
With bread is not bad too, Kev cut the bread in half and stuff them all with deep-fried fish just like a sandwich. Quite nice.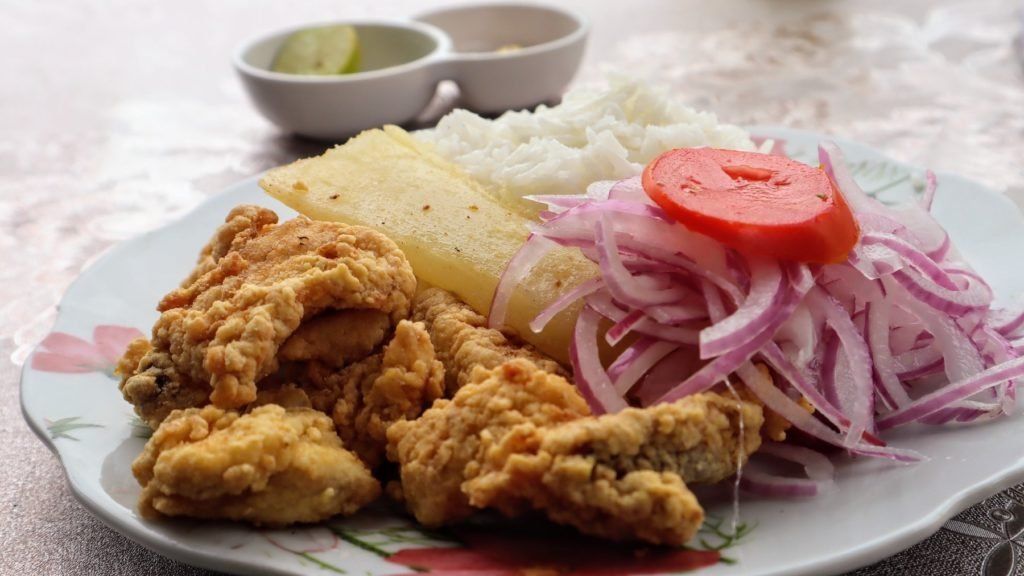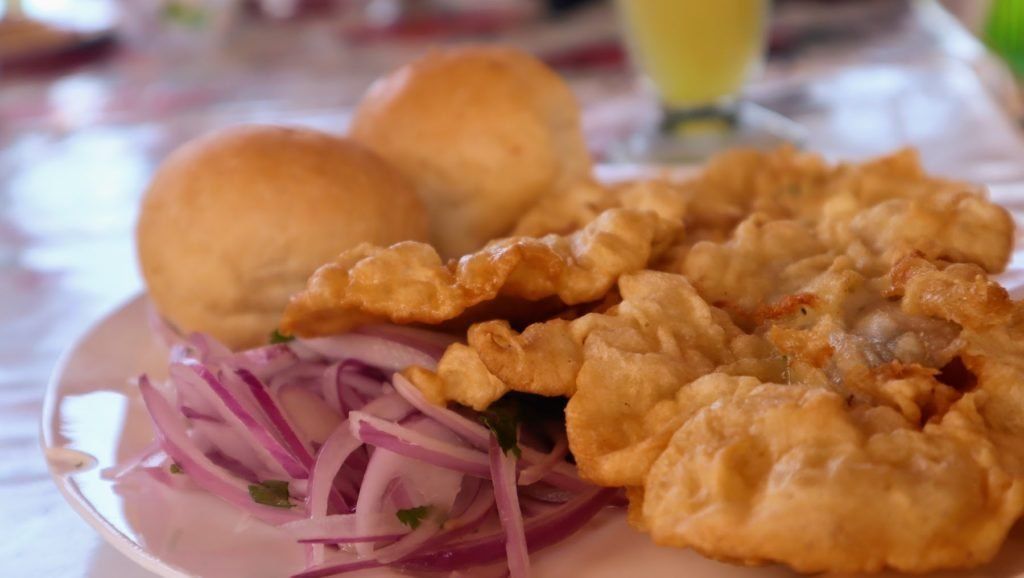 Asian-like Stir-fry
This stir fry can be find elsewhere in Peru not just in Paracas. Sometimes when they put some fries in it, it turns to be a dish called 'Lomo Saltado' which I find it a bit weird. I have never really put potato fries in my beef stir-fry then eat it with rice before. It's double carb meal but they do it here. Quite interesting and yeah, I think it's quite yum.
Peruvian sandwiches for breakfast
Since the very first day in Peru, we guessed this is a thing here in Peru. Dry bread with some simple stuffing like, avocado, cheese, tuna salad or deep-fried fish (This one I just saw it in Paracas, Peru as it's a beach town) as Peruvian sandwiches. It's not that complicated of a meal but I quite like it. Simply delicious.
I know it's quite dry of food and how perfect is that, all the Peruvian restaurant offer fresh juice: Pineapple, papaya, oj are the most common.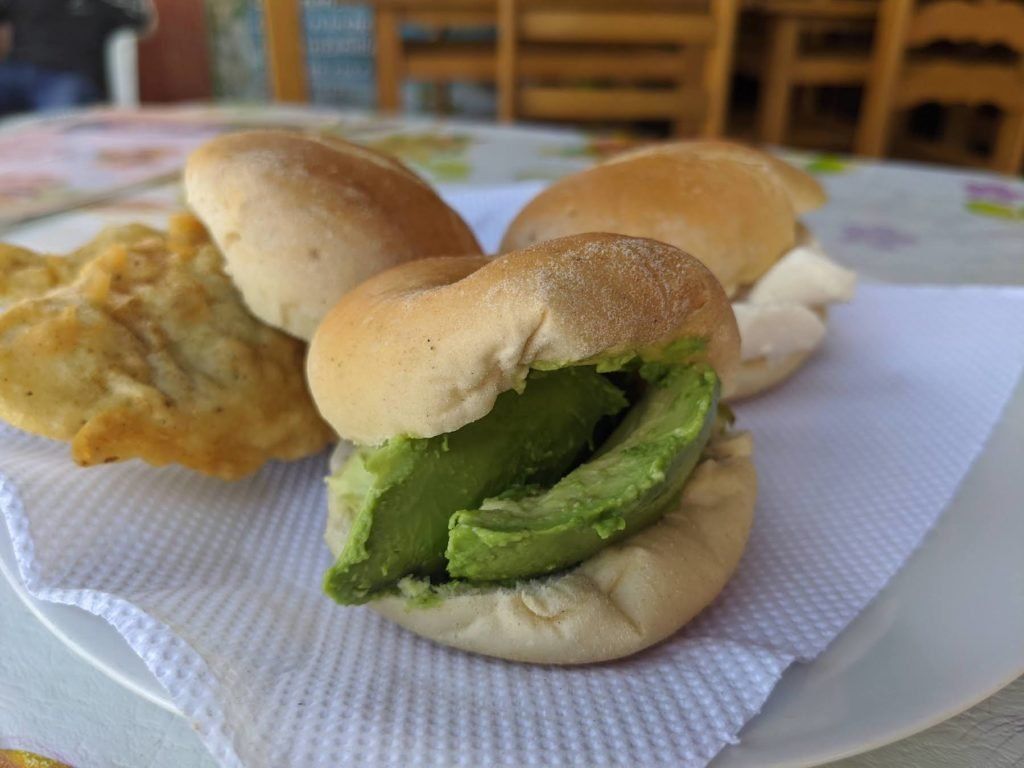 All the local Peruvian food set or menu of the day here at these 2 restaurant in Paracas Peru would cost around 10-13 depends on what it is exactly. Juices cost S/ 4-6 or come with the meal set. Not bad at all for this touristy beach town like Paracas. That seafront with happy day drinks cost a lot more.
This is straight locals for locals. Love the food, love the vibes and love the service. They are so close to each other so they compete with not just the food but the service also so, flawless local Peruvian food experience.
There are also a lot of Street food in Paracas and we will eat the heck out of it for sure, no worries. If you love street food just like we do (of course you do!), then come join us on the Peruvian foodie journey! Oh! We got those in motion as well xx
Me enjoy a Sunny Paracas, Peru taken with this 360 Camera
Cevicheria Y Jugueria Beckham
Hours: 7AM-7PM Closed on Sunday
㋡ Get $55 TRAVEL CREDIT
㋡ GET PAID to Google Search
㋡ EARN CRYPTO while browsing
🎥 Check out all MY GEAR
---
All copy and photos are original content by me.
TO SUPPORT WITH LOVE 💙 PLEASE SUBSCRIBE!!! TO MY SUPER DUPER AWESOME FOOD VLOG CHANNEL AND THE BRAND NEW 360° VR TRAVEL CHANNEL. SUPER FUN! COME JOIN! :)