[POL] Śnieżka jest piękna. Wystaje ponad 200m ponad równię z schroniskiem Śląski Dom. Jej charakterystyczny kopiec widać z daleka. Najpiękniejsza jest oczywiście zimą. Koniec lutego, temperatura na dole ok. 0°. Idealne warunki. Prawie - na górze wiatr dochodzący do 100km/h. Piękna i Bestia - Śnieżka i Wiatr.
[ENG] Mt. Śnieżka is stunningly beautiful. Its peak is visible from afar. The name translates as "Snowy mountain", so obviously winter is the best time to scale it. Imagine - end of February, temperature at the bottom around 0° C. Ideal weather. Not quite - at the summit there are wind gusts raging at 100km/h. Meet Beauty and the Beast.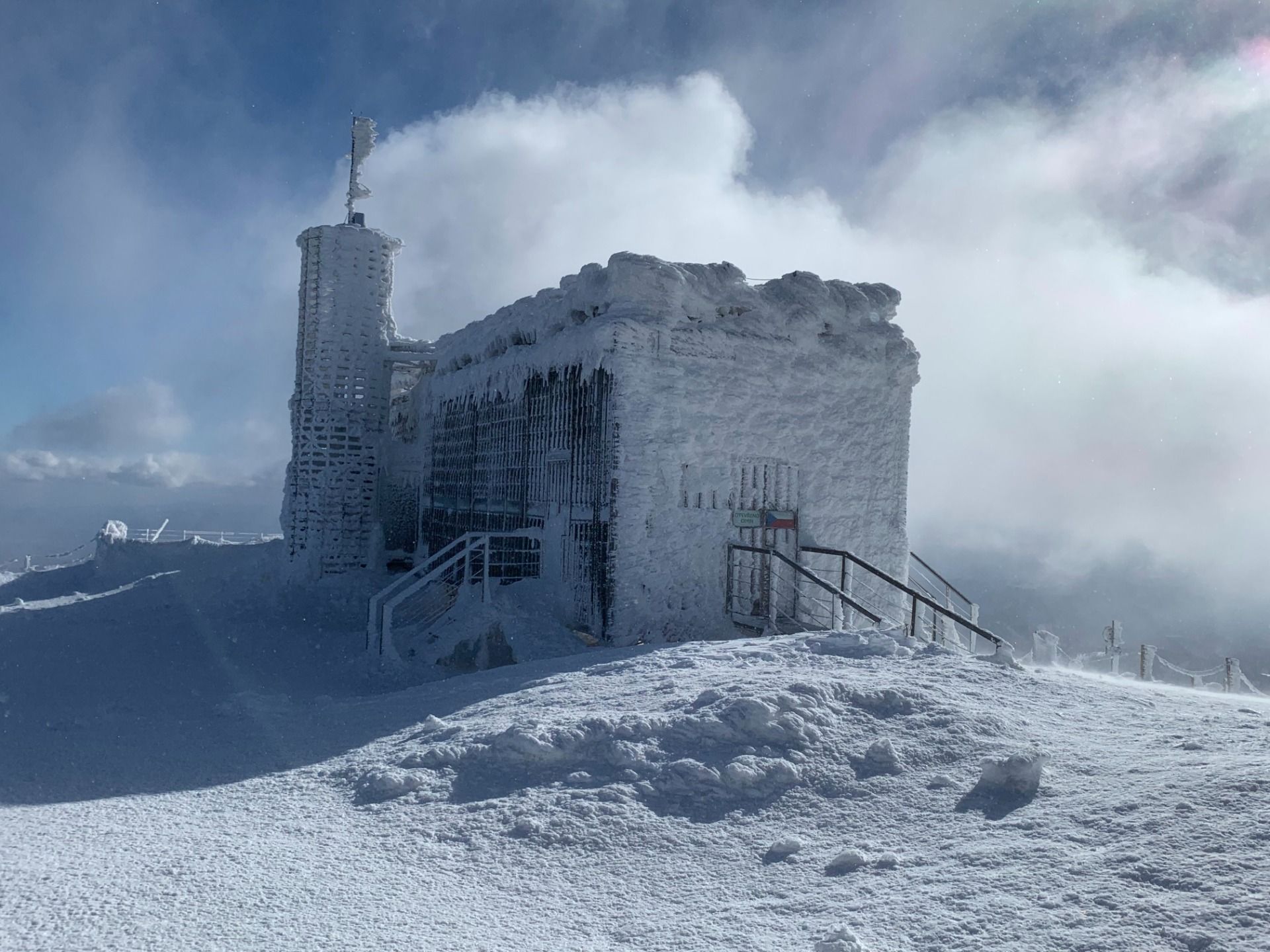 Plan
[POL] Pod koniec lutego wybraliśmy się w Karkonosze, by wejść zimą na kilka szczytów Korony oraz Diademu Gór Polski. Na Śnieżkę wchodzimy z Karpacza (dolna stacja wyciągu) a wracamy przez Strzechę Akademicką. Trasa krótka, w sam raz na zimowy ranek. 
[ENG] Our route is quite short. Fitting for a winter morning. 
Na własną odpowiedzialność
[POL] Karpacz jest przykryty chmurami i jest dość ciepło jak na luty. Wiemy, że na górze będzie inaczej. Spodziewamy się, że będzie Piękna i Bestia - Śnieżka i wiatr. Nie wiemy tylko jak pięknie będzie i jak silny będzie wiatr. Początek szlaku to przyjemna droga przez las. Jest świeży śnieg - ponowa.
[ENG] Our "base camp", Karpacz, is waking up when we set on our trail. It's cloudy and "warmish" (given it's February). The beginning is easy and pleasant - a forest path, covered by fresh snow. We however know that up there on Mt Śnieżka, the conditions will be much different. We expect both sun and wind.
[POL] Gdy las się kończy, przed nami znak zakazujący wstępu z uwagi na zagrożenie lawinowe. To Biały Jar. Można stąd dojść do schroniska Strzecha Akademicka, ale nie zimą. Znak nie odstrasza dwóch turystów z Niemiec... My jednak idziemy jak należy, czarnym szlakiem. Skręcamy w lewo i kierujemy się na Kopę.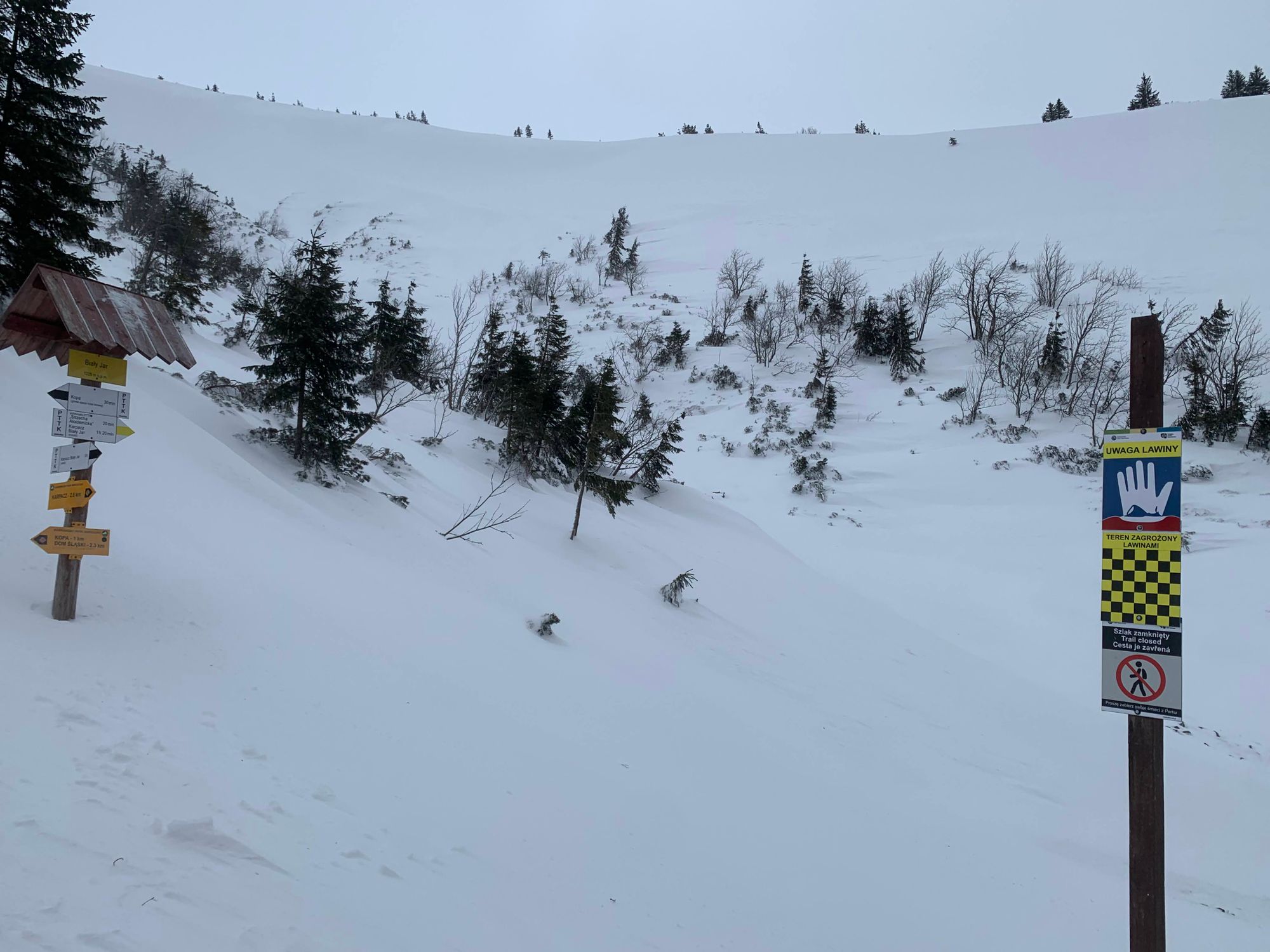 [ENG] We come to a place called "White Canyon". There's clear sign that the area ahead is closed to the avalanche threat. It doesn't deter two German tourists... We however follow the trail (and common sense) and turn left, following the black trail.
[POL] Na wysokości górnej stacji wyciągu spotykamy grupę morsów górskich. Temperatura nie jest zła, ale na odkrytym terenie porządnie wieje i przez to odczuwalne warunki to przenikliwe zimno. Panowie z gołymi torsami i łydkami dziarsko jednak maszerują. Sądząc po akcencie z jakim mówią po angielsku, to grupa holendersko-skandynawska.
[ENG] Out in the open we pass a group of men marching with bare torsos and legs. Judging by their English accent, they come from the Netherlands and Nordic countries. The temperature itself is not too bad. But a strong wind makes it feel much colder. 
Piękna i Bestia
[POL] Na Kopie wiatr rozwiewa chmury. Z każdą minutą jest ich mniej. Krótka przerwa techniczna w schronisku Dom Śląski i ruszamy na szczyt. Gdy tam się znajdziemy, chmury będą daleko. Ale ceną jest wiatr. Wieje prawie 100km/h i bez osłony drzew momentami trudno jest ustać.
[ENG] We make a short break in a large mountain cabin and set off for the summit. It's covered with clouds. However, a strong westerly deals nicely with them. When we reach the peak, the clouds don't obstruct views. It comes with a price, though. Gusts of wind reach 100km/h. 
[POL] Na szczycie chciałoby się spędzić parę chwil i podziwiać Piękną. Ostre zimowe powietrze i słońce składają się na fantastyczną widoczność. Ale Bestia wyciska łzy z oczu, próbuje wyrwać komórkę gdy robimy zdjęcia. 
[ENG] Sun and crisp winter air make fantastic visibility at the summit. Sheer Beauty. The Beast of a wind doesn't allow for much contemplation, though. We take few photos and head back down.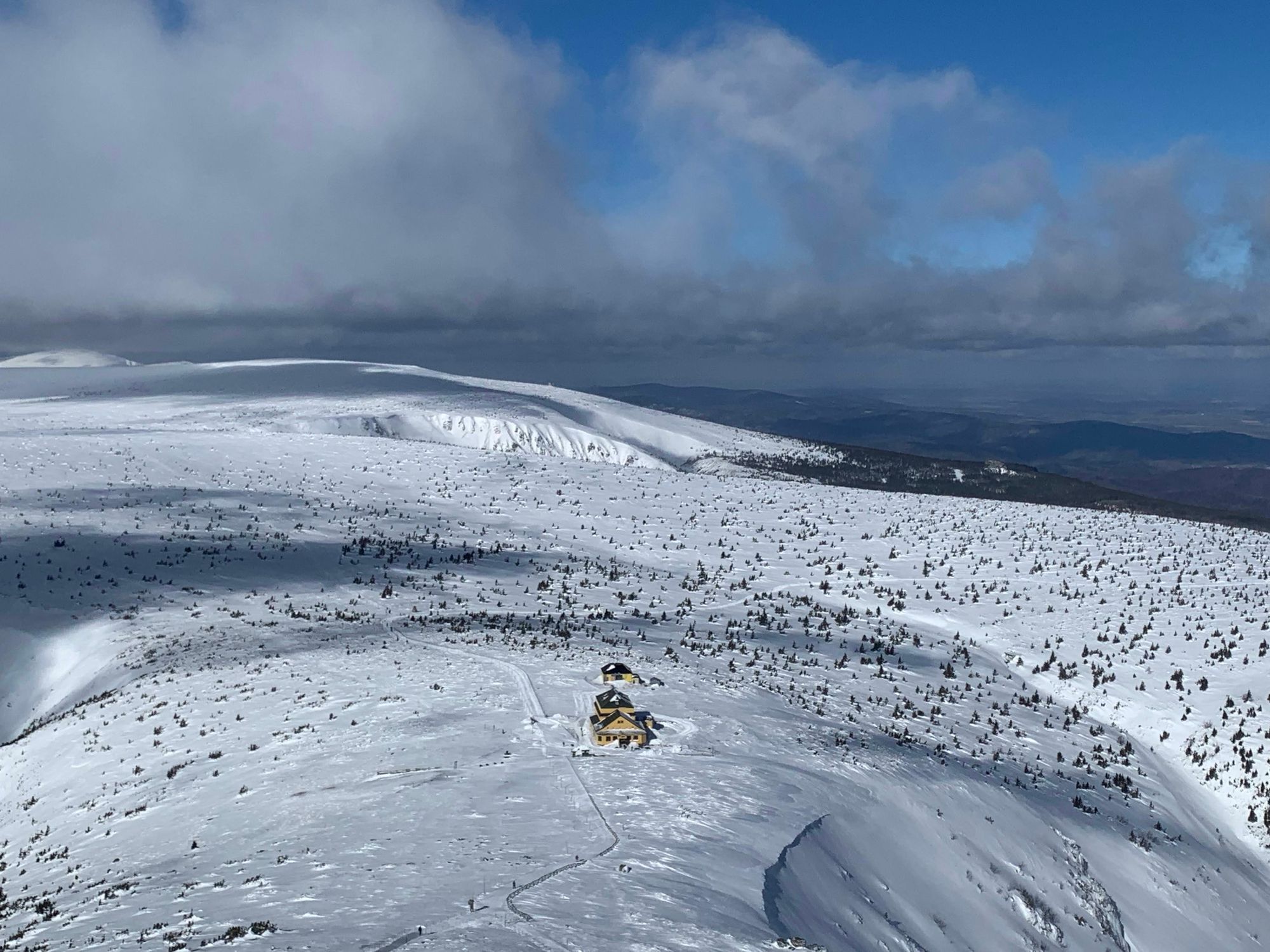 [POL] Pod Śnieżką znajduje się rozległa, prawie płaska równia. Pokryta śniegiem sprawia wrażenie lodowej pustyni. Musimy teraz iść pod wiatr. Odwracamy się jednak od czasu do czasu by jeszcze raz popatrzeć na Piękną. Śnieżka wystaje około 200m ponad równię. Dla takiego widoku warto się zmierzyć z wiatrem. Piękna i bestia - Śnieżka i wiatr.
[ENG] 200m of altitude below the summit there is a large and almost flat plane. Covered with snow, it makes one feel like in icy desert. We head westwards, facing the wind. Every now and then we turn back to have another glimpse at beautiful Mt. Śnieżka.
To naprawdę ten sam dzień?
[POL] Schodzimy przez Strzechę Akademicką. Tutaj osłonięci od wiatru, rozkoszujemy się słońcem skrzącym się na śniegu. Ludzie idący spacerkiem pod schronisko, nie wiedzą jaki wiatr szaleje na górze. Ostrzegamy tych lżej ubranych.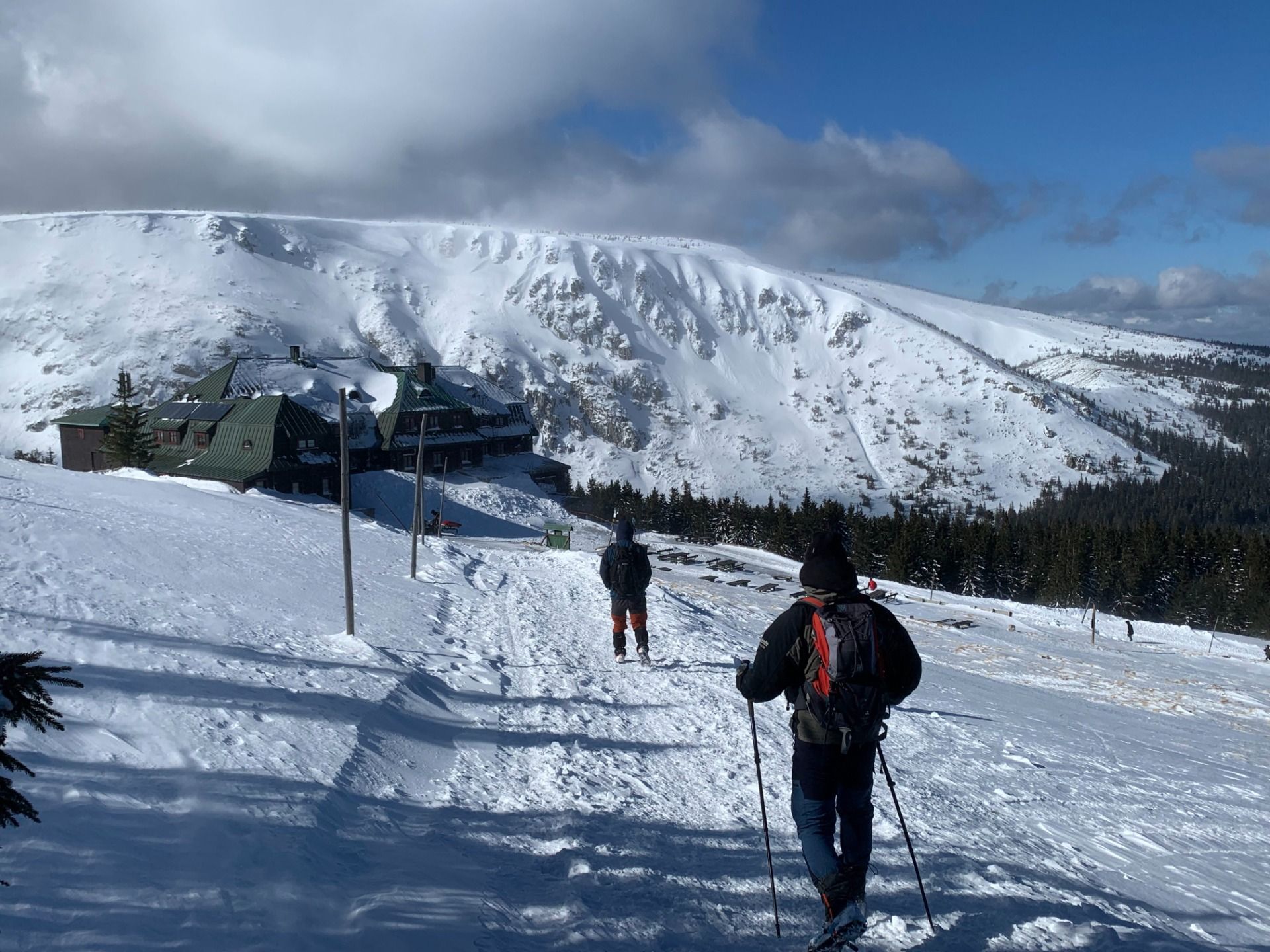 [ENG] As we descend, we come to another mountain cabin. Here we are protected from the wind by the mountain's northern slope. Enjoyable winter - sun and snow. When we see people going up leisurely, we warn those with light cloths. They are not aware of the wind raging up there.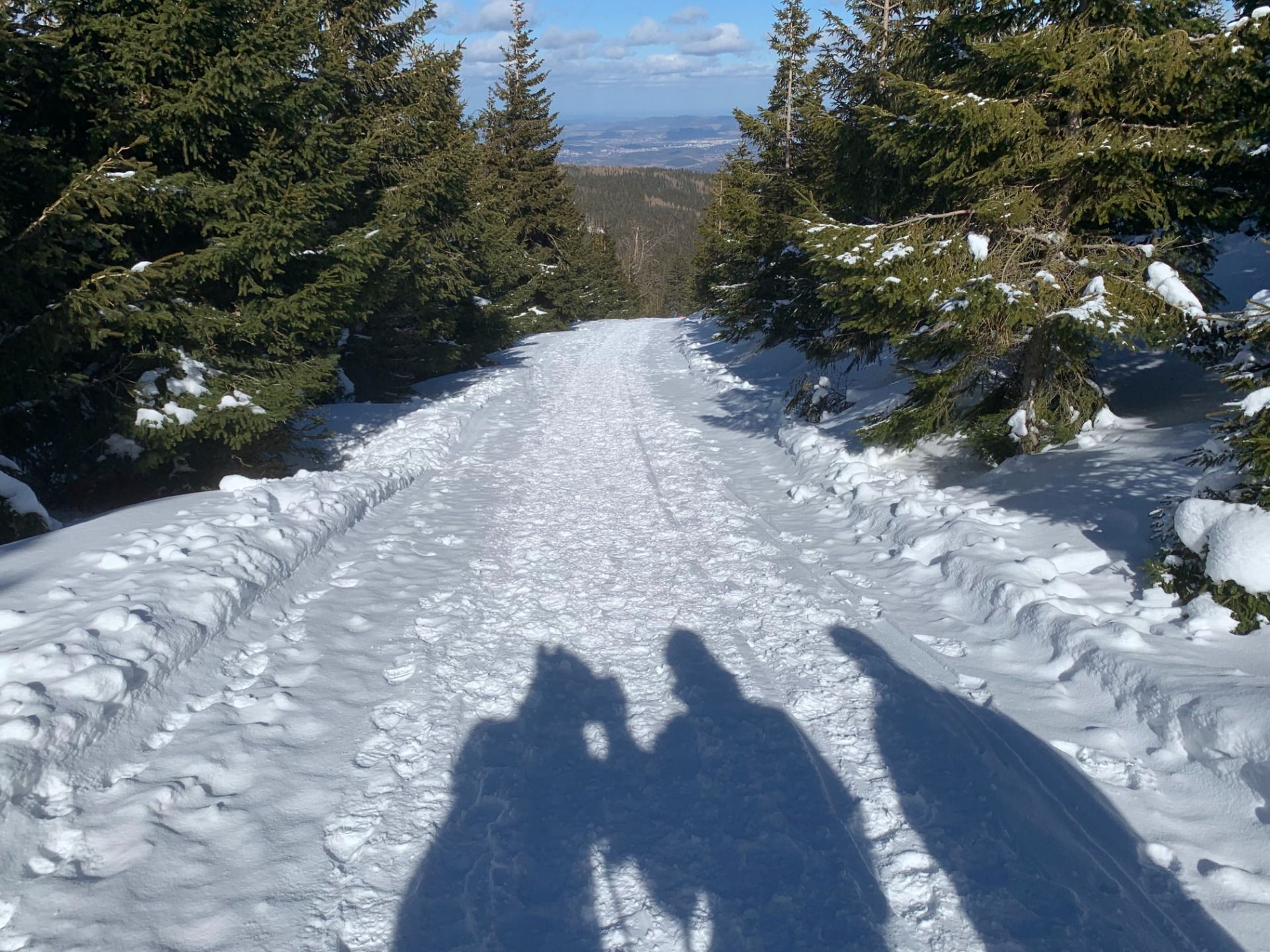 [POL] W znakomitych nastrojach schodzimy do Karpacza. Piękna i bestia - Śnieżka i wiatr - dostarczyły nam dużo wrażeń i endorfin. Mamy jeszcze całe popołudnie przed sobą.  Znajdziemy jeszcze czas na Świątynię Wang oraz ruiny zamku Chojnik.   
[ENG] Full of endorphins, we descend to Karpacz. It's only midday and we have plenty of time. Later in the day we will visit a church from Norway which found its place in Poland and picturesque medieval castle ruins.