If you're needing to buy a boat load or just a handful of souvenirs while in Singapore, you'll want to check out Bugis Street Market which is located within a 5 min walk from Bugis MRT Station on the green line. Here's an MRT map (as of Dec 2019). One of my favorite things about Singapore is the ease of use and navigation (lots of signage everywhere) of their train system (if you're ok with English).
Once you alight at Bugis Station, you head up the escalators and exit the gantries. Once you're out of the station you want to turn right. As you reach the end of the hall, turn right again and go up the escalators. Here's some pictures for visual reference.
Once you're at the top of the escalators, look straight and a bit to the right (one o'clock position) and you'll see a crossing to cross the road. Try not to get too distracted by the shopping mall on the left, haha.
Once you've crossed the road, you'll be at the back entrance to Bugis Street Market. I call it the back entrance because there isn't any signage, that I've noticed, to let you know that you're entering Bugis Street Market. Entrance is below the 'Happy Hour' sign. Much to my disappointment, the shop displaying that sign is a watch / time piece shop and not an alcohol vendor. Just in case you're wondering, the image at the top of this post is what I'd say is the front because there is a Bugis Street (Market) sign, although in my opinion, it's way too high to be noticeable.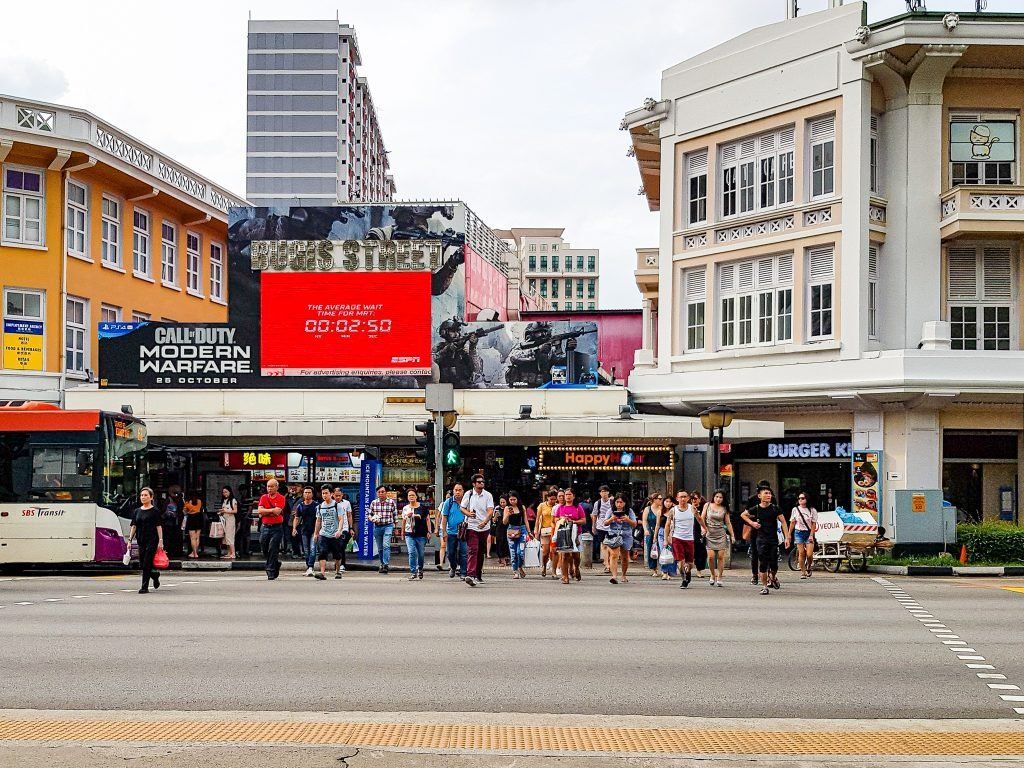 At first glance it may look a bit shady because (other than the lack of signage) it just looks like a narrow and crowded lane with souvenir / gift shops, snack / drink shops on either side but if you go in a little ways, there are lanes/paths on either side that lead you deeper into what is Bugis Street Market. You'll be amazed at how much stuff is crammed in there. Some of these lanes open up to a bigger section of shops. You'll even find escalators up to even more shops, lots and lots of tiny cubicles of stuff! I didn't get a chance to go exploring this time around as I was on a mission for computer parts and had to walk through Bugis Street Market to get to the Sim Lim Square, which is the place to go for IT parts and such. I'll post about that in the coming days.
Prices at Bugis Street Market is comparable to prices you'll find at the other touristy places like Chinatown but I'd say you can find better deals here. You can bargain here, a bit, in the shops that are deeper in the side lanes, not so much in the main lane that you entered from. Some vendors can get quite rude and or pushy though, so take that into consideration. Bulk is pretty much the name of game here, you'll find a lot of 3 for $10 Sgd t-shirt deals in here as well as handful of keychains / magnets for cheap too. It's generally easier to bargain if you buy a lot, the vendors seem to get nicer in attitude too. Aside from souvenir shops, I've seen tattoo parlours in there, gadget shops, gadget accessory shops, and of course lots of clothes. Here's some pics.
Well worth a look see if you need to buy a bunch of souvenirs or relatively cheaper, trendy, young people clothes. It should take about an hour or two if you're just window shopping, to see everything provided you don't get lost in there. I'd say just kidding, but I've been lost in there and had to ask for directions to get out, TWICE!
I take everyone who visits me and needs to get souvenirs to Bugis Street Market and none of them regret coming and some request to come again on subsequent visits. Although it can get really crowded in the main lane, once you branch off to the sides, there are less people but the walkways are narrower, so be careful not to knock anything over with your bags and bags of loot! Happy shopping, everyone!
Consider following me for updates to find not only my other (usually travel) bloopers, blunders and shenanigans but also photography related news/reviews and the occasional contest entry.
All the photos (unless otherwise noted in the post) were taken by me and are available for sale. If you're interested in buying an image or three, 😃 please don't hesitate to contact me for more details. Thanks in advance!
Comments & Critiques are always welcome, as are upvotes and resteems.
Thanks for viewing and best wishes!
PS. If you want to check out my other 'works', you can find them here:
Want to write about your travel adventures? Come join me on the TravelFeed.io platform