Hello! As you remember, in my previous posts I announced a trip to Tajikistan. And this finally happened. I must admit, I was a little worried that the trip will be cancelled due to a lack of participants. Firstly, all this hype with the coronavirus. Secondly, it's still relatively cold and the weather in the mountains is unstable. Thirdly, it is Tajikistan and many Uzbeks may be wary of such trip. Unfortunately, Uzbekistan and Tajikistan have had strained relations a long time. Checkpoints were closed, minefields were set along the border... But, with advent of new president, Uzbekistan took a course towards establishing ties with neighbors and relations with Tajikistan improved significantly. And it's very cool! Tajikistan is a very beautiful and interesting country that must be visited.
Looking ahead, I will say that we managed to go on time and most important - to return back on time.
So, the group got together, the weather was fine and we set off on a great mood. Since our destination lay near the Tajik city of Panjakent, we had to cross the border near Samarkand and we should drive almost 6 hours by car. Therefore, we left Tashkent at 4 a.m. and I think you remember how I "love" the early ups? But what to do?
The sun was just beginning to rise, when we were already halfway to the border.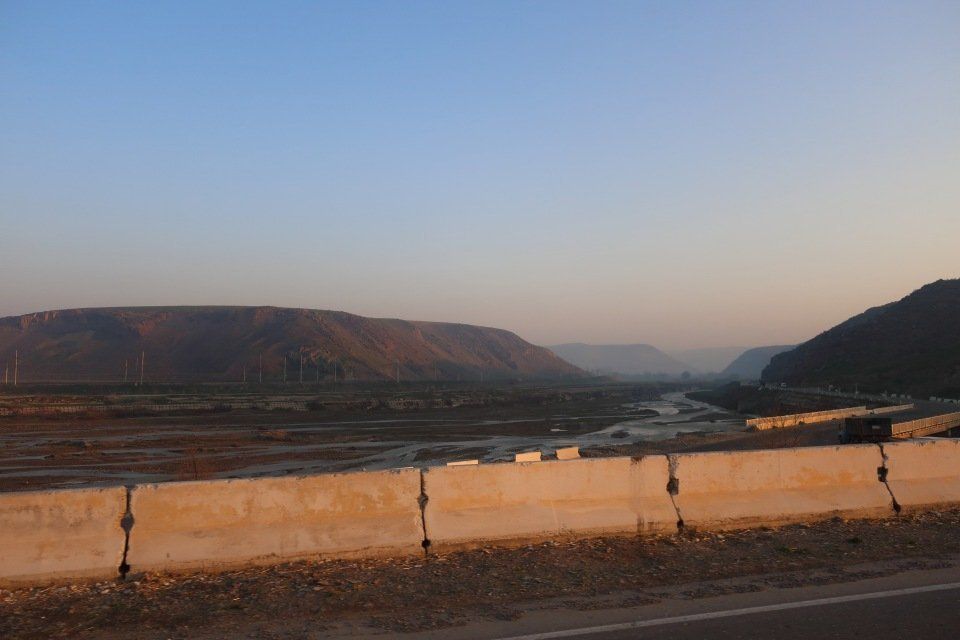 At 10 a.m. we were already at the border checkpoint. Crossing the border didn't take much time. Due to the hype with coronavirus, the border guards of both countries very meticulously studied visas (especially Korean, Chinese and European) and border crossing seals. But everything was in order with us. Tajik border guards saw a group of tourists and let us go our of turn. Curiously, such a big queue of Tajik residents returning to their homes reacted quite favorably to this and while checking our passports began to question about purpose of our visit. Upon learning that we were going to the Marguzor lakes, they smiled and wished us a happy journey
In general, I must note that Tajiks are very hospitable and sympathetic to foreigners. Alas, I must admit that even more hospitable and benevolent than the Uzbeks. Although Uzbekistan boasts of its tradition of orient hospitality. Almost 99% of the Tajiks speak Russian. Sure, with an accent. Sure, the vocabulary is not rich, but you can communicate without any problems.
So, we crossed the border without problems and entered the Tajik land.
There we were already waiting for a local organizer named Shodmonkul with a minibus. We exchanged our Uzbek sums for Tajik somoni and set off. Our path lay through the local bazaar, where we were going to spend part of the newly acquired somoni.
Actually, I didn't have to spend much. Everything is the same as in Uzbekistan. maybe just a little cheaper but not all. For example, traditional bread was more expensive. I was also impressed by their roads - perfectly smooth and even. We in Tashkent on the central streets don't have as smooth asphalt as they do in Panjikent. After a couple of hours we drove into the foothills of the Fann Mountains and began to climb up to the first lake.
Let me tell you a little about where we were going. We went to the chain of dammed lakes located in the gorge of the Shing River, under the generalized Marguzor Lakes. They were named after the sixth and largest lake Marguzor. Marguzor in translation from the Tajik language means "meadow". On the shore of Marguzor there are stome houses in which we spent the night. In the same meantime, we got to the first, the lowest lake under the name Nezhegon (or also called Mizhgon), which in Tajik means "eyelashes". the main difference and the beauty of this lake is its multicolor - depending on the weather and time of day it is either dark blue, sometimes turquoise or even orange.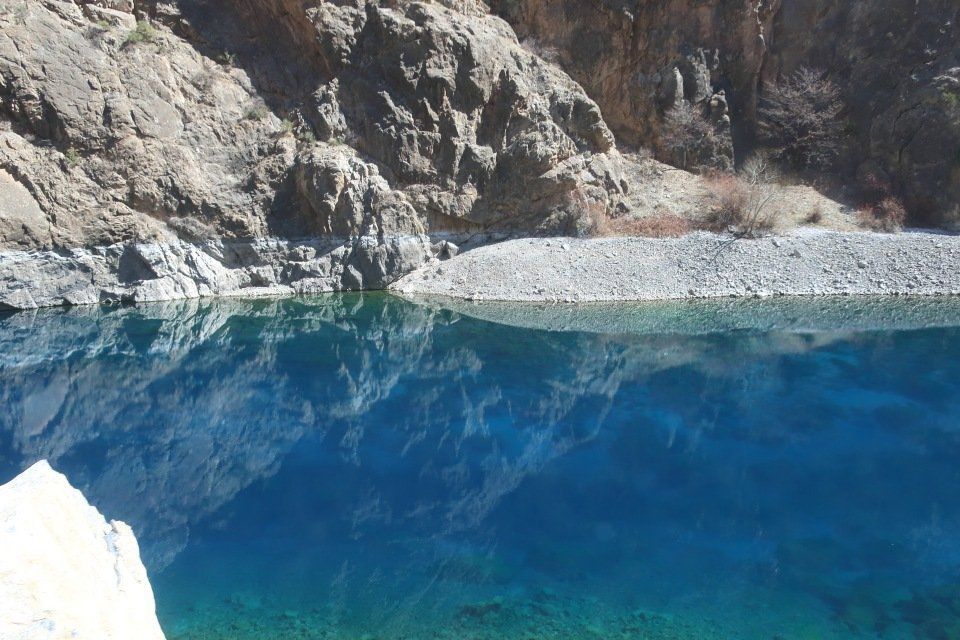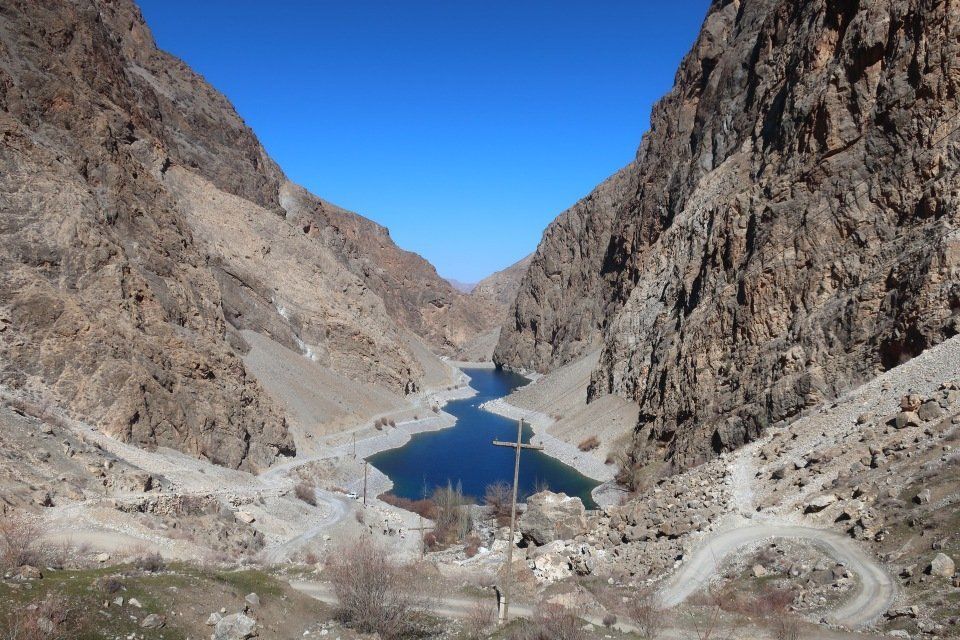 There is a legend about seven lakes. Once there was one lake and one blacksmith lived on its shore and had seven daughters, one more beautiful than the other but the youngest daughter was the most beautiful. The local governor drove past the blacksmith's house and saw his youngest daughter. As usual, he fell in love with her at first sight and asked the blacksmith to give his daughter to him as a wife. The girl broke down for a long time and agreed to marry governor if he built a castle on the very top of the highest rock. The governor, apparently, fell in love so much and therefore really built a castle. The girl married him and on the first night after wedding rushed down from the window of this castle into the lake. Of course, she died. And the remaining six lakes appeared from the tears of the remaining sisters, who mourned the seventh. Very sad legend but I have a question - why this seventh girl has did this problem for new husband and all of her family? Judge for yourself - cruel eastern country, feudalism and the Middle Ages... The governor had power, strength and resources to do cruel things and take any girl that he likes, and no one can prevent him. Actually, such kind of things were usual in that time (in general, this happens now, unfortunately). Since the governor decided to fulfill the girl's condition and not immediately took her, it means that he was an adequate guy in general. Well, she would have said that he wasn't nice to her. I think a rich, impressive middle-aged man could find another wife. Instead to regret the marriage, she forced governor to build the castle and then she made a suicide. Not logical. But on other hand, there would have been no so sentimental legend.
After Mizhgon we went to Soya Lake, which translates as "Shadow", because most of the day it is in the shade.
The third lake is called Ishore (or Khusher) which translates as an "Alert". It has this name because local rocks are replete with snakes and you need to be vigilant so as not to stumble on them.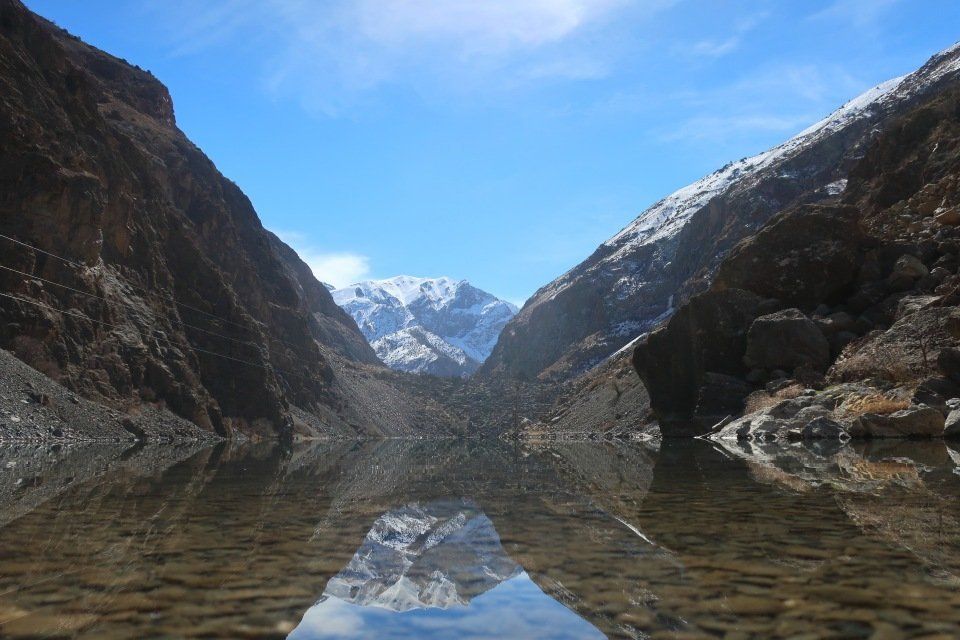 The fourth and longest lake is called Nofin. As Shodmonkul explained to us in Tajik it means "Navel" or "Umbilical cord". As the navel is located in the center of the human body, so it is located in the center of this chain of lakes.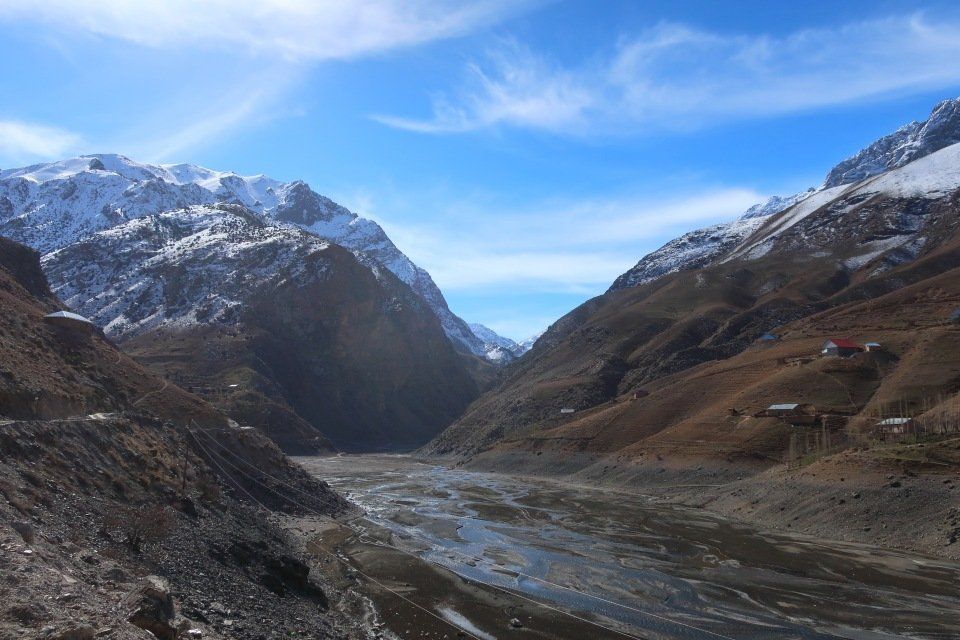 The fifth lake is called Khurdak (or "small baby" in Tajik). This is the smallest lake of all.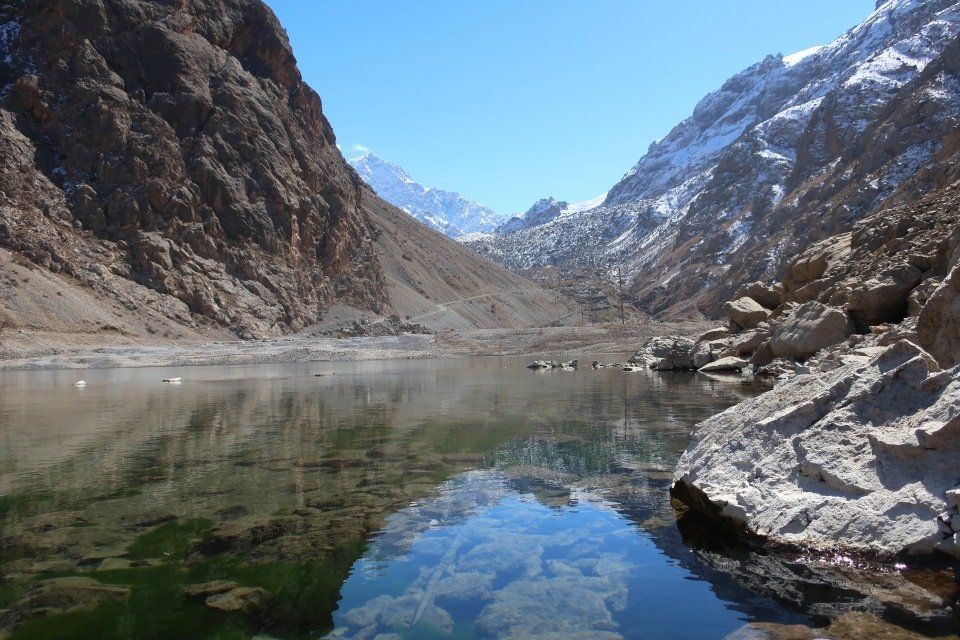 Nearby is a small village. local residents got used to foreign tourists and conduct brisk trade with them.
The next day, when we walked back across all the lakes and when we stopped on the coast of Khurdak, we saw three little girls rushing towards us, they were running to sell us some souvenirs.
Two girls were older and obviously feared us but the youngest, on the contrary, was very sociable and funny. She greeted everyone and actively posed for the camera. I suppose that the most of the trading in this village is due to this girl. All tourists are touched and buy something.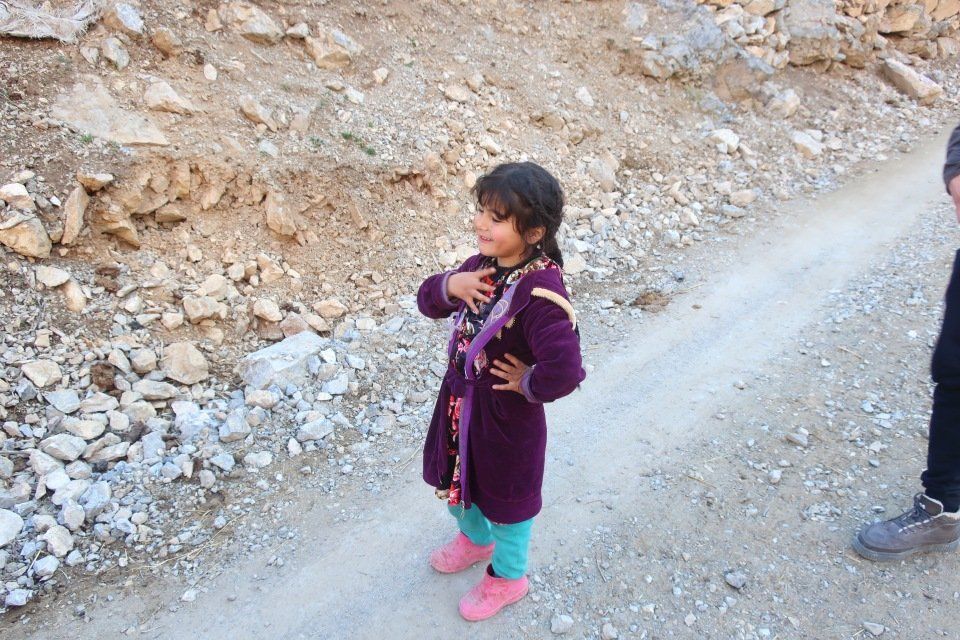 Finally, we got to the sixth lake - Marguzor. There were small stone houses in which we had to spend the night.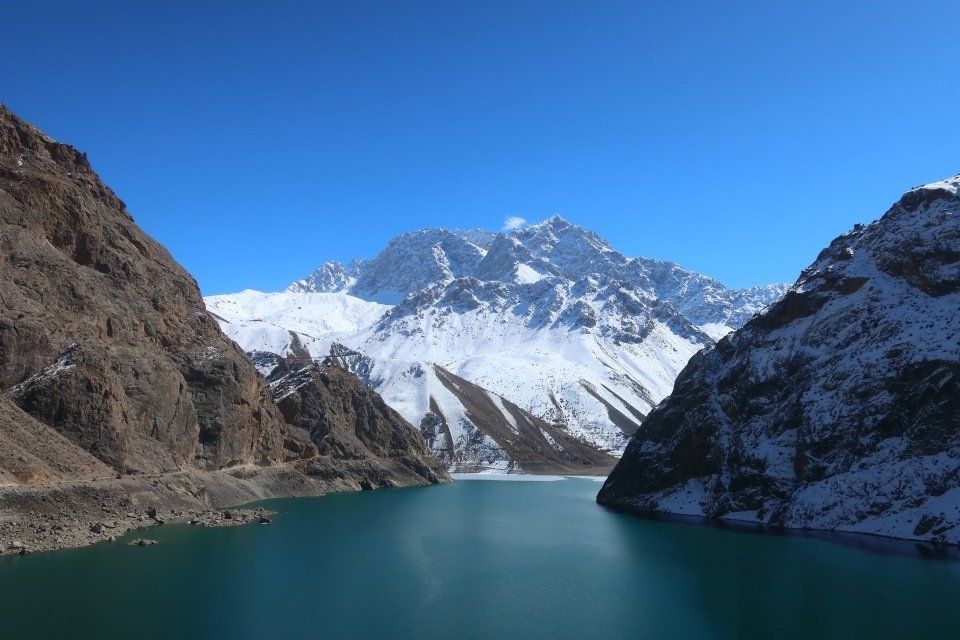 We were the first group to open the season and the organizers didn't have enough time to prepare. Unfortunately, the water level in the lakes is low, because the snow has not melted yet and therefore the pump couldn't deliver water upstairs to the houses. Therefore, there was neither water for washing, nor for toilet. Shodmonkul asked us to run over the rocks as needed. Well, in the daylight it's OK but at night it was cold and creepy. They promised to arrange everything by the arrival of the next group. Well, such is the fate of the pioneers - all difficulties go to them. :-)
Since it was still light, we decided to go up to the seventh lake, which was still icebound. The lake is called Khazorchashma - "Thousand springs", because it is formed due to the large number of streams and springs. Not far from the lake is the Tawasang Pass, through which runs several popular tourist routes. by the way, if cross this pass, then it is possible go to Uzbekistan - to baysun region, where I was in this February.
To get to the seventh lake, it was necessary to go around it along the perimeter on a very narrow road. Sometimes so narrow that the width of the road barely coincided with the width of the car.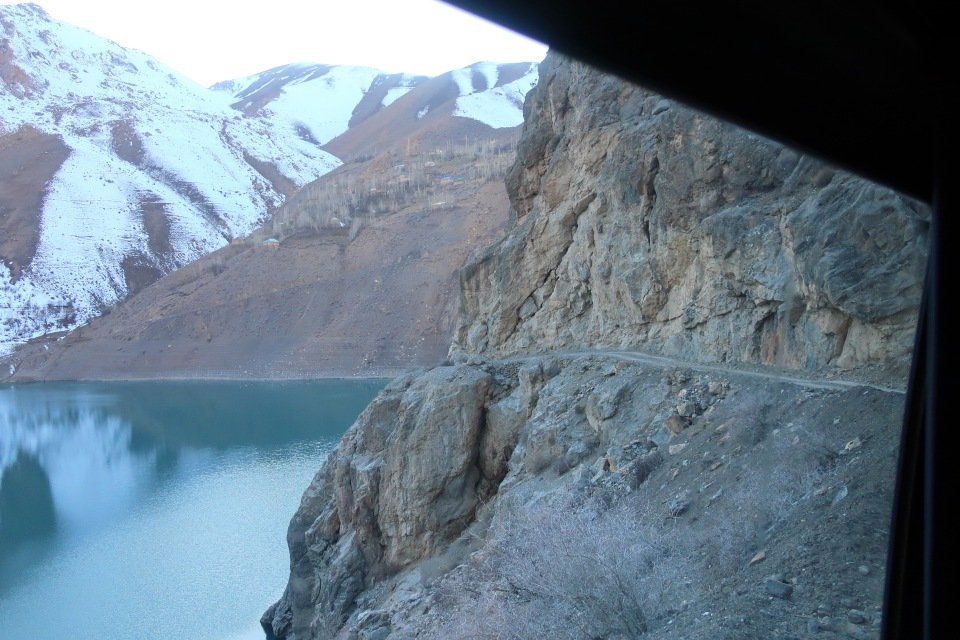 having traveled around the lake, we drove into the kishlak (village), unloaded and began a pedestrian climb.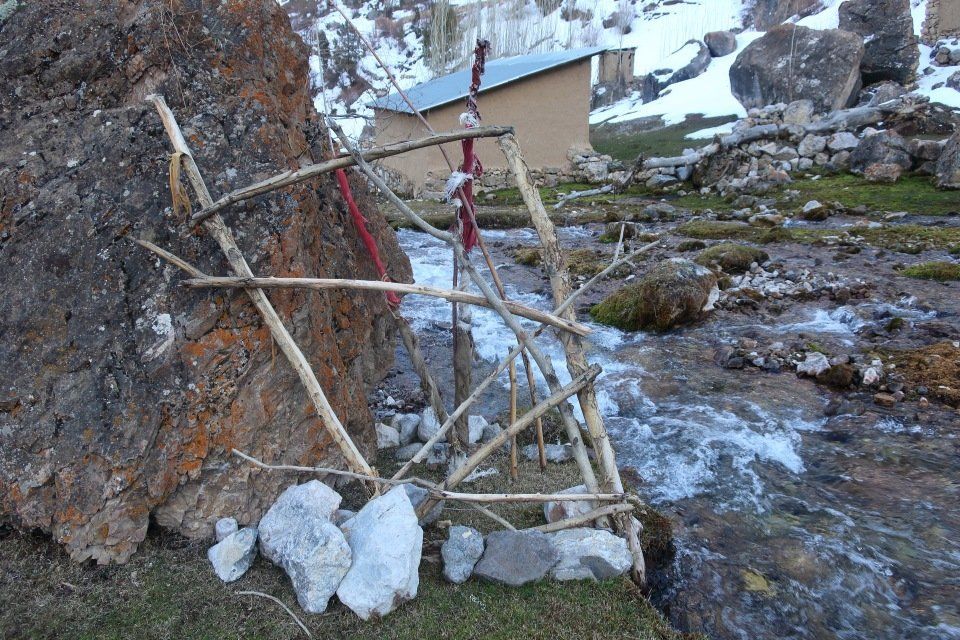 Below was about +15 or +17 degrees Celsius and it was felt that spring had come. But rising, we felt that we were returning to the winter.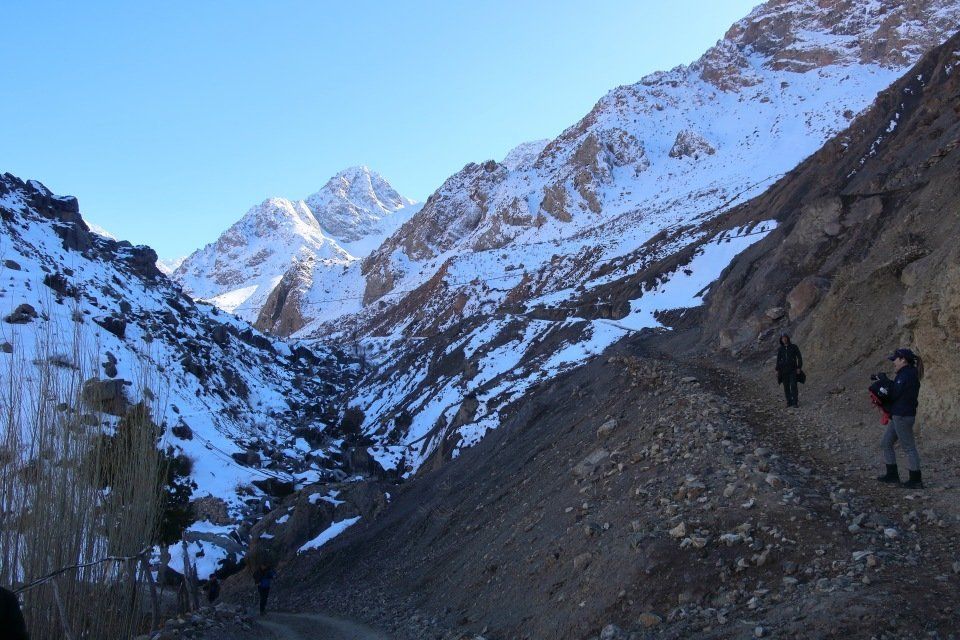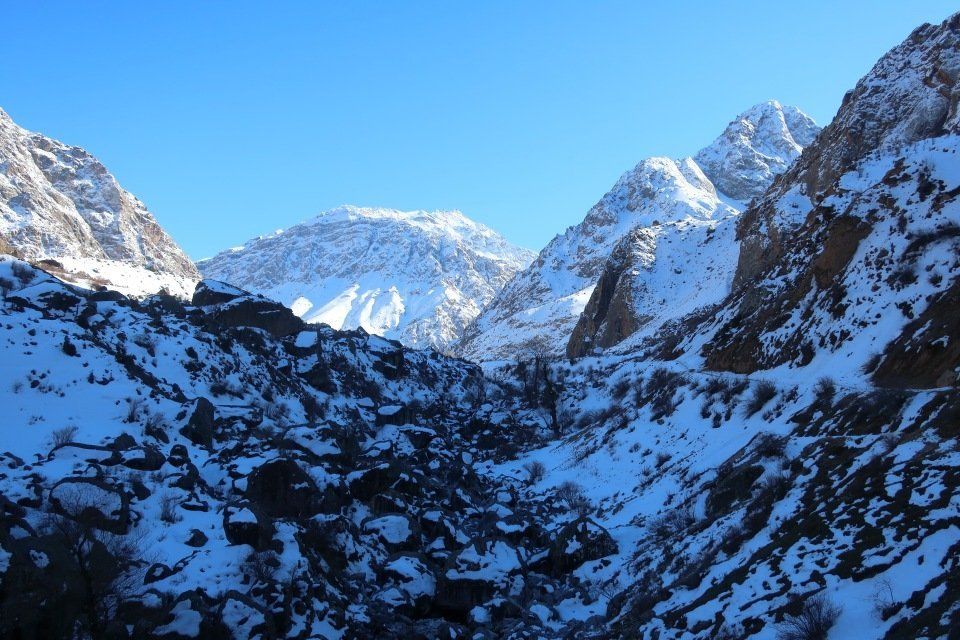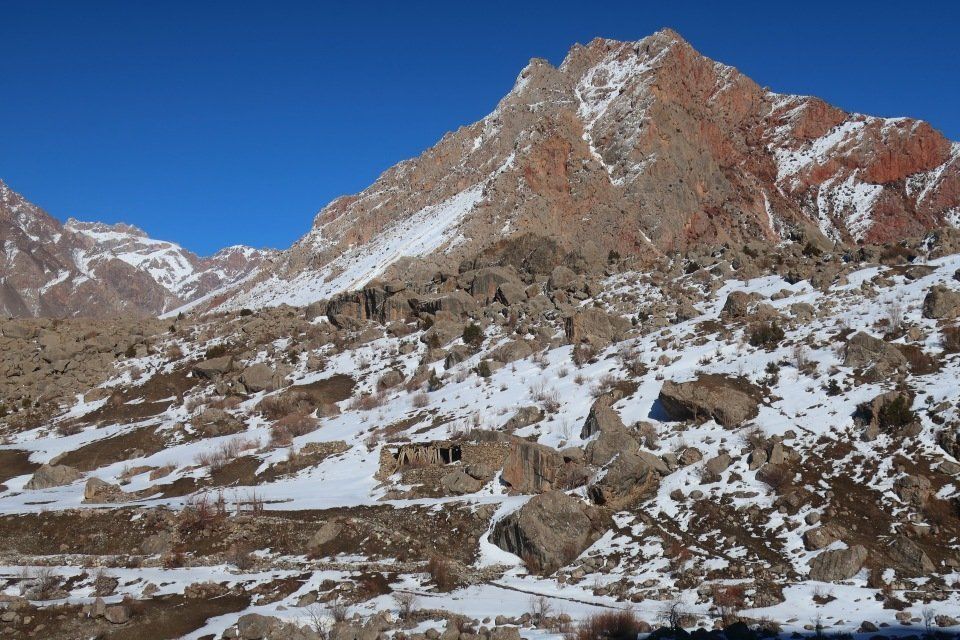 After a couple of hours we returned back to the camp. the sun was already setting and we began to settle for the night. To prevent coronavirus, the premises were fumigated with smoke of isryk-grass (In Tajikistan it is called khazorispand). This is a plant that grows in Central Asia. It is believed that it has antiseptic agents and protects against all viruses, including coronavirus (spoiler: it doesn't!). Of course, there is some benefit from it, but it doesn't save from infections. Plus we were given to drink herbal infusions, which also supposedly protect against any infection. I can't say anything about the antiviral properties, nut the infusion was delicious - I really liked it.
Having eaten and drunk miracle-infusion, we went to beds. In the houses were wood stoves and at first it was warm. But then the stove went out and it came - the Cold! With teeth grinding we pulled on all the clothes that we had. For example, I slept in thermal underwear, warm winter pants, a fleece jacket and a wind-jacket, put a knit-hat on my head and wrapped my face in a scarf, because it was very cold in the room - even steam was coming from my mouth.
But finally, morning came ad with it is blissful warmth. After breakfast and again after drinking a miracle infusion, we went downhill along the lakes. We went upstairs by car and caught a glimpse of local landscapes. now there was an opportunity to walk and see enough of both the mountains and the colorful mountain village.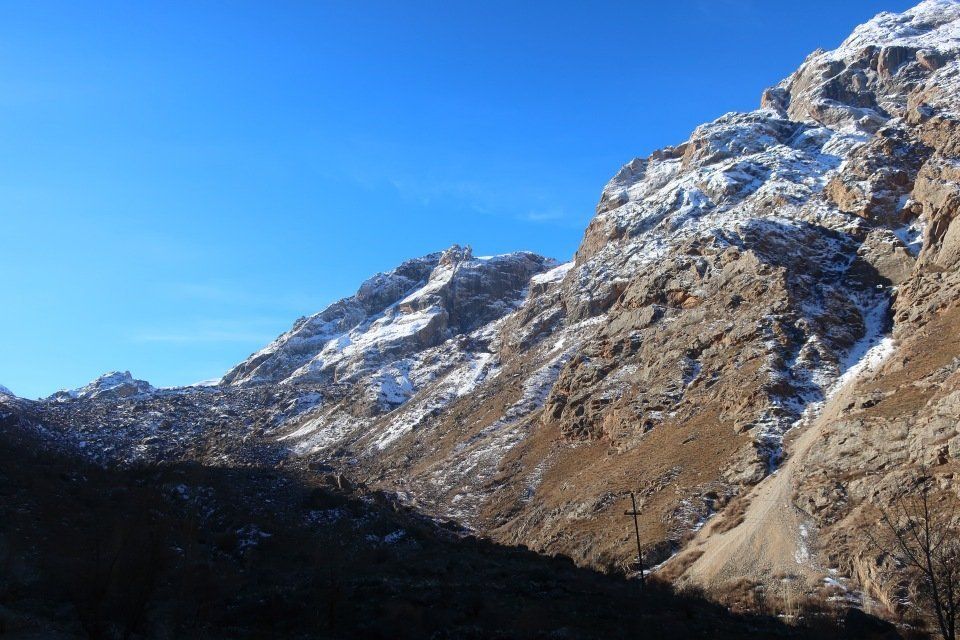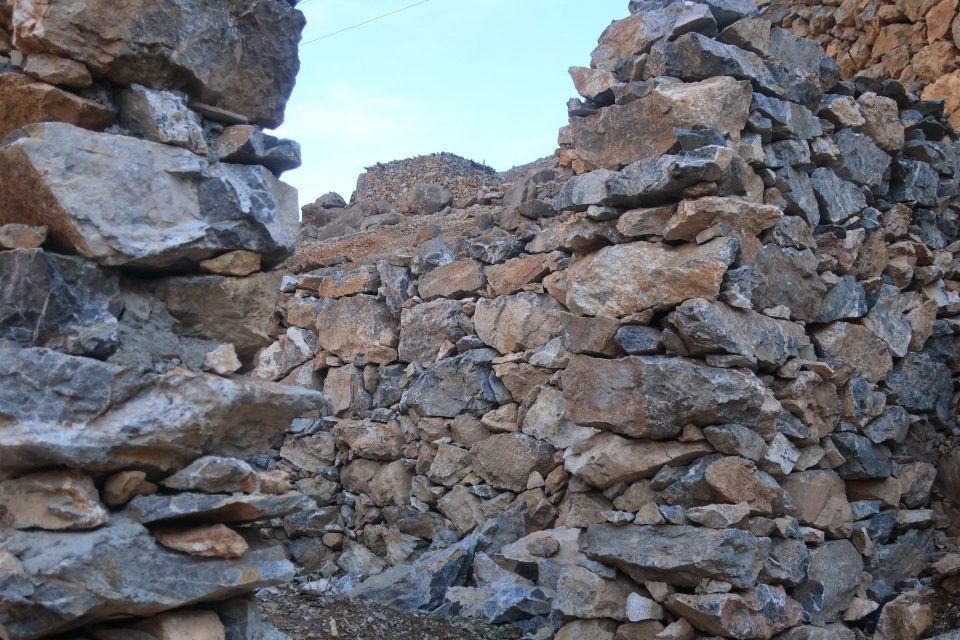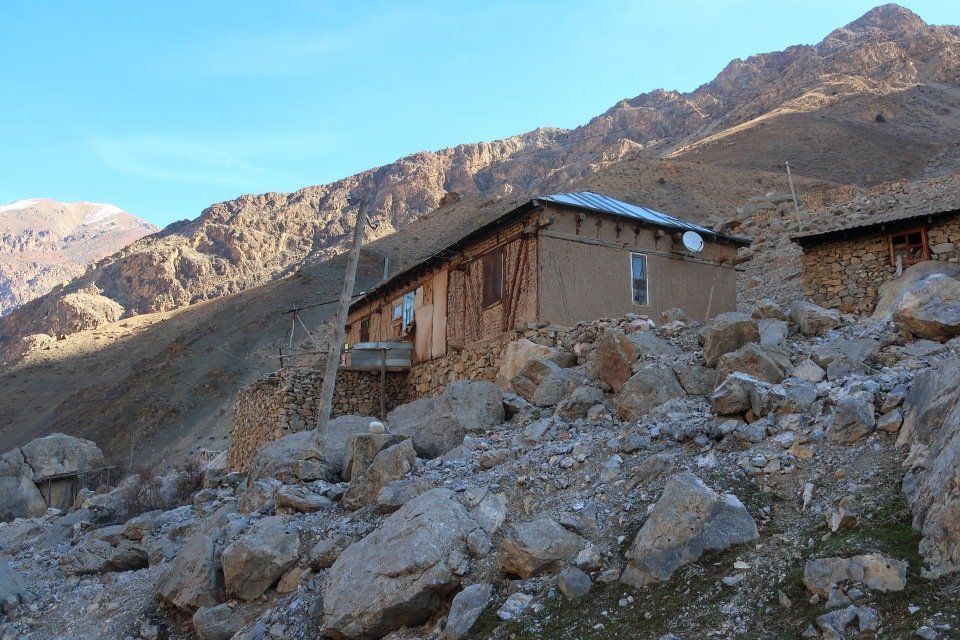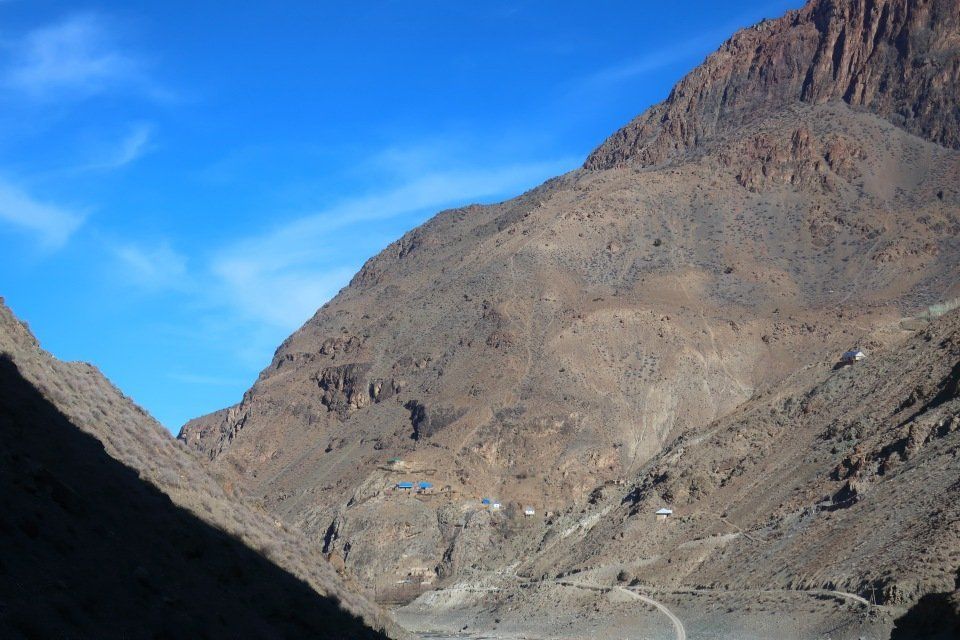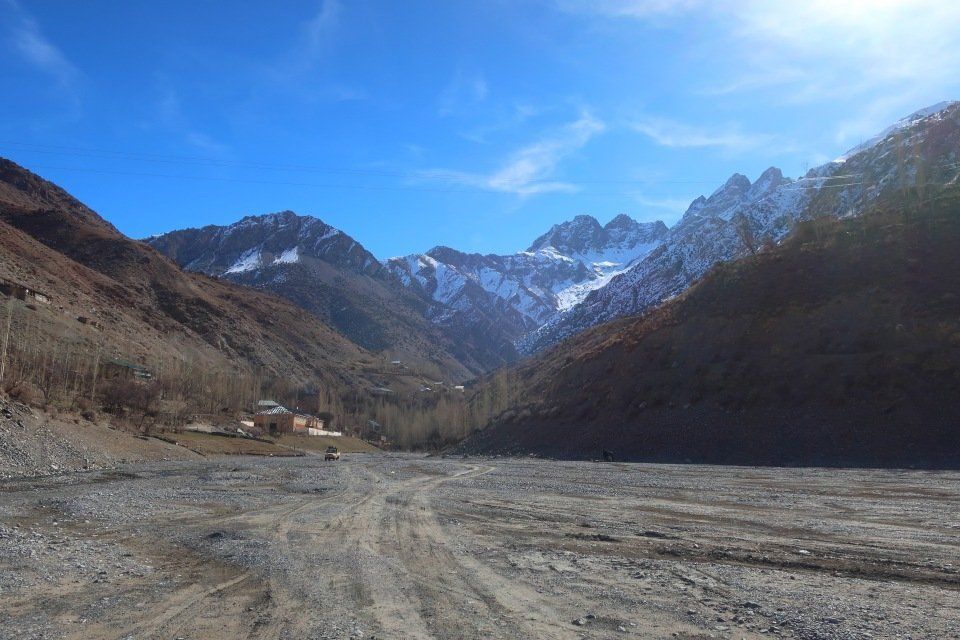 We almost went down when minibus caught up with us. We got into the car and drove back to Panjakent.
There was planned a farewell dinner and a visit to the most ancient settlement of settled people in Central Asia - the ancient settlement of Sarazm. It locates between the city of Panjakent and the Uzbek-Tajik border. This year, in September is planned a large-scale celebration of the 5500th anniversary of this settlement. The name "Sarazm" itself comes from the Tajik phrase "sari zamin" ("beginning of the earth"). In 2010 it was included in the UNESCO World Heritage list.
In the 1970s, new land was developed for arable land and one of the farmers named Ashurali Taylonov found a bronze ax. By the way, earlier here were found precious stones, shards and figurines, but the farmers didn't attach importance to this. And Taylonov decided to show this ax to one of the archaeologists (his name is A.Isakov). He immediately realized that before him a valuable archaeological find and instantly organized excavations.
At the beginning the Soviet archaeologists dug by themselves, then together with French colleagues who dated the settlement to the IV-III millennia BC. and found that pottery and craft arts, mining and processing of metal, the manufacture of jewelry of lapis lazuli, emerald and other precious and semiprecious stones were developed here.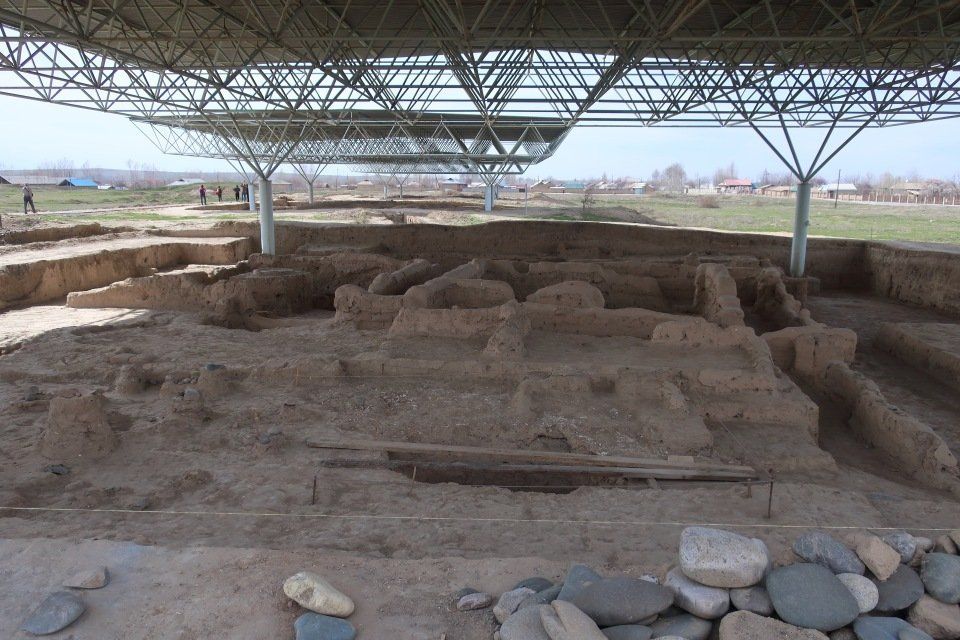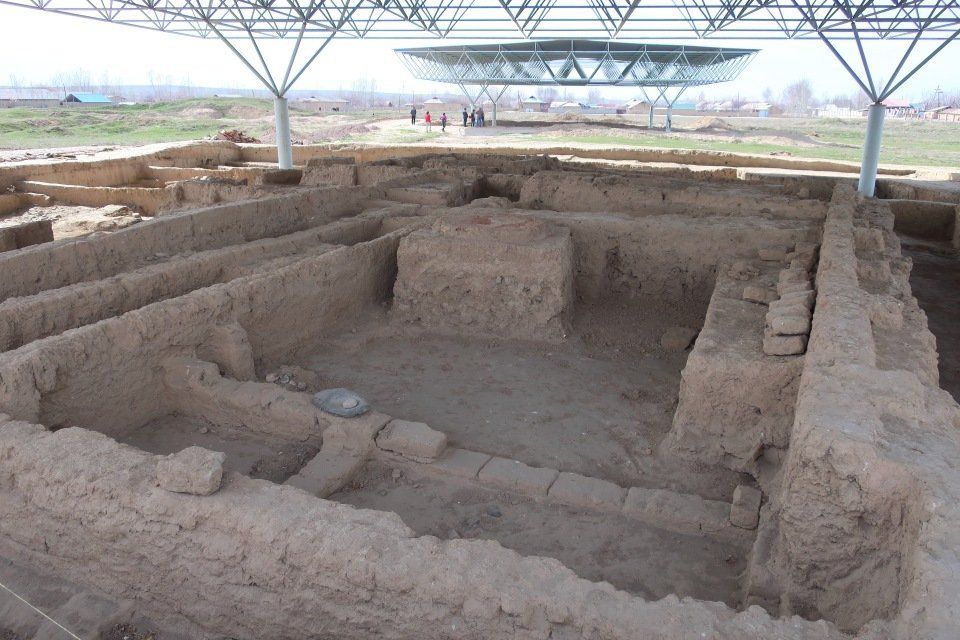 According to archaeologists, 5000 years ago Great Lapis Lazuli Route passed here, which formed the basis of the Great Silk Road. However, after 2000 years, life here froze due to drought and people moved closer to the Zeravshan River, where later Panjikent arose, and subsequently other cities of ancient Sogdiana.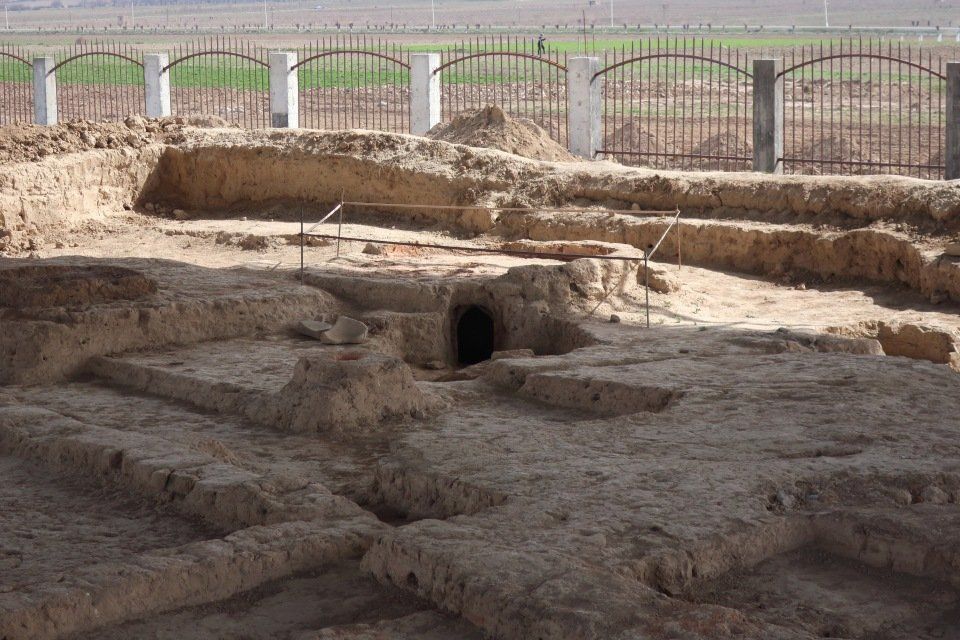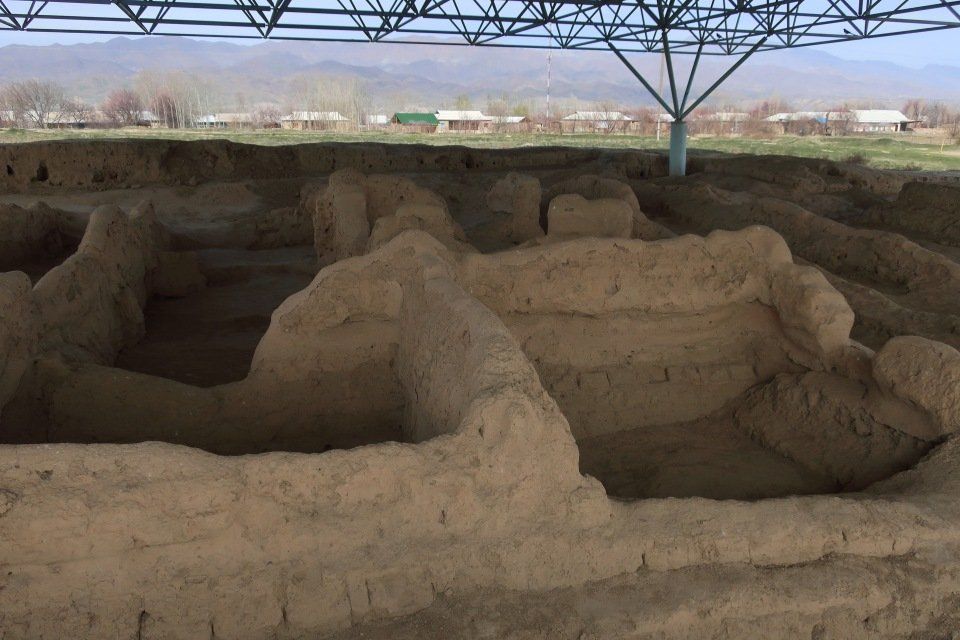 In those ancient times, more than 8000 people lived here - a figure unthinkable for that era and the proto-city was located on the territory of more than 100 hectares, which is also a very large territory for that era.
But now, it's time to say goodbye to Tajikistan and return home. We plunged into the car and five minutes later drove up to the border. When we got to the border crossing, our phones caught the signal of an Uzbek cellular tower and disturbing messages in Telegram and other instant messengers immediately rained down. On the eve, when we were leaving for Uzbekistan, there were no cases of coronavirus yet and we were considered a fairly safe country. open border, free movement around the world. But now, the first patient with this diagnosis was discovered and Uzbekistan immediately, within few hours closed all borders, air, auto and railway communications was stopped and all mass events were canceled. Early vacations were announced at schools and universities, quarantine was imposed, a ban was placed on the departure of Uzbek citizens from the country and the entry of foreigners into the republic, all this in one day, while we were not in the country.
This made certain adjustments to my travel plans - I planned to go to Russia in early April, but... Now I have to wait until better times. There is no information on the ban on domestic tourist trips. I hope there will not be sush a ban. At least this weekend I signed up for a long-waited trip to the mountains and I hope it will take place. A week before the trip to Tajikistan, I went to the so-called Gidzhal ring - a very interesting place with steep cliffs and canyons. Als, that day everything was hidden by for and picturesque photographs could not be made. However, the photos came out mysterious and otherworldly. the next post I will devote to this trip. This week I plan to repeat my voyage to the same location - organizers promised sunny weather and I hope that it will be so.