This local Peruvian food just a little bit out of Miraflores, Lima. It does exist on Google maps but believe it or not, no review thus far! If you don't zoom in enough, you are probably not going to find it on the maps. It's that hidden spot for local Peruvian food that only locals know about! #exaggerated, of course. El Huarique Huachano!
The secret is out! Epic local Peruvian food at El Huarique Huachano.
We are so lucky to have found the place! It's just our first day in Lima, we were so exhausted and needed to find somewhere cool to sit and chill waiting for the check-in time for our epic stay in Lima. Luckily, on the way of walking there. There are a few local Peruvian food places located right by each other. During lunch, the places are always packed with, of course, all the Peruvian locals. I seriously didn't see any tourists there at all.
My instinct was telling me, 'This place is the place!'
I can't ever resist the street-food like kind of places or small local / family-owned businesses. El Huarique Huachano seems to be one of those so... We're back at the place the next day.
Peruvian Menu Del Dia at El Huarique Huachano
Menu of the day is a big thing in Peruvian culture and also my big favorite thing while traveling in Peru. It's usually locally delicious! and hey, so affordable! S/ 5-20 ($1.50-6)depends on how touristy the area is.
Me: Did you just see '5 Soles' for a set of a meal?
Me: Yes you did siñor / siñorita
Peru could be so inexpensive or so expensive just like that so, hang on tight, we will talk about it one of these days and let me show you some of those epic meals for just S/ 5 ($1.50)! #dang!
Anyways, Menu del dia we all love. El Huarique Huachano was the place that introduced me to it. A simple one-page menu with choices of 'Entrada' and 'Fondo'. You probably guessed it, appy and main course. Most of the time, drink of the day (refreshingly diluted juice) included.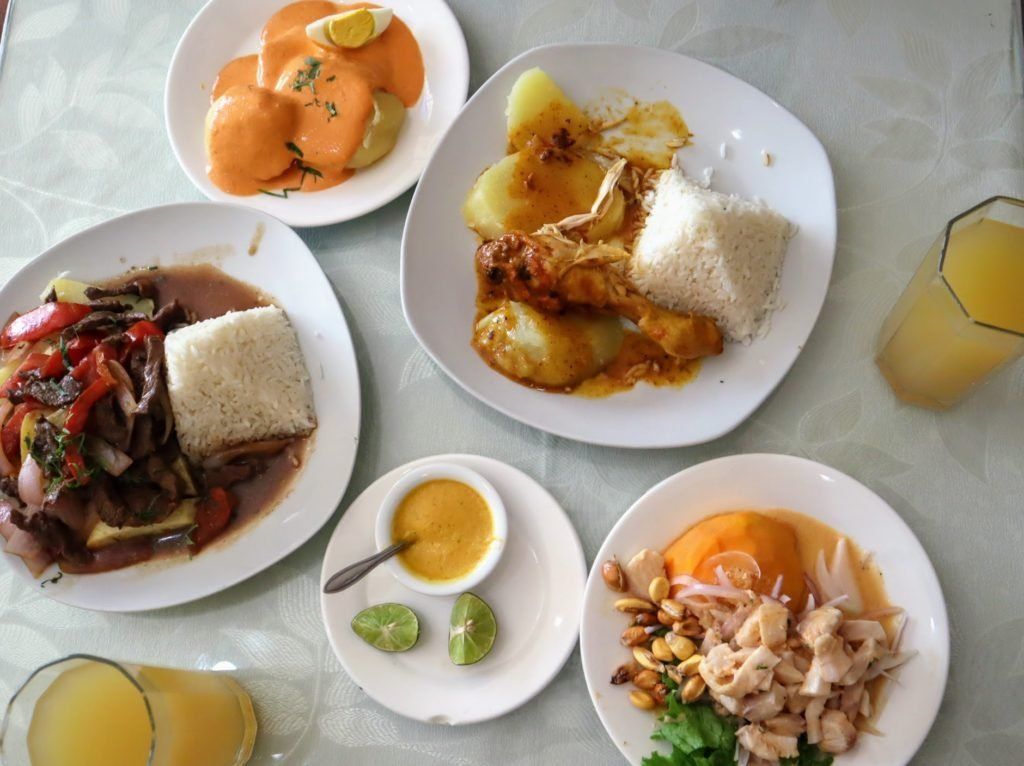 The Peruvian Entradas / Appetizers we had at El Huarique Huachano
Crema de Rocoto
We hoped it was spicy!
Without knowing what it was exactly, we already said 'Yes' to the thing the waitress tried to communicate 'Es muy rico (Very delicious siñorita)'. A lot of the customers also got this same dish so we gotta blend in.
We did some research while waiting for the food. 'Rocoto' is supposed to be a spicy Peruvian chili but uh oh, we didn't taste any spiciness in this Crema de Rocoto at all. It's more like creamy and mild. Served with steamed potatoes and hard-boiled egg. It's an appetizer that's very filling!
Ceviche / Cebiche
There's a big piece of potato in my ceviche!
Talking about local Peruvian food, there's no way we don't talk about this spicy and sour semi-raw fish/seafood salad, the world's famous Peruvian Ceviche!
We had been craving it since even before we got to Peru. We were all hyped and now, finally, we got a small little plate as a starter.
As we're in Lima, the pacific ocean is just a breath away so the fish was sure always fresh. Not as spicy as Thai spicy salad but the sourness, they wouldn't kid about. A refreshing appetizer that we for sure looked for it as a main dish in these next few days and YESSS!!! We found a really good auntie's homemade Peruvian ceviche (street food) at a local market in Surquillo!
What really surprised me though, the potato! There's a big piece of potato in my ceviche! I almost thought it was mango! Nah, they're all about the potatoes! Don't be too surprised, much more potatoes ahead in our local Peruvian food journey! and yes, potatoes in Peruvian ceviche is a norm!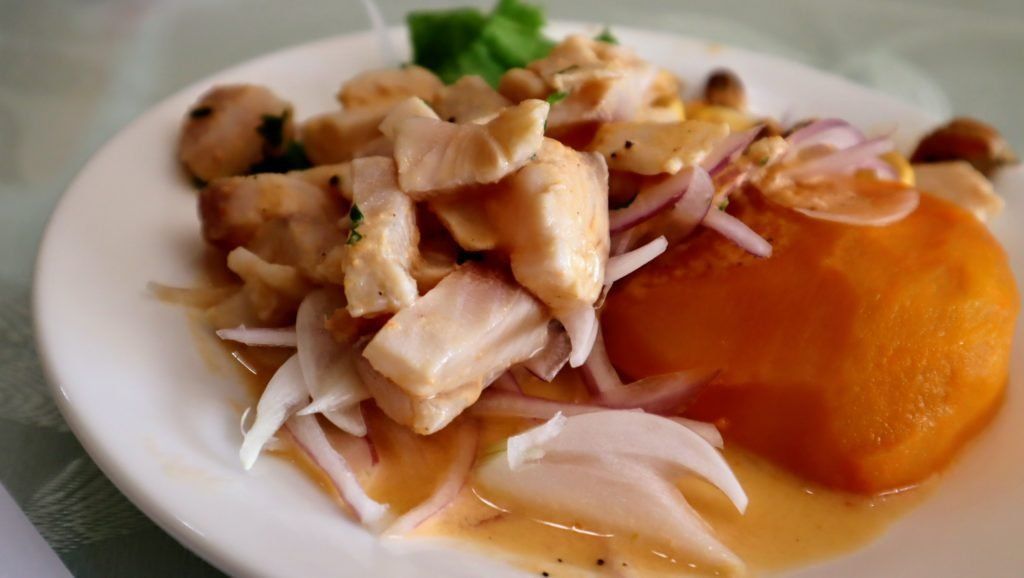 More rice and potatoes
I'm glad Peruvians love rice just like we Asians do. That's quite easy for me to survive Peru seems like. Without understanding the complete and only Spanish Menu, we picked randomly with just a few words we knew 'Pollo (Chicken)' and 'Carne (Beef)'. Here're what we got.
The exact same dish we had at El Farol, Stir-fried beef with onions and bell pepper with rice and potato. Another dish was chicken, potatoes, and rice. Not gonna lie but same-same, not so different. If you're used to Asian food in general, you know what I'm talking about so, enough said.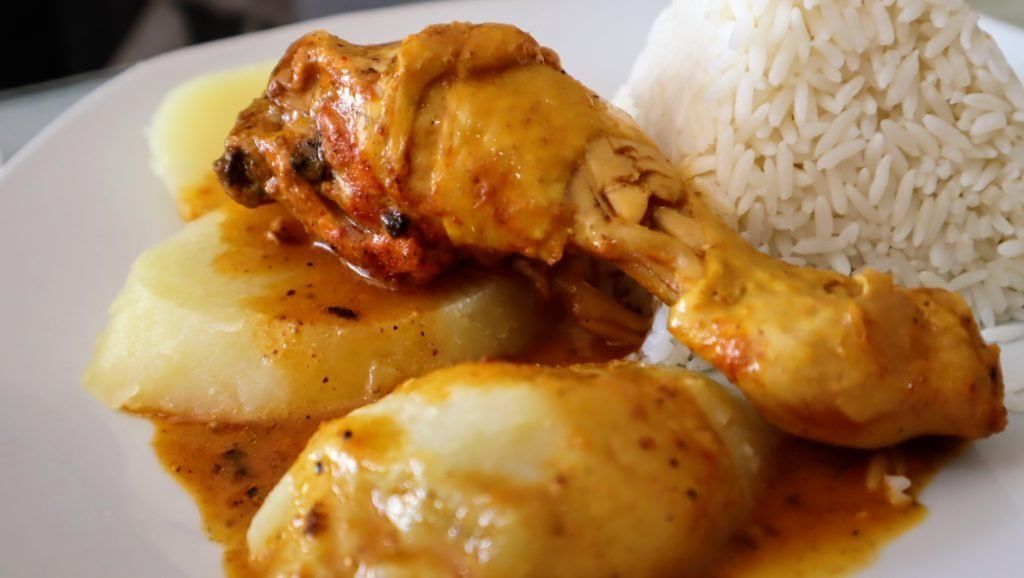 Peruvian dessert!
El Huarique Huachano is a really nice place for local Peruvian food especially, their menu of the day for such an affordable price. Each set we paid ahem! not exactly sure but about S/ 10-12 ($3.50). The service is great too. We loved it there but now it's time for some dessert!
Across the street from El Huarique Huachano, walk backward a bit and here we are, as local as possible. The Peruvian local pastries. Again, you can't find this on Google Maps either. I tried.
The place looks clean and they serve quite many different types of dessert and baked goods. Some tables and chairs for customers to sit and chill. Television with the local news we didn't quite understand. Great smell continuously comes from the back of the house as they bake there. Freshly housemade we can now tell...
Peruvian Crema Volteada (S/4) is something like Mexican Flan or Malaysian egg pudding if you have had some. The soft and smooth egg pudding with caramel sauce. Mmmmm.. it's so good and really refreshing. Quite a big piece for a bit over a dollar.
Another one we had was this small little pie with meringue on top.
Peruvian Beer | Cerveza Peruana
At night, we're back at it again in the same area but switch it up a bit. Instead of the rush lunch hour place, we went to the local bar and restaurant just a few doors from the place we had lunch. A dish and a bottle of Peruvian beer Callao Pilsen made in that ghetto area we accidentally were in on our first day in Lima, Peru hoo hooo... Lovely!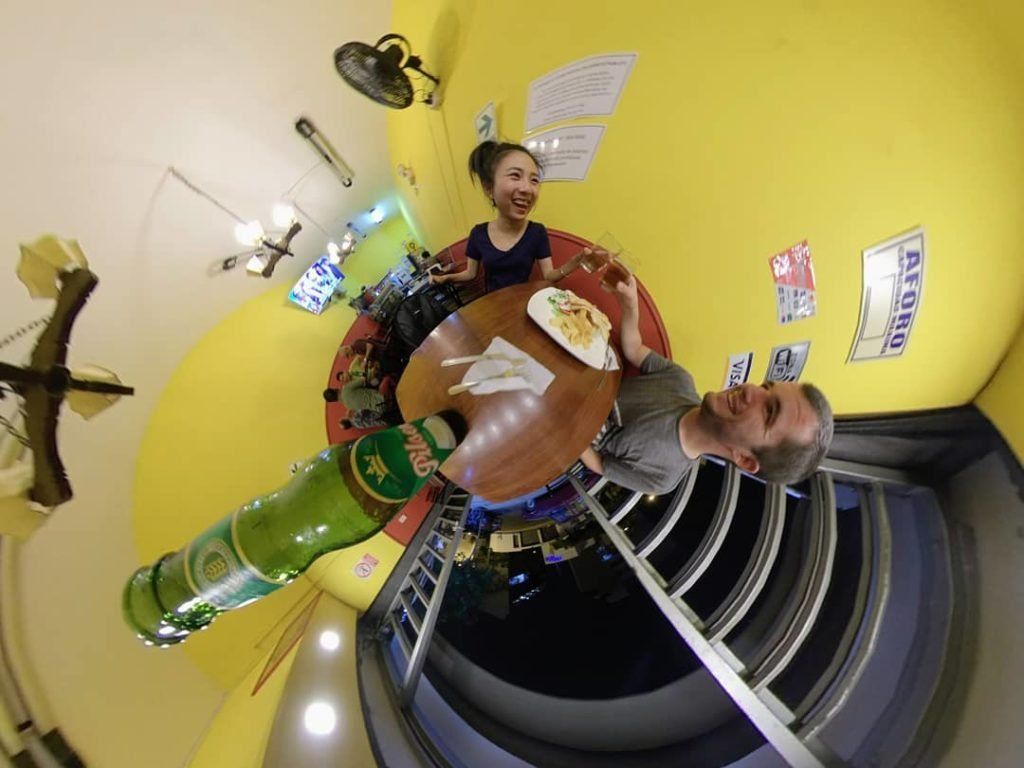 This trippy photo shot with my new fav 360 Camera.
Love it a lot these local Peruvian food spots that you might not be able to find on Google Maps as there's no reviews, no nothing but deliciousness and its affordable local prices. If you're in Lima, sure hit these two places up. Also, a few local places sticking around each other there in the area. You don't find these types of places often in this fancy Miraflores...
As mentioned, Miraflores, Lima is probably on the most inexpensive to travel in Peru so we most of the time stay in Airbnb ($55 Airbnb Credit with this link). More privacy and less expensive.


Enjoy the good local Peruvian food!


El Huarique Huachano
Address: Av. Petit Thouars 3907, San Isidro 15046
Tel: 948 964 195