Last month, @travelfeed provided some updates on the meetups that happened after SteemFest in Bangkok and Chiang Mai. By this time, I have re-joined the team to help in social media, PR and testing.
I wasn't involved yet when the team organized these meetups. It looked as easy as posting an event in Facebook and CouchSurfing and you just wait for people to join. I only realized the challenges in setting up meetups when I got the chance to help in organizing one in PaiThailand.
Why MeetUps?
As a travel blogging platform, our existing and potential users are scattered around the globe. We want travel bloggers so Thailand is one of the best places to meet them since almost everyone travel here and digital nomads have a number of hubs in this country.
The team is also working on our online presence to reach out to more people but a face-to-face introduction of the platform has its own advantages. Aside from the opportunity to give a more detailed discussion of TravelFeed, we get to know the practical questions and suggestions that new potential users have. Some of these questions have actually led to recent improvements in the user interface such as the Emoji Voting Slider. Thanks for the feedback @captainxcaptain!

As it was a more personal approach, we get to onboard the right people to the platform. The worst thing that could happen is get more people who would just submit shitposts. We're aiming for quantity (ie mass adoption) and quality as well.
In this post, I will discuss more on my experience in Pai. If you would like to learn more about the Bangkok and Chiang Mai meet ups. You can read about them here.

Inviting Travelers in Pai
So I thought it was just easy as pasting event links in Facebook groups and since we had some free food, it might be easier to get people to come. We also posted in Couchsurfing but they kept on deleting our post. We got a message that we violated some of their policies.
Facebook will only show our event if we pay to boost it. While Couchsurfing keep on censoring start up travel platforms, apparently. But to hell with these giants, we're doing it the old school way, we're in Pai anyway.
Pai in northern Thailand is your hippie, organic, vegan, all natural and eco-friendly destination so we decided to do a more personal approach. We posted handwritten invites at some local restaurants. We also printed out flier. Okay, this isn't as eco-friendly but we don't have time to hand write 30+ invitations!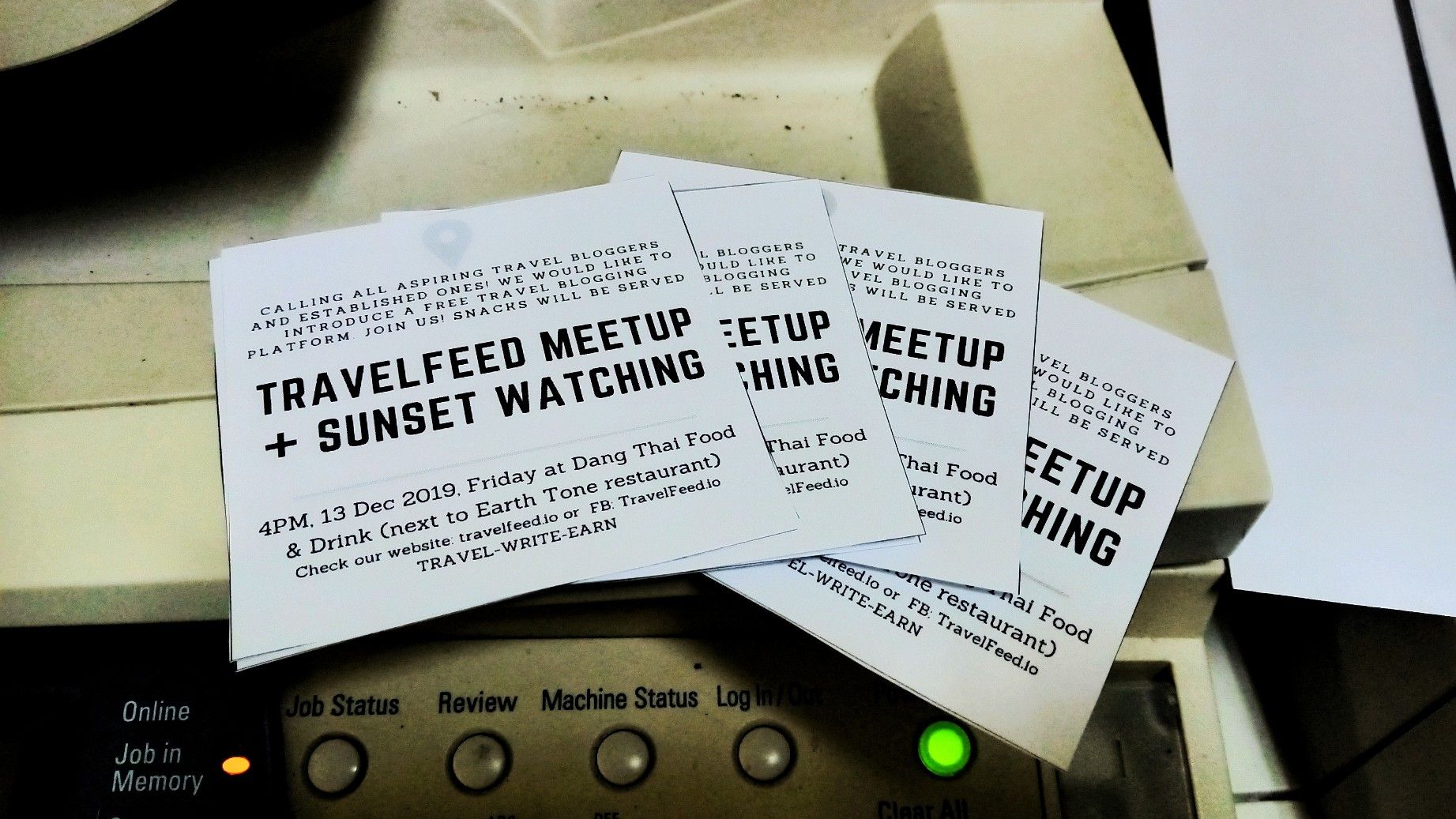 We talked to a few people at the night market, left some fliers at hostels and talked to more people the following day. We handed out fliers and TravelFeed post cards. I sounded like a broken record repeating the same things at least 30 times. Of course, I still tried to be more personal.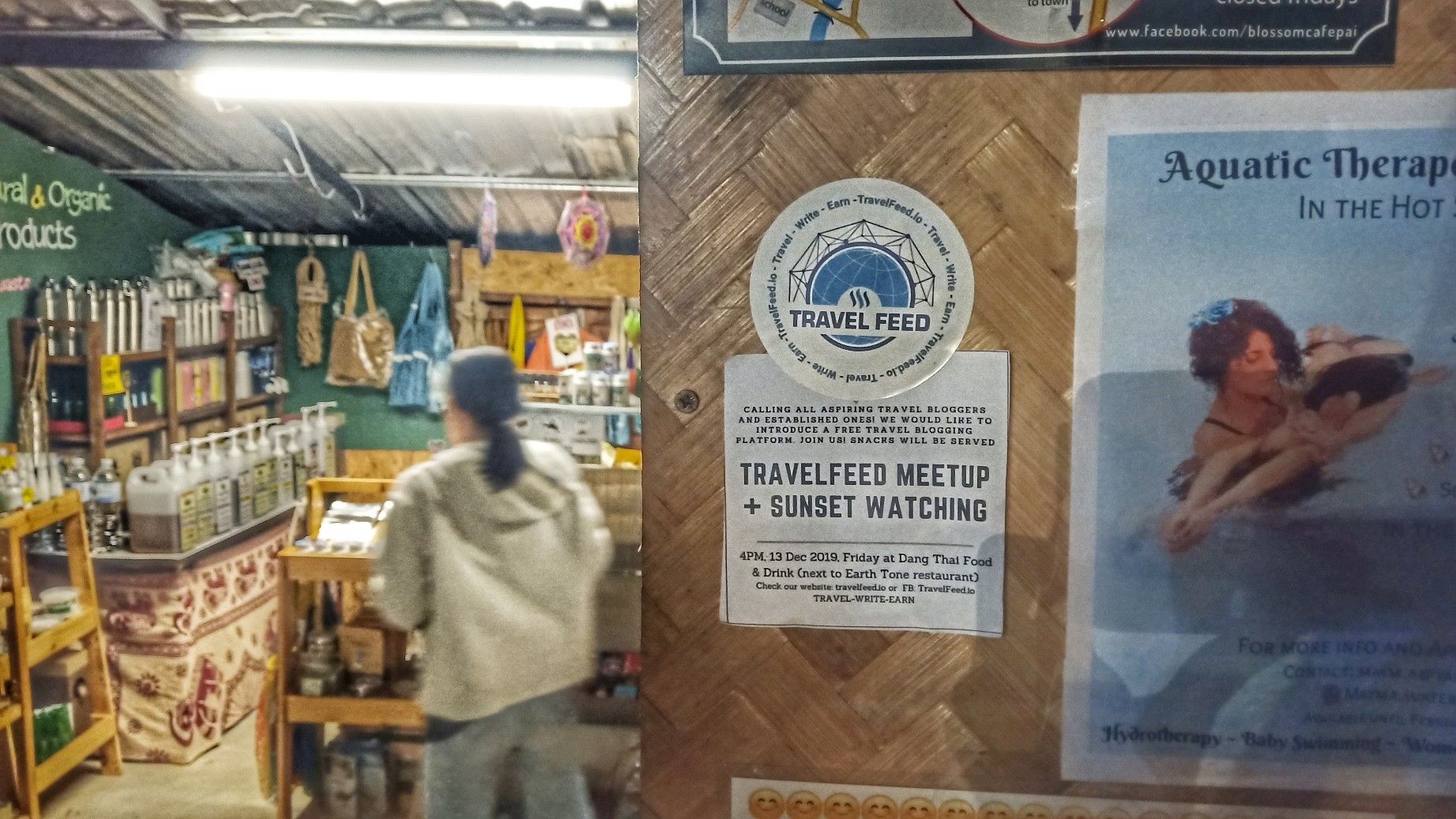 Stories and Thai Curries
The best thing about meeting other travelers is hearing about their previous journeys. It's like getting a travel guide first hand, you learn a lot from their experiences. And then you always want to go to the places they've been to. It was fun sharing travel stories, each one has experience and aside from blogging, this was a way to spread information and travel inspiration.
While chitchatting, we also had our favorite curry dishes at our favorite local Thai restaurant. Dang Thai Food & Drink located near the entrance to the White Buddha is probably the best local restaurant we tried. We eat here everyday and I can write a whole blog post about this restaurant.
Introducing TravelFeed
TravelFeed meetups aren't complete without @for91days! I started by introducing myself and my challenges as a newbie blogger and I introduced @for91days' part as an established blogger. @jpphotography did the rest of the talk as well as answering questions.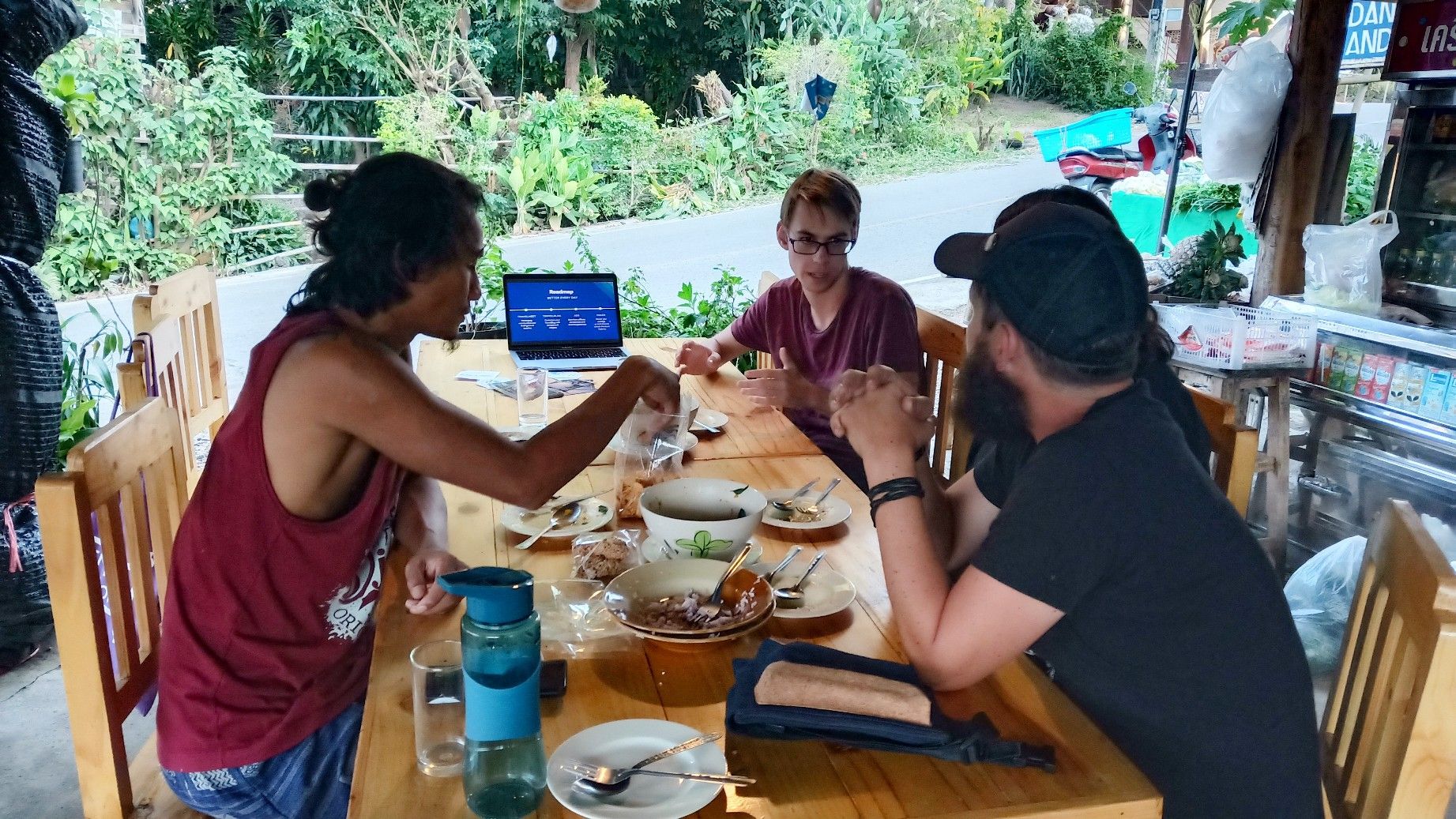 Like the meet up at Namton's bar in Chiang Mai, the approach was less technical. It can be more technical if most of the audience are digital nomads as they are more familiar with blockchain and cryptocurreny concepts. This was the case at the second meetup in Chiang Mai for the Digital Nomad's Coffee Club.
Sunset Watching
Like the previous meetups, we had an after chill event. In Bangkok, we went to the Golden Mount for Loy Krathong, and we also went to the night market after the Chiang Mai meetups.
Our local venue was close to Wat Pra That Mae Yen, known for the big White Buddha. We climbed to the hill as it was a good sunset viewpoint. You don't really a long sunset as the mountains block the view, you can go to Pai Canyon for that, but the skies are just amazing.
Our group decided to stay longer. We realized we were the only ones left on the hill and temple closes at 6pm and we were still there half past 6pm. There were no gates but it was getting dark so we decided to call it a night.
Digital Nomad MeetUp
Yesterday, we joined Pai's weekly digital nomad meetup event. TravelFeed didn't speak like the previous digital nomad meetup in Chiang Mai but it was a way for us to network and also share and gain ideas. The meetup was also more of a casual round table discussion.
By the way, have you noticed TravelFeed's new instagram embed feature in this post? So cool!
It was a diverse group, each from different countries - US, UK, Australia, Portugal, Germany and Philippines. Most of them are established digital nomads who generously share ideas with each other. After coffee, we visited one of the co-working space that the guy from Portugal was setting up.
Lessons Learned
@jpphotography and I discussed what we could do better next time. We agreed that joining existing digital nomad meetups is more time and cost efficient. We enjoyed talking to each individual and group to attend our own meetups too and even if some of them wasn't able to make it, we were able to advertise about TravelFeed. It wasn't a waste. In places where there is no existing digital nomad groups, it would be cool to organize our own meetups again.