After Thailand, we decided to head over to a more laidback country - Laos. We stayed there for a month and took the most economical transportation options and we also hitchhiked quite a lot. I have compiled some useful information we experienced and gathered throughout the way.
This is a practical and DIY guide to transportation going in from Chiang Rai, Thailand, around Laos, and finally going out to Nong Khai, Thailand. I have also added some recommended accommodation and tips along the way. I will write about the interesting places on a separate post. Click on the Table of Contents sections to jump to the desired location.
Thailand to Laos via Chang Khong
Our homebase in Thailand was Pai in the north. We left Pai a few days before the New Year and all mini vans were fully booked. We then hitchhiked our way to Chiang Mai which was a more fun experience.
We arrived in Chiang Mai late in the afternoon and as expected, the buses going to Chiang Rai or the Laos border were all fully booked that day. We wanted to straight to the border but those were full for the next days. We traveled around Thailand during Christmas and it was not as busy as this. All locals and foreigners alike seem to have gone out for the New Year and every bus was full.
From Chiang Mai bus station, you can get a direct bus to the border. We took an alternate route which we found better because the bus took us to the other side of the border and we didn't have to get a tuktuk for that. Unlike other borders, there's a long bridge that separates the Thailand immigration from the Laos immigration at the Chang Khong Border.
Chiang Mai – Chiang Rai – Chang Khong (Borkaew)
We took a bus to Chiang Rai Green bus which costs 160 Baht. The bus left the terminal at 5:45am and arrived Chiang Ria bus terminal at 9:30am.
From the Chiang Rai bus terminal, we bought a bus ticket to Chang Khong border immigration for 220 Baht. The bus left at 10am and arrived at the border at 12:55pm.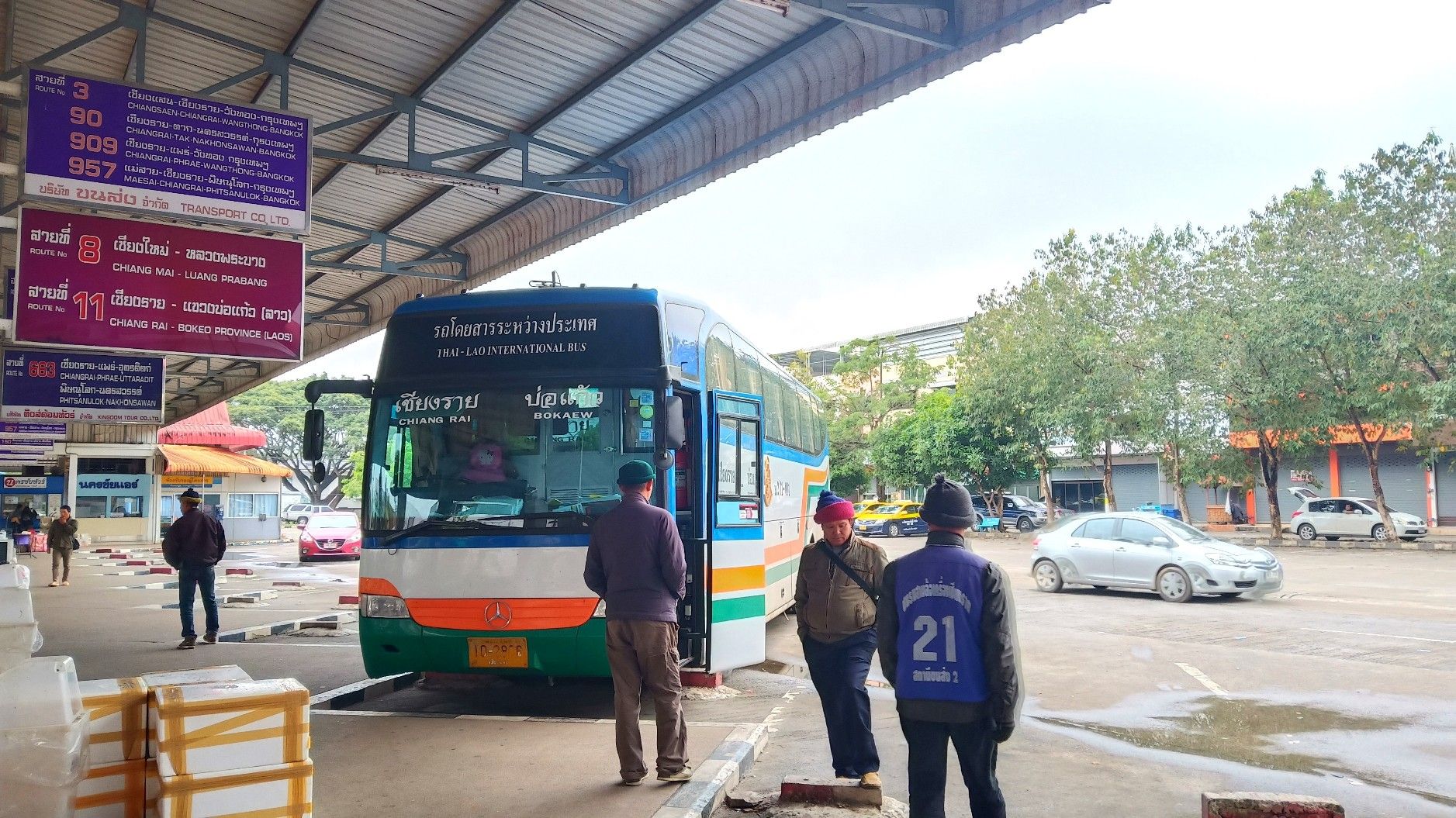 We first stopped at the Thailand immigration to exit the country, we left our luggage inside the bus. The bus waited on the other side and the bus took us to the Laos immigration which was quite a long way.
Visa: At the Laos immigration, some foreigners have to pay a visa on arrival fee. My German travel buddy paid USD 30 visa on arrival fee. I hold a Philippine passport which is part of the ASEAN so I don't have to pay, 30 days is free.
The bus waited for us at the immigration as that was not the final stop. It took a few more kilometers for the bus terminal.
---
Huay Xai
The boat station at Huay Xai was about 10 kilometers from the town center. We wanted to get there as we're taking the slow boat to Luang Prabang. A wrong decision because we later on found that the boat terminal was being renovated and closed. The temporary boat terminal was near this area!
Anyway, there was no way we could have found out. There was no information online and the information may have been posted there in Laos language. All the other travelers thought the same so we all boarded the only tuktuk to the town center. It was a little overpriced at 20,000 Kip per person for a short trip and a tuktuk filled with passengers.
Sleep: The main tourist street has several accommodation option. It was high season but we still found a decent accommodation at Sabaidee Guesthouse for 50,000 Kip for two people. There were a few hostels but cost more per person.
Eat: There were a few street food vendor during the day. Milk tea costs 5,000 Kip, a simple noodle soup with vegetable costs 5,000 kip and up to 15,000 kip for noodle soup with meat.
Slow Boat from Huay Xai to Pakbeng
The slow boat only operates during day time and will take 2 days to Luang Prabang. The following morning, we took a tuktuk for 15,000 kip per person to the temporary boat terminal.
Note: Once the boat terminal is fixed, you do not need to get a tuktuk as it is just walking distance from the town center. There was no information when it will be fixed and it seems that there's still a lot of work to be done when we were there December 2019.
The boat ticket from Huay Xai to Pakbeng costs 100,000 Kip per person. You can also buy a 2-day boat to Luang Prabang for 200,000 Kip. We chose to buy it separately in case we decide to stay longer in Pakbeng or go somewhere else. It was the same amount and there's no discount if you buy the 2-day or the single trip separately.
The boat was comfortable and some seats have tables. At the entrance, they will give you a plastic bag where you store your shoes as you have to be barefoot inside the boat. There were numbers assigned and you just get a good seat by luck. The boat left at 11:30am and arrived in Pakbeng at 5:10pm. Buy snacks to take with you at the boat.
There was decent toilet inside the boat and the whole ride was comfortable as it was slow and you get to enjoy a scenic view of the Mekong river and the mountains that surround it.
Sleep: The guesthouses were all walking distance from the Pakbeng port but it was uphill so some guesthouses wait at the terminal to pick up guests. We didn't have a booking, as usual, and we easily found a really nice guesthouse for 50,000 Kip for 2 people at a guesthouse which wasn't online, we missed to get the name but it's easy and cheaper to walk in. Most guesthouses online are relatively expensive.
We spent New Year's eve here and there were no fireworks except for 1 or 2 tiny rocket fireworks that we heard. It was a small town and most villagers were celebrating with music and beer.
Slow Boat from Pakbeng to Luang Prabang
The boat to Luang Prabang departs earlier at 9am and costs 100,000 Kip per person. There was no ticket office and we just paid inside the boat as a local collects the tickets from other passengers who bought the 2-day ticket.
There were no tables in this boat but the seats were very comfortable and spacious. It was a much longer ride than the previous day and we arrived in Luang Prabang at 5:30pm. It was a total of 8.5 hours, while the previous day was just 5.5 hours. That sounds too much but I really enjoyed the boat ride as it was very smooth. You can read a book, watch a movie or simply enjoy the picturesque view all the way.
In Luang Prabang, there are tuktuks at the terminal who charges between 15,000 Kip to 20,000 Kip per person which is about 7 kilometers. We wanted to hitchhike but there was no cars or trucks going from there.
Sleep: January is high season in Laos and guesthouse have doubled they're prices. The cheapest we found was at least 100,000 Kip for a room. We then found the Vongprachan Backpackers hostel for 25,000 Kip per person and that includes breakfast. However, Wifi is unstable. We planned to work a bit online while in Luang Prabang before we slow down again so Wifi was important. We moved to Mixai Guesthouse which has good Wifi and rooms costs only 40,000 Kip for 2 people with shared bathroom.
Eat: We usually go to the night market but avoid the all you can eat buffet for 20,000 Kip, it was cold and they seem to re-heat the food from the previous day. This is within the small street were most of the food stalls are. You will find several grilled fish and meat here. We stayed here on their closing time and we found that they were packing up a lot of grilled fish for the next day. It was a lot and they seem to cook in batches, which means that your food wouldn't be fresh. Avoid this area! Just walk outside the night market and you will find local vendors that grill a few fish at a time. We tried both and this ones on the side streets, outside the night market, was a lot fresher. A small fish would cost 15,000 Kip to 20,000 Kip.
We also recommend Break for Bread beside a school. They have the crispiest Banh Mi bread and their pork banh mi is the best. One Banh Mhi costs 10,000 Kip, or you can get a combo with drinks (milk tea or other tea) for 15,000 Kip.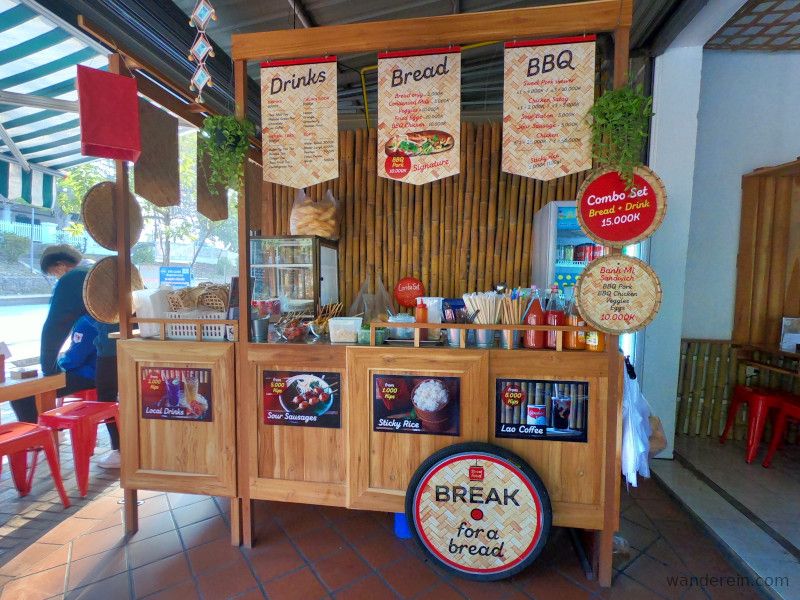 ---
Luang Prabang Transportation
We mostly walked within Luang Prabang as Mixai Guesthouse was just near the center. There are tuktuks but it's always a pain to negotiate because they usually overcharge tourists so we have no idea what the real prices are.
For our day trip to Kuang Si Waterfalls, we rented a scooter for one day at Anousay Bike Rental Service. We got a 100cc semi automatic motorbike for 60,000 Kip plus 20,000 Kip fuel for the entire day which we found to be too much. The owner said that 20,000 Kip would be good enough but you could even go to Kuang Si and nearby places for lesser fuel.
---
Luang Prabang to Nong Khiaw
After 5 days in Luang Prabang, we decided to head north to Nong Khiaw. From the town, we got a tuktuk for 25,000 Kip for the two of us to the bus terminal. It was quite pricey as it was a bit over 3 kilometers.
We bought our ticket in advance while we had the motorbike. It was a good idea because the minivan was already almost full when we arrived before the trip. There were a number of minivans in the morning and the last one we took was scheduled to leave at 2pm, but we left at 130pm. It's always better to be a bit early as the schedules are not really followed, buses and minivans seem to leave as soon as they are full. Luang Prabang to Nong Khiaw minivan ticket costs 40,000 Kip per person.
The minivan is cramped and they would usually go through stops to deliver packages along the way. I guess this is extra income for the driver and there was no courier service along the area. Just be patient. This is how the locals use their transportation and we, visitors, are just using their space as well. If you would like more comfort and space, you can arrange a private car to Nong Khiaw. The travelers also get the better seat and there seems to be an unspoken rule that the locals seat on the wooden seats in between.
We arrived in Nong Khiaw at 5pm, after 3.5 hours of bumpy roads and curves. The driver has some plastic bags in case someone pukes. Thankfully, none did. We also took some motion sickness pill which we got while we were in Thailand.
Sleep: The budget accommodation seems to be in one area, which is on the right side from the bridge. We stayed one night at Meexai Guesthouse for 50,000 Kip for 2 people and then moved to Bamboo Paradise for the same price but with a river view.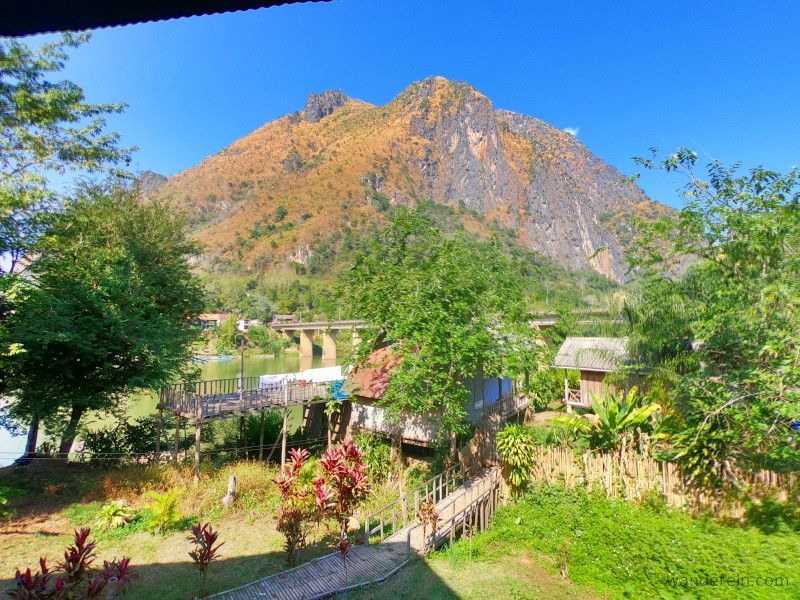 Eat: During the day, try out the street food and the small local canteens that sell noodles and grilled food. They are a lot cheaper and tastier than the tourist restaurants. Most of these places are just outside the tourist area and near the school. As for the tourist area, we love Deen Indian restaurant which seems to be very popular at dinner and Alex Restaurant which offers really good Laos coffee and local food. Both have good Wifi so we also work there sometimes. For dessert, treat yourself with a chocolate cake with coconut ice cream at Delilah's.
ATM: There are only 2 ATM's in Nong Khiaw, both by BCEL. One of the ATM is just after the bridge, and the other one is near the Hive Bar or on your way to Nong None view point. The maximum withdrawal here is 1,500,000 Kip, as in most Laos ATMs.
---
Nong Khiaw to Muang Ngoi
If you wanted a place that is more quiet, head over to Muang Ngoi. It is just one hour by boat from Nong Khiaw. The boat leaves at 10:30am and 2:30pm. The boat ticket costs 25,000 Kip per person.
We accidentally but luckily got into a local boat rather than the traveler boat. One boat would usually have at least 30 foreigners seated on the wooden floor. For some reason, there was an extra boat that day which had deliveries to small towns and picked up some local passengers along the way. The driver seem to didn't want to explain that in English while we were still at the pier so he let us stay in the boat! That was so nice of him. This ride was much more comfortable with nice car seats and a lot spacious!
Sleep: Prices are higher than usual due to the high season. We got a really nice river front bungalow for 60,000 Kip for 2 people at Nicksa's Guesthouse. It would be 50,000 during the low season or after January.
Eat: There were street food during the day and we like the local vendors just outside Nicksa's. In the morning until early afternoon, they would sell a tasty noodle soup with bamboo shoots and vegetables for 5,000 Kip. In the late afternoon, they replace this with grilled banana for 1,000 Kip each. The grilled banana has a crispy and biscuit like cover, I think that's the peel. It was so good!
Our favorite Indian restaurant in Nong Khiaw, Deen Indian Restaurant, has a branch here and they're a bit cheaper here and the servings are bigger. We always get a mango lassi for 12,000 Kip and we one of our favorite is the Chicken Peanut for 30,000 Kip.
For good Laos coffee, get one at Veranda Guesthouse (has good Wifi too) and at the riverfront restaurant beside the boat ticket office (failed to get the name). We asked some restaurants for Laos coffee but they gave us instant coffee instead so these are the places were we got good Laos coffee.
---
Muang Ngoi to Phonsavanh
Phonsavanh is home to the megalithic site of ancient urns called Plain of Jars which we thought was difficult to get to. There was no direct way from Muang Ngoi to Phonsavanh so we had to go back to Nong Khiaw. The boat costs the same at 25,000 Kip but leaves earlier at 930am.
The travel agencies in Nong Khiaw were offering the sleeper bus to Phonsavanh for 220,000 Kip. It includes the tuktuk to Pak Mong which was an hour away from Nong Khiaw. We found that really pricey so we decided to hitchhike our way to Pak Mong bus station and get the actual ticket price there. Buying it at the travel agency was more convenient but we enjoyed hitchhiking and we have a lot of time.
Hitchhiking
We hitchhiked with 3 different transportation for the whole 30 kilometers. The first ride was short, and then the second covered almost have of our way. The car owner was so nice he even gave us a bottle of water each. We stopped by a local market and got some snacks like donuts and rice cakes which were just 1,000 Kip each. From there, we rode the back of a truck up to the bus terminal. We arrived at the bus terminal at 430pm.
We were told at Nong Khiaw that there were 2 sleeper buses, one at 4pm and the last one is at 930pm. However, they said that they are not sure of the schedule, sometimes there's no bus. Luckily, there was a 930pm bus which only costs 150,000 Kip. We saved 70,000 Kip per person! If you will not hitchhike, you can take a tuktuk for 25,000 Kip from Nong Khiaw and then buy the bus ticket here. You still save 45,000 Kip. Of course, booking at the travel agency is still more convenient and that's the additional price that you pay there.
Note: The sleeper bus stops at the intersection in Pakmong, not far from the bus station. The ticket officer at the bus station took us there through a mini van free of charge. The bus was almost full when we got in so this is just one of the stop overs and not the first station of this bus.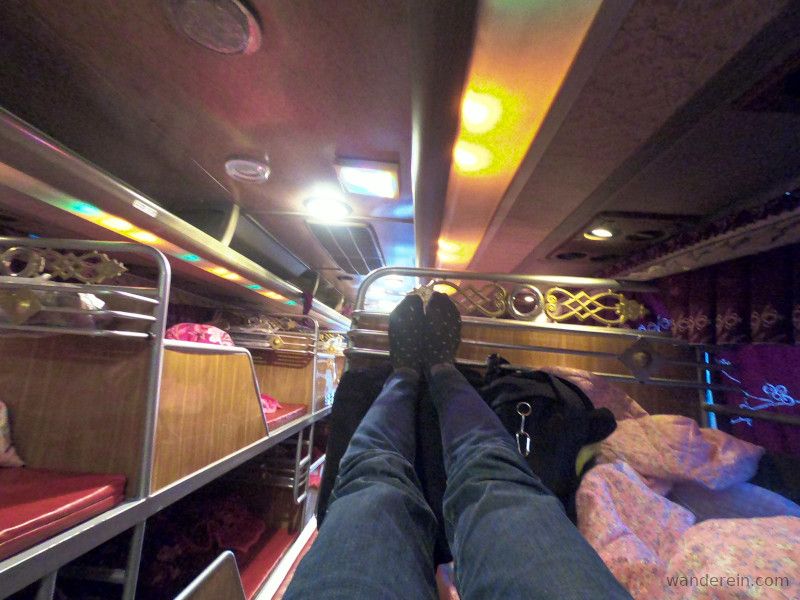 ---
Phonsavanh to Vang Vieng
There are mini buses in the morning (around 8am) from Phonsavan to Vang Vieng which run every morning. Travel time is approximately 7 hours.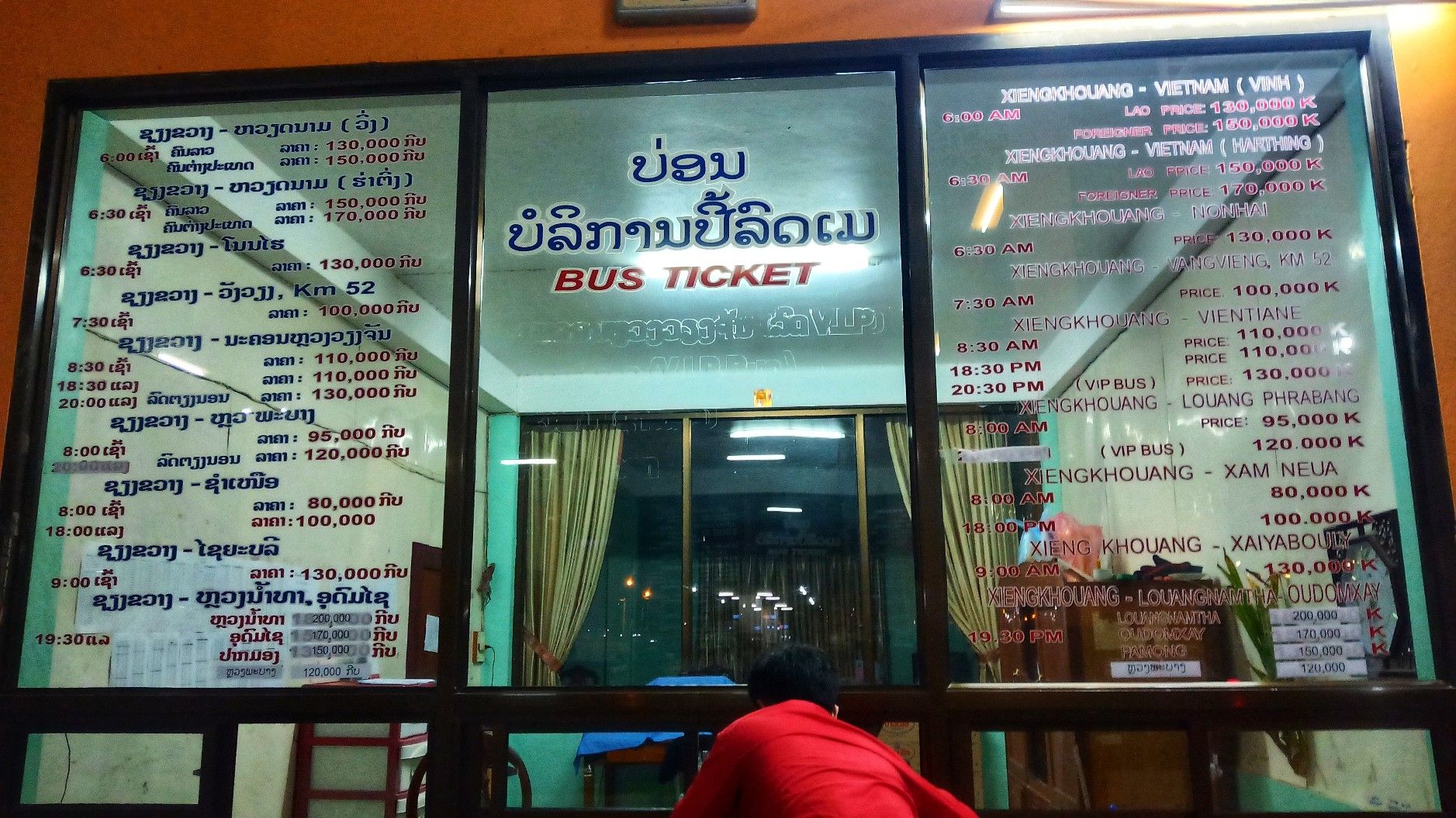 We hitchhiked halfway through Vang Vieng because we missed the morning bus and we also didn't want to be in a cramped bus for 7 hours. There were trucks that stopped for us until we got to a local area on the mountains and stayed there for a night. We continued hitchhiking the following day but there was not much traffic in this route. Luckily, a passenger bus stopped by. It was much more comfortable than a mini bus although we were not sure where it came from. There were no big buses in Phonsavan for this route so it must be from another location.
---
Vang Vieng to Nong Khai, Thailand
At the Vang Vieng bus terminal. There is only one bus which leaves at 930 am. This bus would take you from Vang Vieng to the Thailand border and costs 90,000 Kip. It is quite early but this is the best way to get there so you also don't have to pay an additional fee of 40 Baht to the Laos Immigration for overtime. After 4pm, they charge this fee to every person crossing the border to cover for their staff's overtime.
Thailand overland visa free duration: Several articles online notes that Thailand only gives 15 days to Philippine passport holders if you arrive by land. However, I was given 30 days at the Nong Khai border.
Do you already have a Travel Insurance?
Constantly being on the road entails higher risk but this doesn't stop us from traveling. Travel Insurance is the best protection you can bring with you when you're abroad. There are unexpected events in any country but that shouldn't stop you from living your dream. Before my trip, I researched thoroughly and found that SafetyWing is the most affordable and the best part is you can extend your insurance wherever you are in the world!
Other travel insurance in the Philippines (for us Filipinos) require us to be in the country after some months and this is not ideal for me as a digital nomad. Thankfully, SafetyWing lets you extend wherever you are and they even allow you to register even if you are already abroad which other travel insurance wouldn't allow.
---
This post contains affiliate links. I may earn a small commission if you make a purchase through these links at NO additional cost to you.