We recently booked a stay at the Embassy Suites by Hilton McAllen Convention Center to celebrate our wedding anniversary. We had never stayed at this property. However, we had visited their bar and restaurant when we have gone out on dates. We generally like Embassy Suites hotels. We enjoy their evening Happy Hours, their attentive staff, and the layouts of their suites. 
This is McAllen's second Embassy Suites, that I am aware. The first has converted to a DoubleTree by Hilton. We also enjoyed staying at Embassy Suites when it was there. As a family, we like having separate bedrooms and a living room.
The closest we come to the Embassy Suites experience anywhere else is staying at resorts and AirBnB rentals. The main exception is that they do not offer hospitality the way Embassy Suites does. At those destinations, you pretty much reserve the space. You're on your own when it comes to dining or other services. Mrs TWM says that staying at Embassy Suites is more like staying at your own apartment. 
Trying Out Hospitality
In a recent conversation, a friend of mine mentioned having to suddenly borrow a laptop to do some work when he was traveling. The hotel let him borrow a computer that was adequate. It wasn't a fast machine. But, it got the job done. 
This anecdote had me thinking about hospitality. When we have stayed at hotels, we were content to have a place to sleep. On occasion, we had to call for extra towels or a corkscrew. But, it didn't occur to us that hotels offer more than just a place to stay. 
To their credit, some hotels have started text messaging guests prior to, during, and after stays. The morning before our stay, I got a message from Embassy Suites to welcome me, and to offer assistance with anything. Mrs. TWM and I have a tradition of a single red rose for romantic occasions. I asked if they could leave a single red rose in our hotel room. There was a long silence before a reply. They could not provide a red rose. However, they could sprinkle rose petals for an additional $10. Deal. 
When we arrived at our room, there were rose petals from the entrance all the way to the bed. They were also sprinkled on the bed. And, there were sculpted towels shaped like a heart and a swan. There were even red balloons and red heart-shaped glitter. This was more than I expected. They scored big points with that.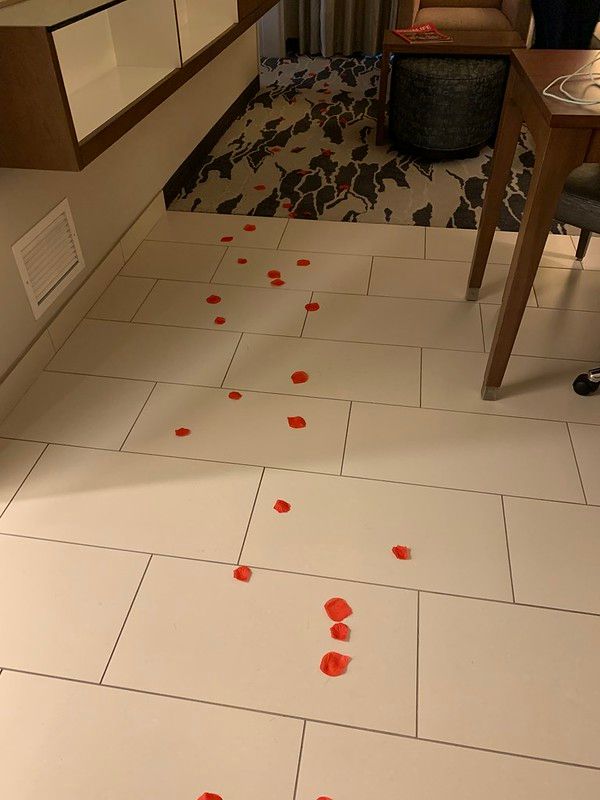 This is an example of those extra hospitality requests that hotels are willing to do for their guests. Obviously, they're not free. But, their willingness to serve and do more than rent you a room should not be overlooked. 
Many Services
It would be easy to overlook hotels for the great resources they have. Besides bedrooms, they often have bars, restaurants, gyms, swimming pools, and event spaces. They can cater your events, and provide audio-visual equipment, extra tables and chairs, maybe a dance floor, and staff. 
Our family mostly enjoys going for a swim when we stay at hotels. We don't generally take advantage of all the other amenities available. I think, perhaps, this might change in future. We could, for example, reserve a hall for birthday parties or other celebrations. While we were having dinner at the Embassy Suites hotel restaurant, some people were having a celebration in the outdoor area. They had a DJ playing music. And, we saw staff rolling out a kegerator to serve beer.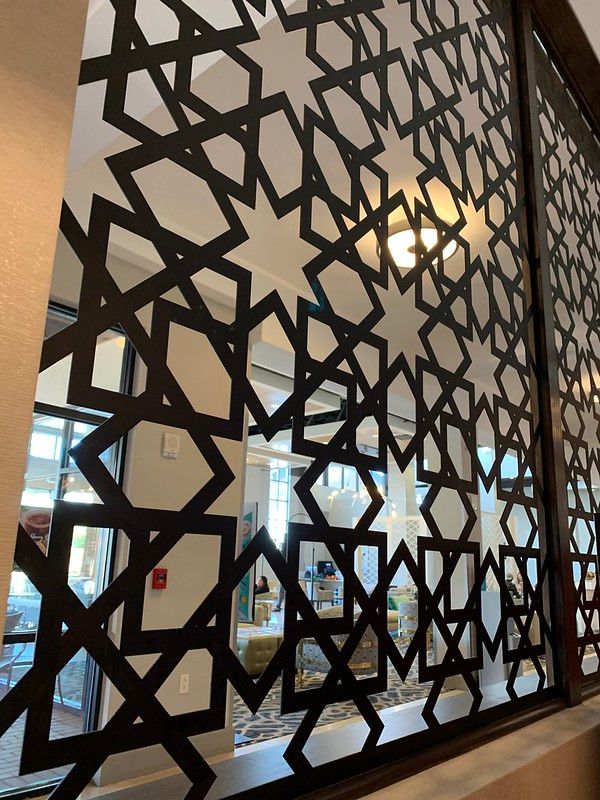 But, there are so many other occasions to celebrate. There are baby showers, wedding receptions, family reunions, and anniversaries. Or, hotels are great for conferences, meetings, or training spaces. I have always thought of hotels as places to stay while traveling. But, after this experience with the rose petals, it finally clicked that hotels are an extension of our own homes. We can outsource hospitality to professionals who know how to take care of guests. 
Hilton Honors Aspire Card
As holders of the Hilton Honors Aspire card by American Express, we probably had some extra perks for being Diamond status members. If we received them or not, we were unaware. It was a pleasant experience regardless. We do plan on visiting again. I think the biggest advantage of the Aspire card is that it allows us to earn rewards for our stays much faster. 
Restaurant and Bar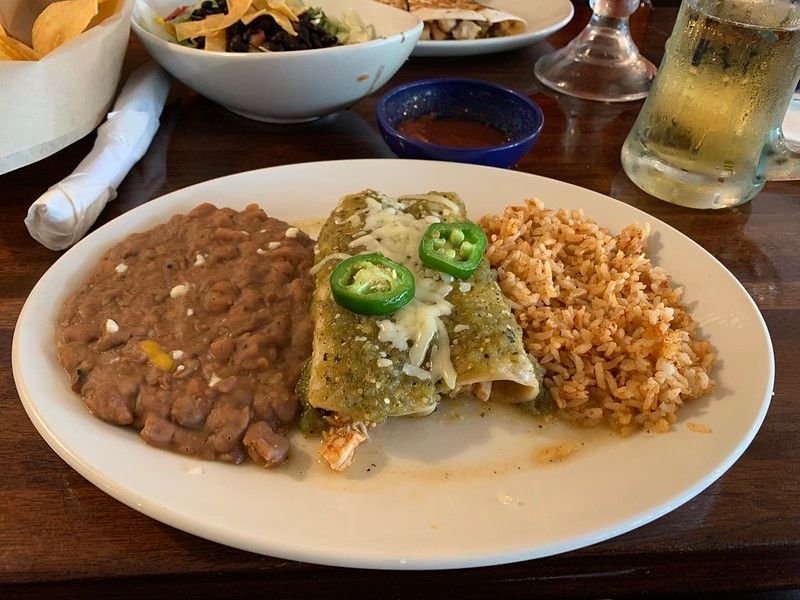 The Embassy Suites of McAllen has an On the Border Mexican Grill & Cantina. These are an integral part of the hotel operations. The times we have visited, they have had excellent foot. When you eat there, you can charge your order to your room for Hilton Honors points. However, as it operates as a separate franchise, charging your order to your Hilton Honors credit card will not get you the 12X or 14X points. It will code as a regular restaurant. If you want to maximize your rewards, then you have to charge your meal and drinks to your room. Otherwise, it's 7X HH points for dining, or whatever points your credit card offers for dining. 
There's a Starbucks coffee shop on the property. But, it shuts down early. So, if you're hoping for a late night coffee and cheesecake, you'll have to order from the hotel kitchen. 
In the morning, the restaurant offers buffet-style hot breakfast. The chef will also make you an omelette, if you prefer. We were pleased with the selection. Given the region where we live, we were glad that they also offered refried beans and tortillas. I might be wrong about the tortillas. 
Do We Recommend It?
If your preferences are like ours at TWM, we think you would enjoy your stay at the Embassy Suites by Hilton McAllen Convention Center. There is no mistaking this property with a resort. In our opinion, you stay at this hotel to get away and enjoy living. There's good food, good booze, and plenty to do in the area. It's like being at home, if you lived downtown near all the hubbub. 
If we were looking for a place to unwind and get away from the world, this would not be it. But, we don't generally go to places like that. That's not our bag. We were thinking about how growing up, our experience of hotels was generally roadside hotels and motels. They were just a place to stay. They lacked the amenities and services that hotels such as the Embassy Suites offers. 
When you read stories or watch movies of medieval times, or thereabouts, people stayed at Inns. There was a place for your horses and carriage. There was a pub. And, if you needed a place to sleep, you could pay for a room. But, you also see that there are regulars in the background who would spend their day at the Inn drinking ale, or having a meal. There's always the guy coming in looking for information from the innkeeper. 
Maybe a more upscale or modern version of the medieval inn is how the Embassy Suites experience feels to us. The intended image of the Embassy Suites brand is for upscale all suites. Most have a large atrium in the center. But, this Embassy Suites does not. However, the lobby area is large and spacious.As a whole, the Embassy Suites brand has often won awards for the service. 
So, if you want to experience great hospitality with the comfort of home and all kinds of activity around you, then the Embassy Suites by Hilton Mcallen Convention Center will fit the bill. There is no elite pretense given or demanded. And, if you need something special for your stay, like rose petals on the bed, then they may be able to work with you. I get the sense that rather than say no, they may offer alternatives to requests. In this manner, I doubt I would walk away feeling empty-handed. If this is the sort of experience you prefer, then I definitely recommend this Embassy Suites property when you are visiting South Texas.