If you've read my previous post, you'll know that I talked about the town of Rotorua and I mentioned about the Geothermal activity in the area. Mainly in Kairau park!
You can check that out here
Well, part 2 is focused alot more on the Geothermal side of things with a much more popular and much, much bigger park..
Wai-O-Tapu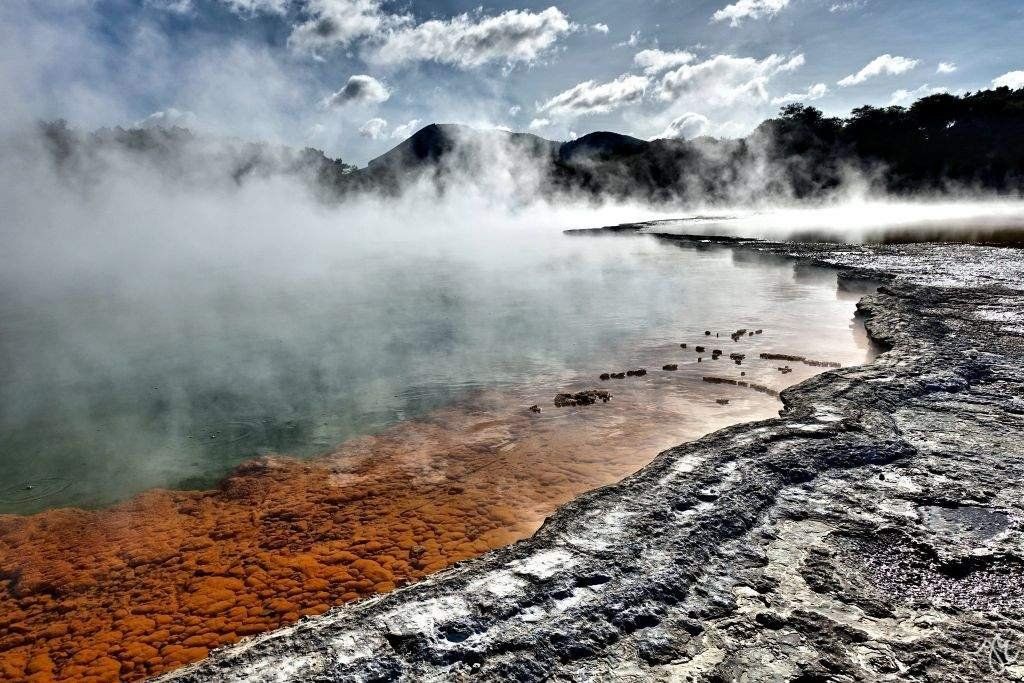 This is infact one of the "must do's" in this area, it really is quite mind blowing how big and varied this place is.
What is Wai-O-Tapu?
Well like I mentioned before, it's a Geothermal park but it's actually more than that.
It's a super volcano!
Did you even realise there was such thing? I sure didn't before I arrived. A super volcano is a huge volcano spread across a very big area.
Here's a qoute from the Oxford english dictionary:
Quote
"an unusually large volcano having the potential to produce an eruption with major effects on the global climate and ecosystem."
Uhuh, tell me more...
"the possibility of a supervolcano erupting is terrifying, but the odds are fairly long against it happening in our lifetimes"
Jesus christ, that's terrifying!
So what did they do?
That's right, they built an attraction on it! 😬🤦🏻‍♂️
It really is an incredible place to visit though despite the heavy price tag. (That's tourism for you.)
---
If you arrive early enough, you get to see a well known "Geyser" called Lady Knox go off at precisly 10:15 am every day!
Geyser's are basically hot springs which go off and shoot up boiling hot water from time to time. Kind of like a blowhole on a whale except it's boiling hot! This one in particular shoots up to heights of 10 to 20 meters!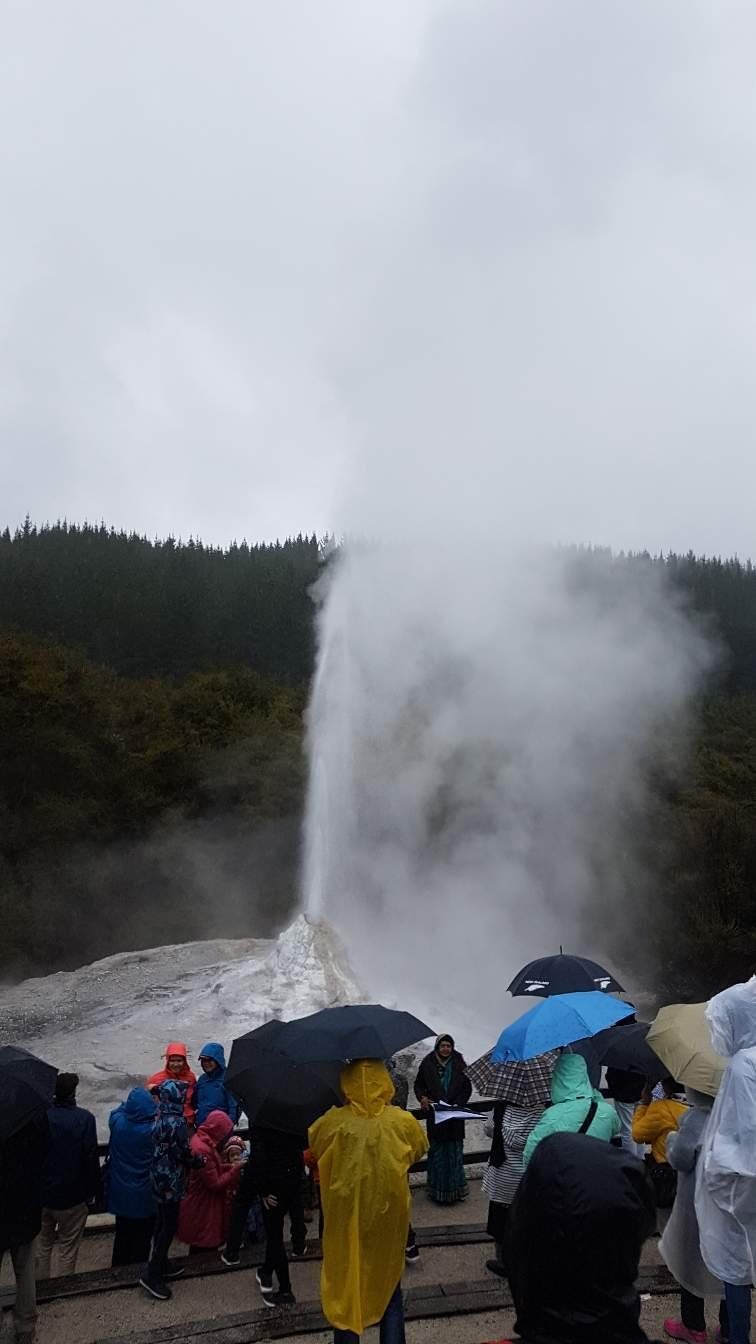 There she blows!
As you can see, the weather wasn't great..and it only got worse as the day went on. ☹
Before I actually looked at the "exhibits", the first thing that hit me was simply the surrounding area. As soon as you walk in, the forresty area is like one from another planet. Perhaps I'm just not used to seeing these colours?
This may look like it has a filter, but believe me it doesn't.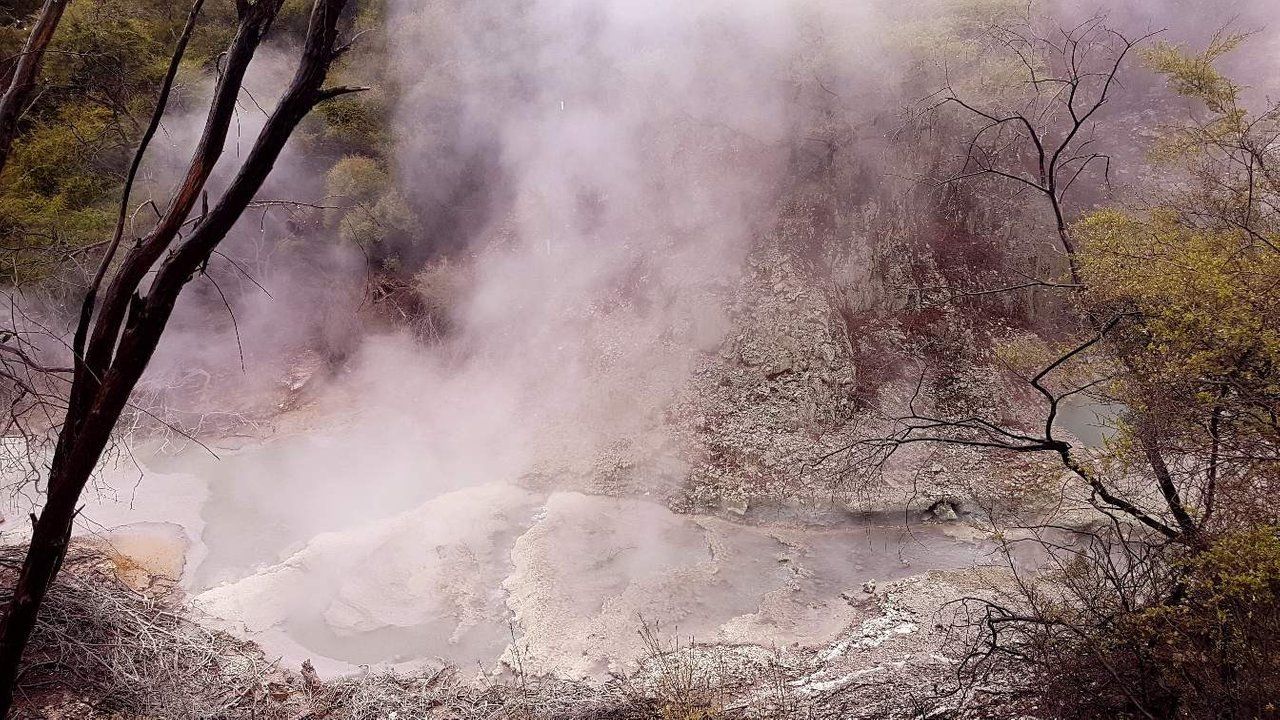 As you make your way out in the open, from certain angles it looks as if a massive battle had ended and all that was left was the smoke rising from the wrecks.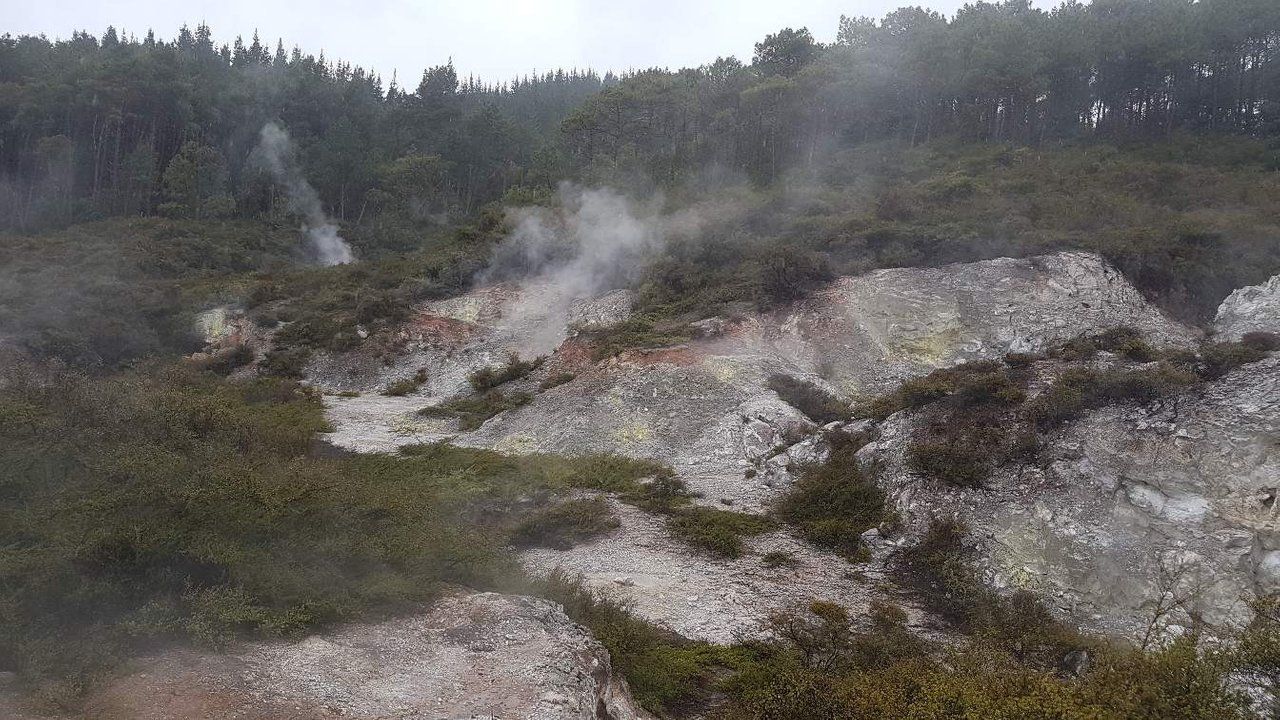 One of the first things I saw gave me the chills. Ironic seeing that if I fell in, I'd probably burst into flames.
You couldn't even see how deep it was.
Then, around the corner...
---
Champagne Pool and the "Artists Palette"
Holy comoly!
I didn't realise how big this area alone was, can you see me with my arms in the air? I'm standing on the walkway.
The Champagne pool is slap bang in the middle of the park, it's pretty hard to miss on your way round, and you definitely don't want to miss it!
I must stress again, the weather really was awful compared to the first picture on this post. The rain meant that the whole park was extra steamy!
I mean look..
Another thing I love about this is the walkway. It's simply a narrow wooden path with no fence at the side to stop you falling off. Basically as long as you're not an idiot, you'll be fine. Compare that to the UK where I'm from and not only will there be a massive wall so you can't see as much but probably a sign saying Caution, do not swim!.
Our health and safety rules make us look so stupid. 🤦🏻‍♂️
Anyway, let's carry on.
The next section is very different, it's alot less open with blind turns hiding the wonders round the corner. It's in this section you realise why it's called the Geothermal Wonderland
---
Allum Cliffs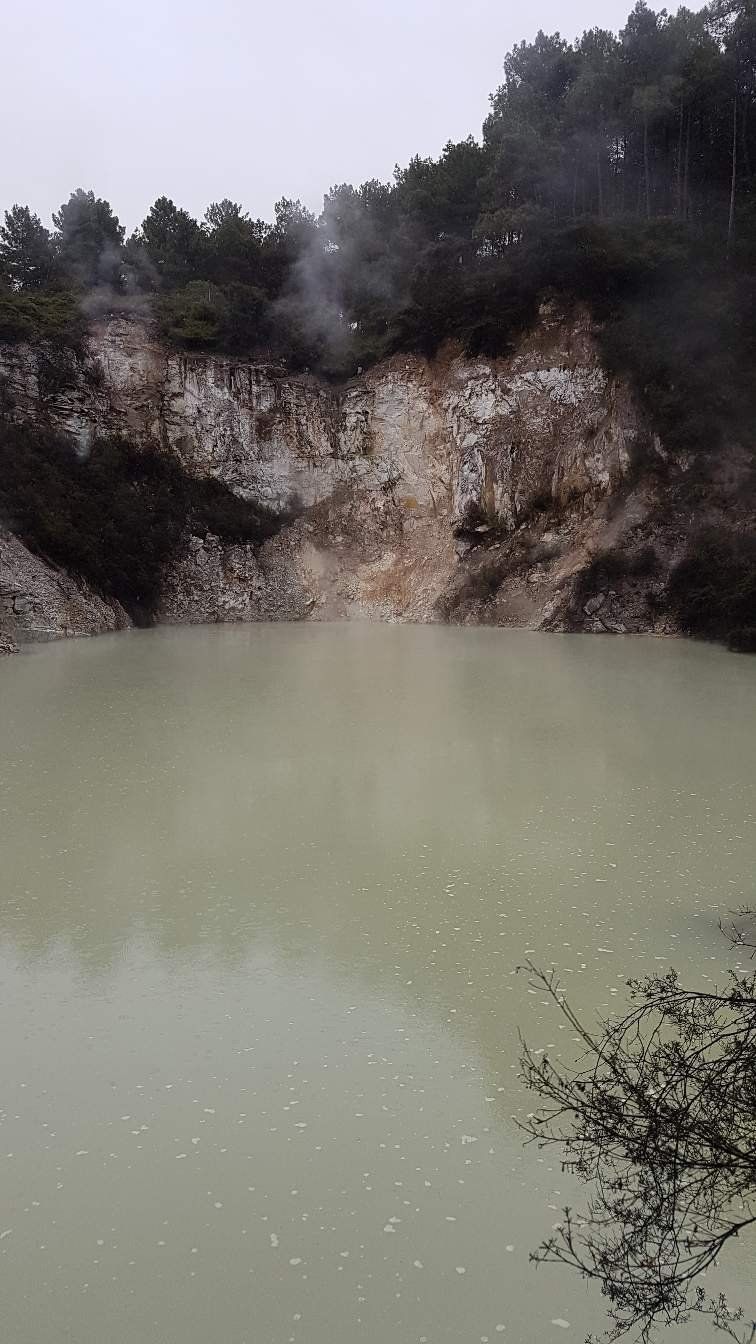 Allum Cliffs may not be much to look at but the walk around that area really is mind blowing.
I created a link to a video on Google photo's, if it works you'll see what I mean! There's even a mini waterfall in the area.
https://photos.app.goo.gl/y8hKVrDG4Kh4ebQS8
Next, I made my way past the Sulphar Cave...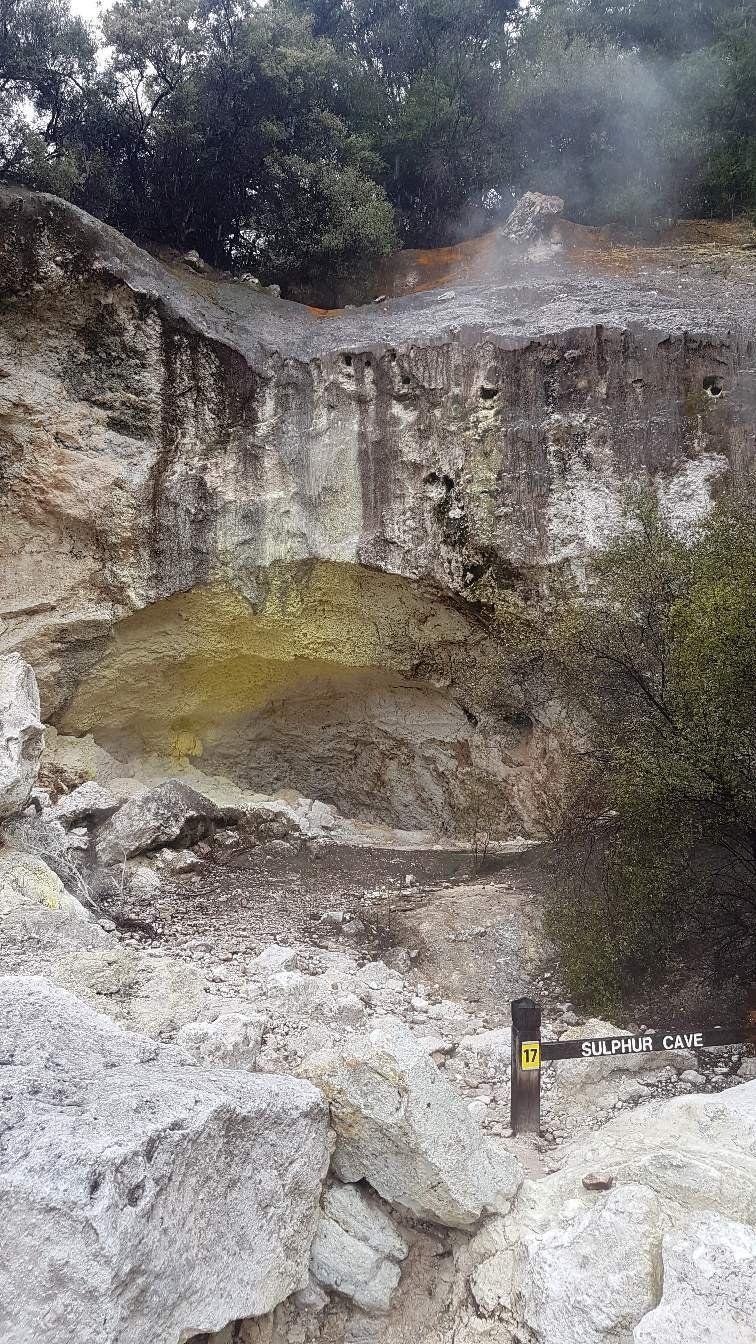 Then stayed for a while, soaking up the heat from this geothermal swamp...
To stumble upon this
What does this look like to you?
If you said a lake, you're correct! A green lake! I couldn't get over this as I stood there. An entire lake of hot water surrounded by a steaming forrest. Honestly some places in New Zealand made me feel like I was on a different planet!
---
Heading back round the loop to the start now...
Another freakish looking hell hole. In fact from memory, I think this one is called "the devils pit"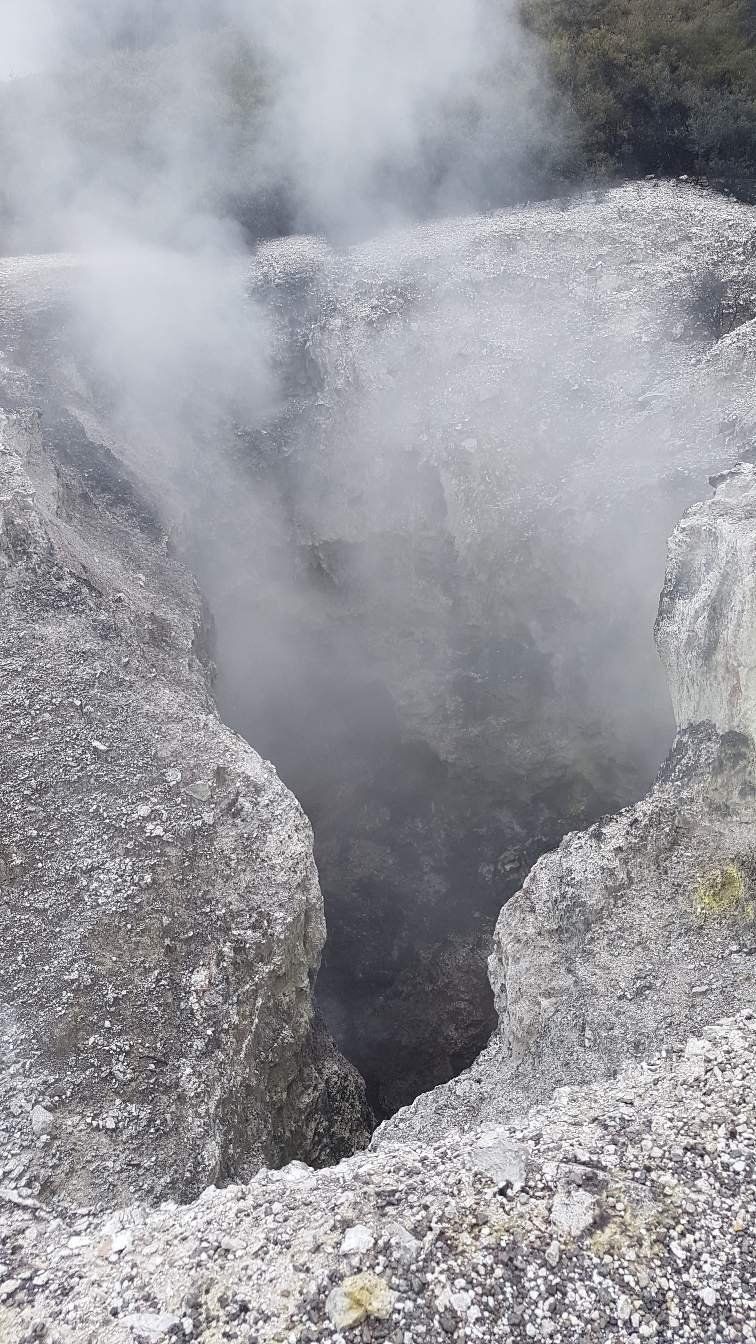 Here's another one that caught my eye, purely because of the colouration which is hard to make out in these photos because of so much smoke, but you can see what I mean..
---
Finally one of the last pits I came across was yet another main attraction; and despite the weather being dull and gloomy, it still managed to stand out.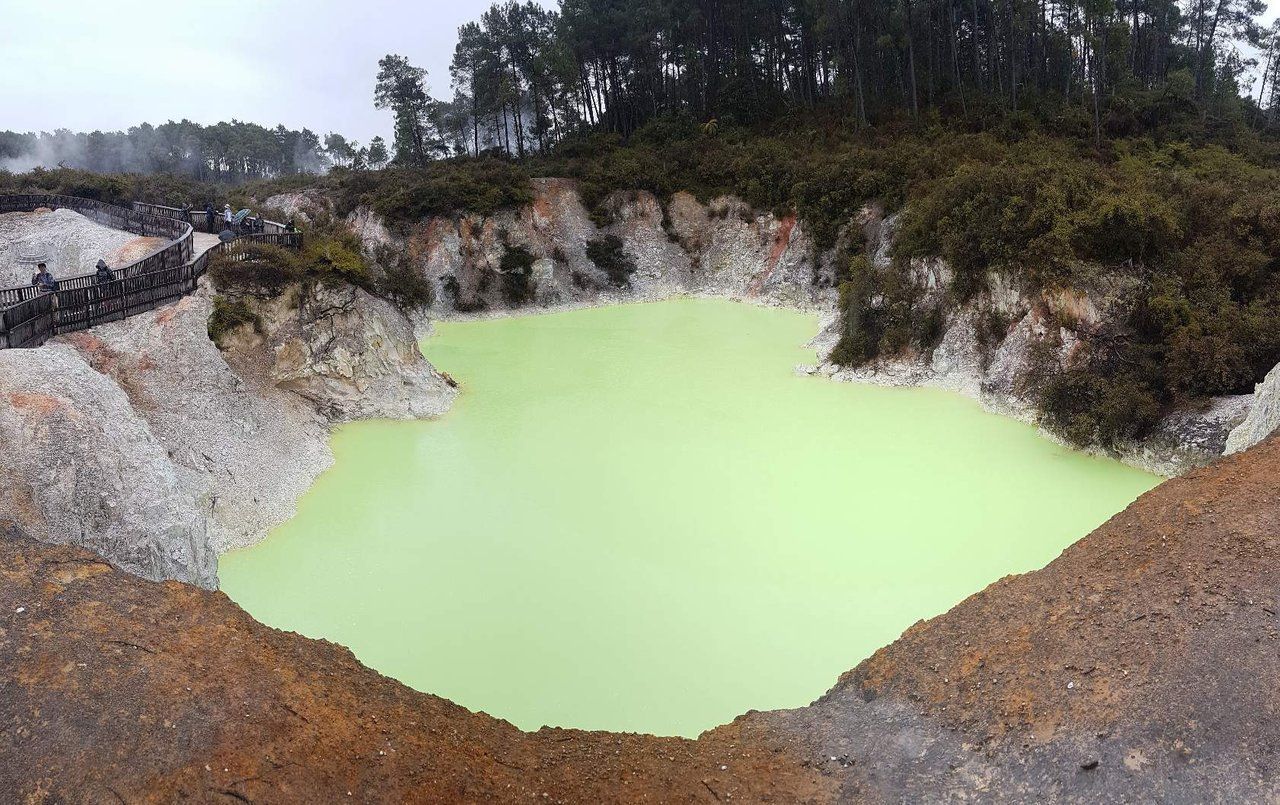 Just look at that colour!
I must stress there is no editing or filter to this picture; or any of them for that matter.
*(Except the first one...which isn't mine)
Despite the fact my feet were aching from walking around all day and I was soaked 3 layers in, I still felt like I had a great time at this Geothermal Wonderland!
Remember, everything you see above is just part of the supervolcano. It expands far beyond the Wai-O-Tapu boundary. Yet it took me a whole day nearly to walk around, let that sink in!
What a day!
---
But there was one more surprise waiting for me that evening. Back in Rotorua I found yet another walking track, this time on a geothermal beach.
Not too much to look at, but I don't know about you, I find walking alongside the water is such a calming feeling; and with the heat from the steaming beach keeping me warm it couldn't of been a better evening.
Or could it?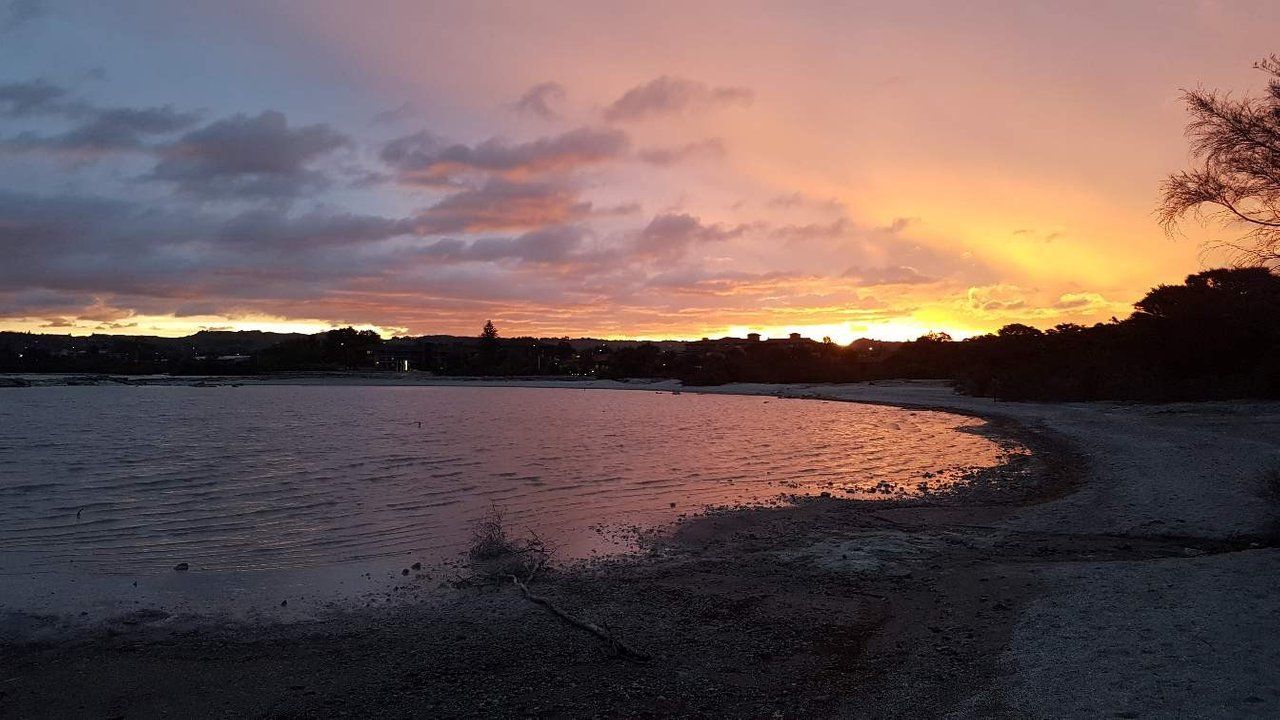 I won't forget this place, it truly stood out in my trip of the North Island. Not much on paper, but being there really does feel unique!
---
Once again, thank you for reading. 😊