Hello Flower lovers,..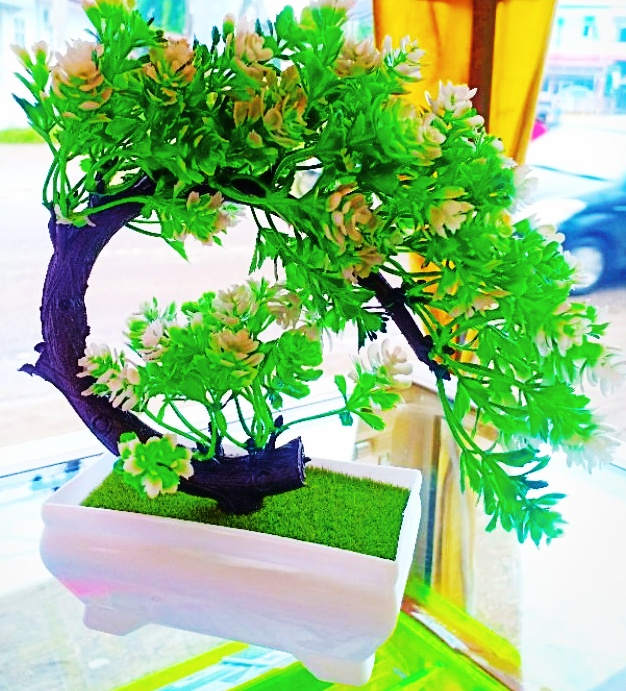 During the day, when I left the house, I accidentally saw a thorny bonsai flower tree and cherry blossoms in front of my friend's house. At first I did not know what the name of the tree and flower was. Because I honestly am not a lover of flowers, but even so I am a lover of beauty and art. , so I tried to capture a photograph of bonsai trees and cherry blossoms made of paper. In my opinion, this is very interesting and unique, so it stole my attention and made me excited because for me to take pictures of cherry blossoms and bonsai trees is one of my passions.
Cherry blossoms are one of the flowers that are very familiar to Japanese residents, but what you need to understand is that these cherry blossoms are often seen everywhere when we are in Japan. Why do I associate cherry blossoms with Japan, ..? Because generally in the country that is given the nickname as the country of the Rising Sun It turns out that cherry blossoms are flowers that we can generally see almost throughout Japan. Then it will be seen wherever we are Namely various types of colors of the cherry blossoms, ranging from white, red and so forth, ..! because indeed the cherry blossom is one of the symbols and symbols of the country for the population of Japan. Because there is also a mention that the land of the rising sun was also given the nickname as the land of cherry means that in this country there are many visible cherry blossoms almost in remote areas ,. But friend Steemeein The one shown in the picture that I posted is not the original cherry blossom that grows in this rising sun. But the photo above is a picture of cherry blossoms which are created and made of paper. So that if we look it is almost similar to the original cherry blossoms.
Thus steemein friends And Thank you for reading