Hey Hive!
If you missed the last few posts, we're still on our visit to the famous Gardens by the Bay back in 2020! This was when covid was restricting travel so we took the opportunity to visit places we've never been right here in the homeland!
15 March 2020. Sunday.
Gardens by the Bay is one of Singapore's biggest tourist attractions and is a huge nature park with three waterfront gardens and two conservatories, of which the Flower Dome is the largest glass greenhouse in the world.
Source: Gardens by the bay
Last week, we finished exploring one of the domes called Cloud Forest, where they had many exotic plants and species! Then we made our way to the even bigger conservatory - the Flower Dome! The upper level was where they showcased flowers from different regions of the world, so there there Mediterranean, South African and South American gardens!

I left off the post right before the main attraction and the whole reason why we visited Gardens in the first place - the Sakura Matsuri! It is a seasonal event (among others) that is organised by Gardens by the Bay to showcase special seasonal flowers to attract more visitors.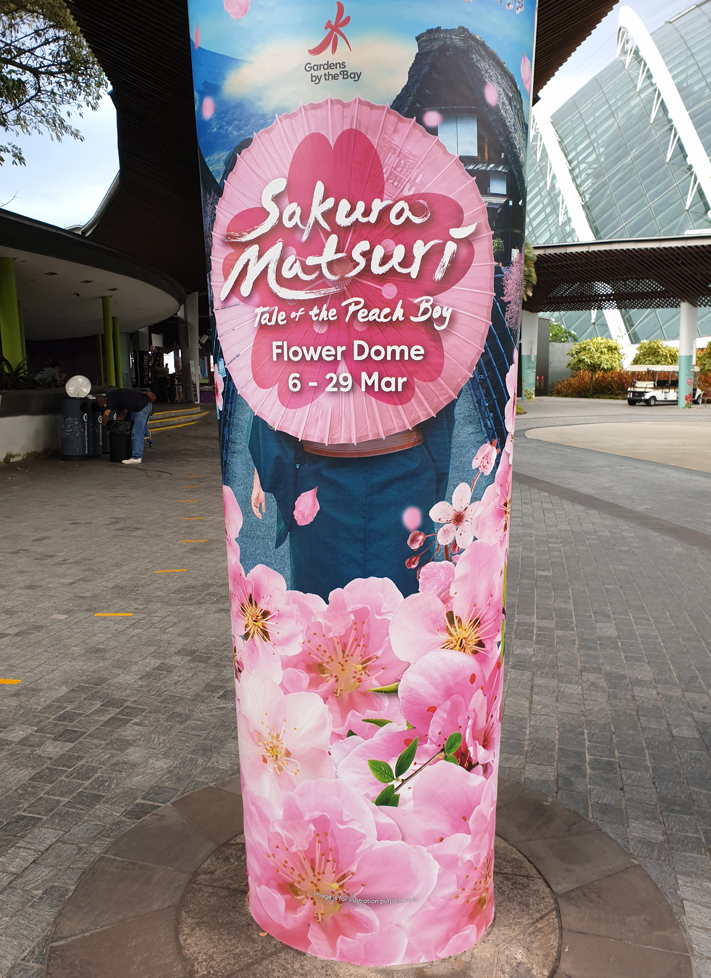 At that point we had already seen sakura flowers when we visited Hiroshima in 2019, but this was a chance to see different species at once and of course see the Flower Dome too.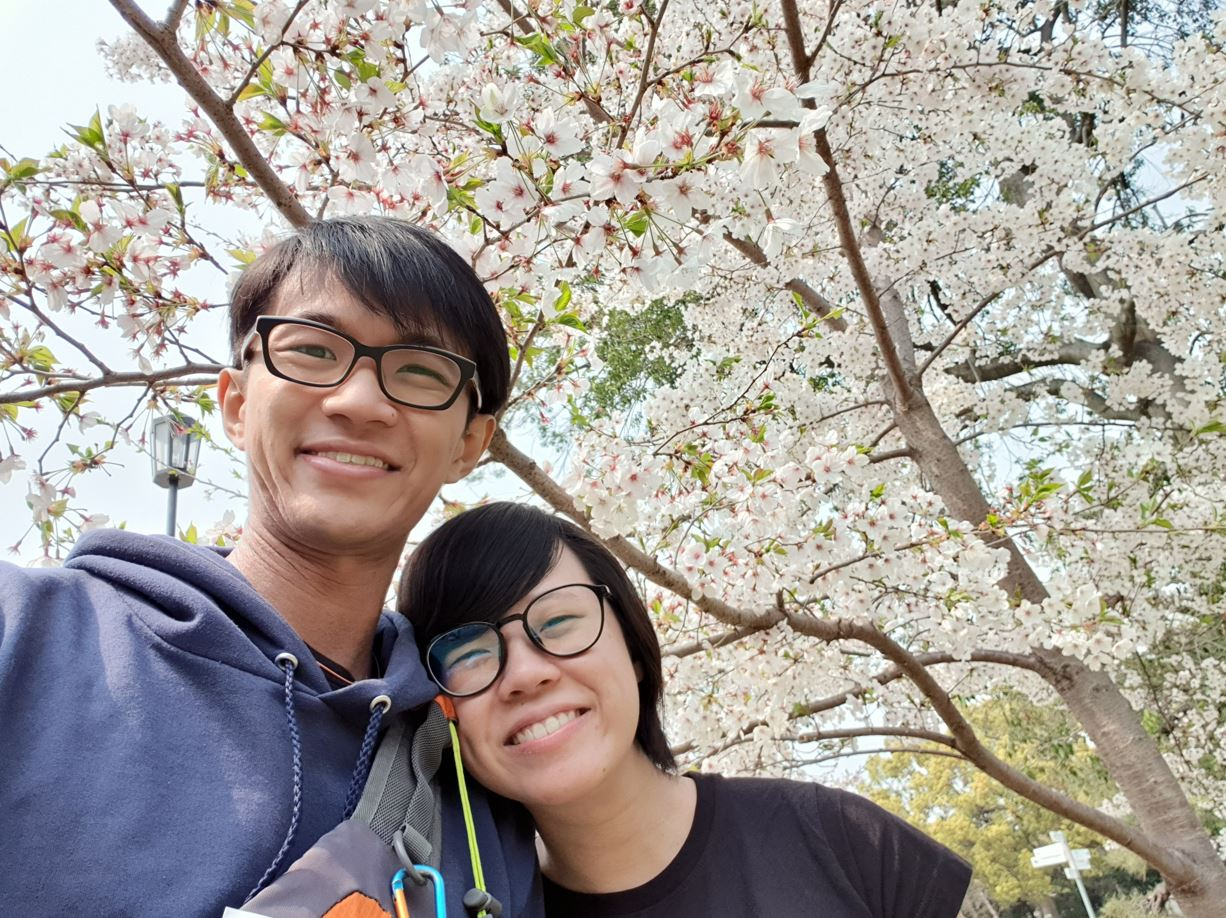 We were getting close to the huge sakura showcase on the lower level after looking around upstairs. This was also where most of the people were gathered so we thought we could avoid the crowd by seeing everything else first.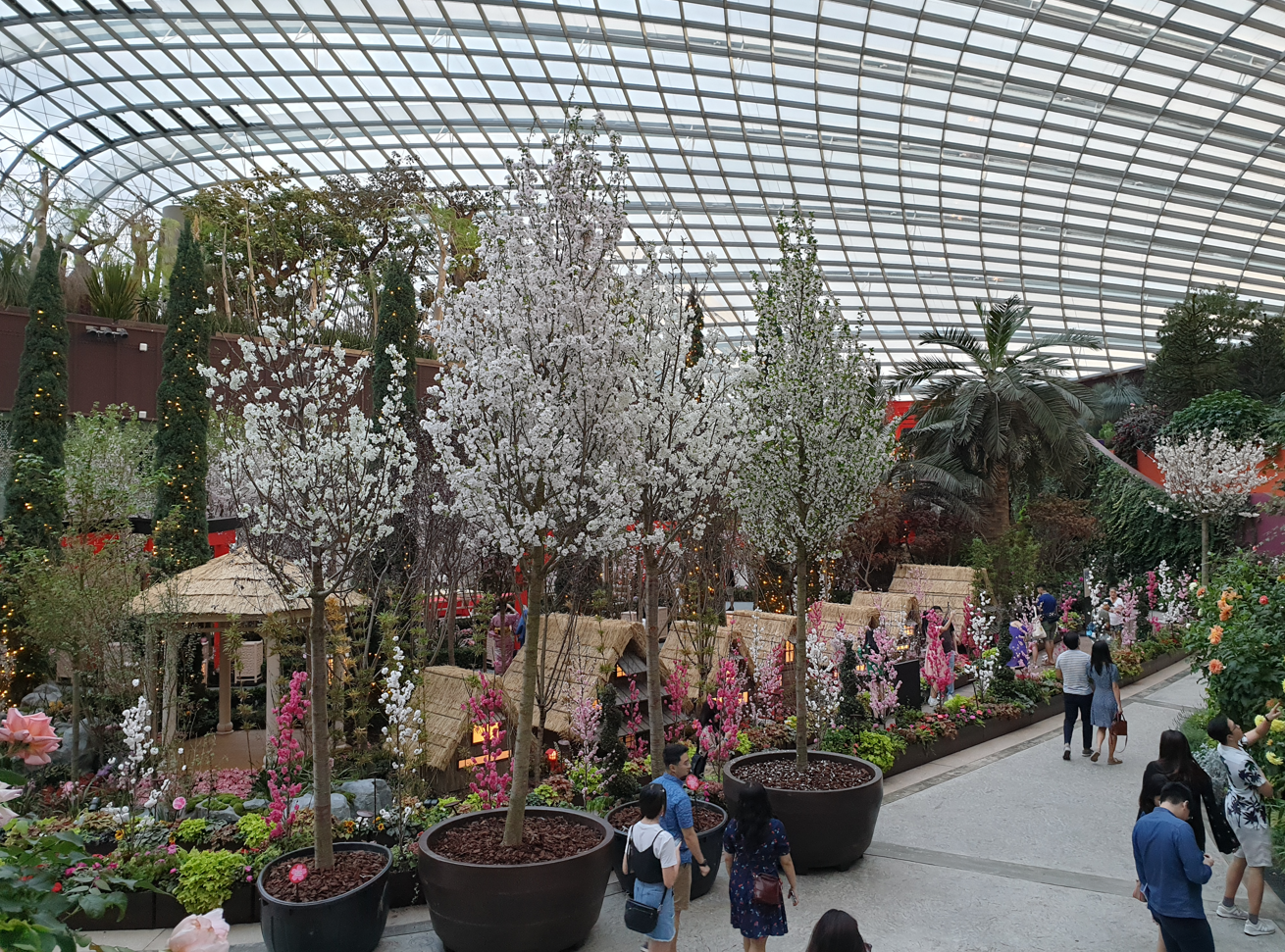 We came across this little flower cafe on our way down. It seemed weird to have a cafe inside a conservatory, and one so hidden too. But it did look pretty cute.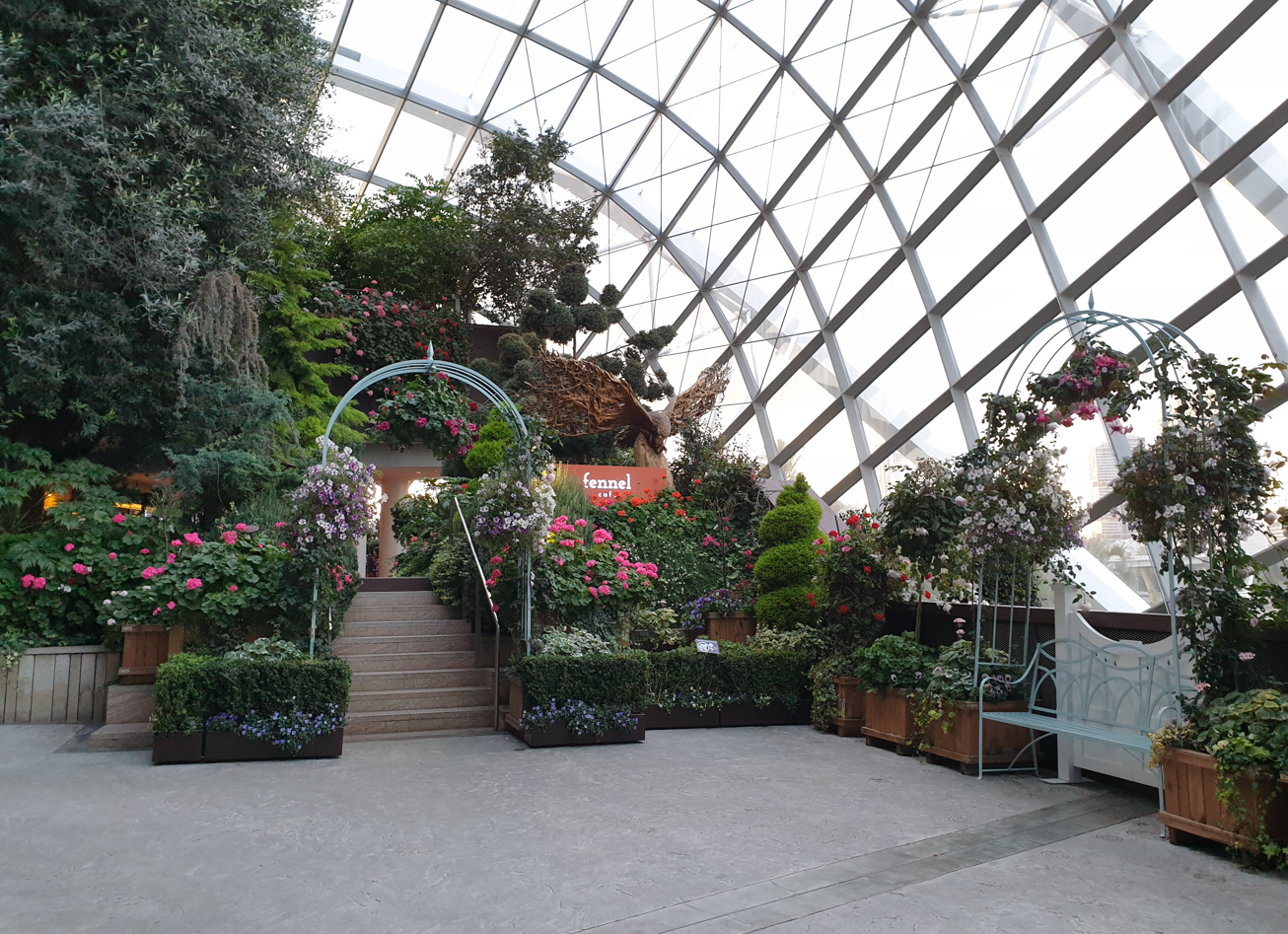 On the other side was a pathway with paintings of cherry blossoms by a local artist - Quek Kiat Sing! I think her collection was inspired by the Sakura Matsuri when she visited Gardens in 2018!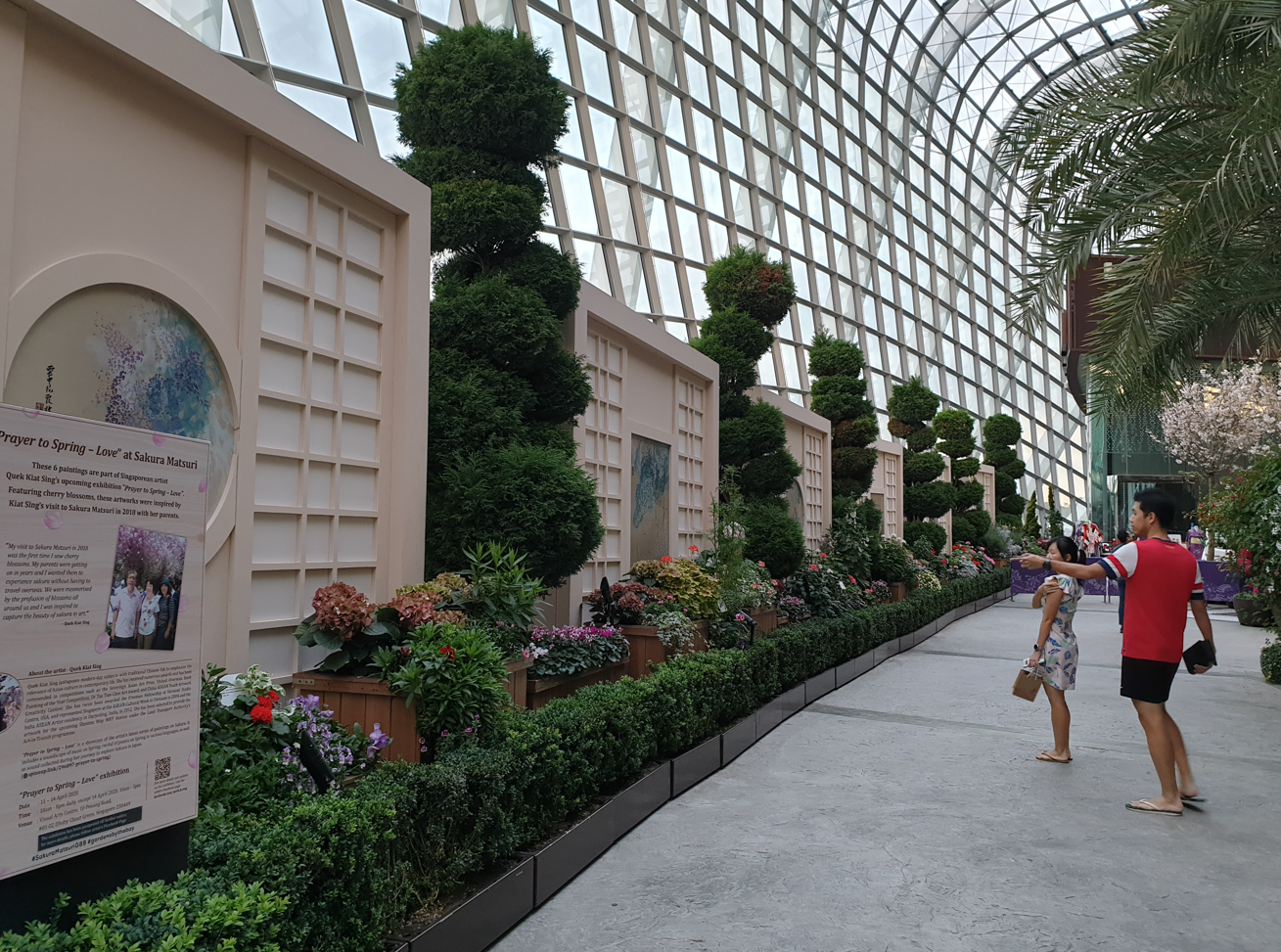 There were just soo many pretty and colourful flowers as far as the eye could see! The Flower Dome was really living up to its name so far.
Just before the main Sakura Matsuri exhibition was a whole line of stalls selling goods in line with the Japanese theme, like yukata rental!
Since we were in the midst of the pandemic at the time this was probably the closest we would get to traveling to Japan for quite some time.

But we passed on the rental since I'd already tried a kimono in Tokyo back in 2017!
There was even a little van you could take to enjoy a private hanami experience!
I'm guessing this auto rider thingy takes you throughout the whole dome and not just the sakura area. But apparently it's a self-driving car!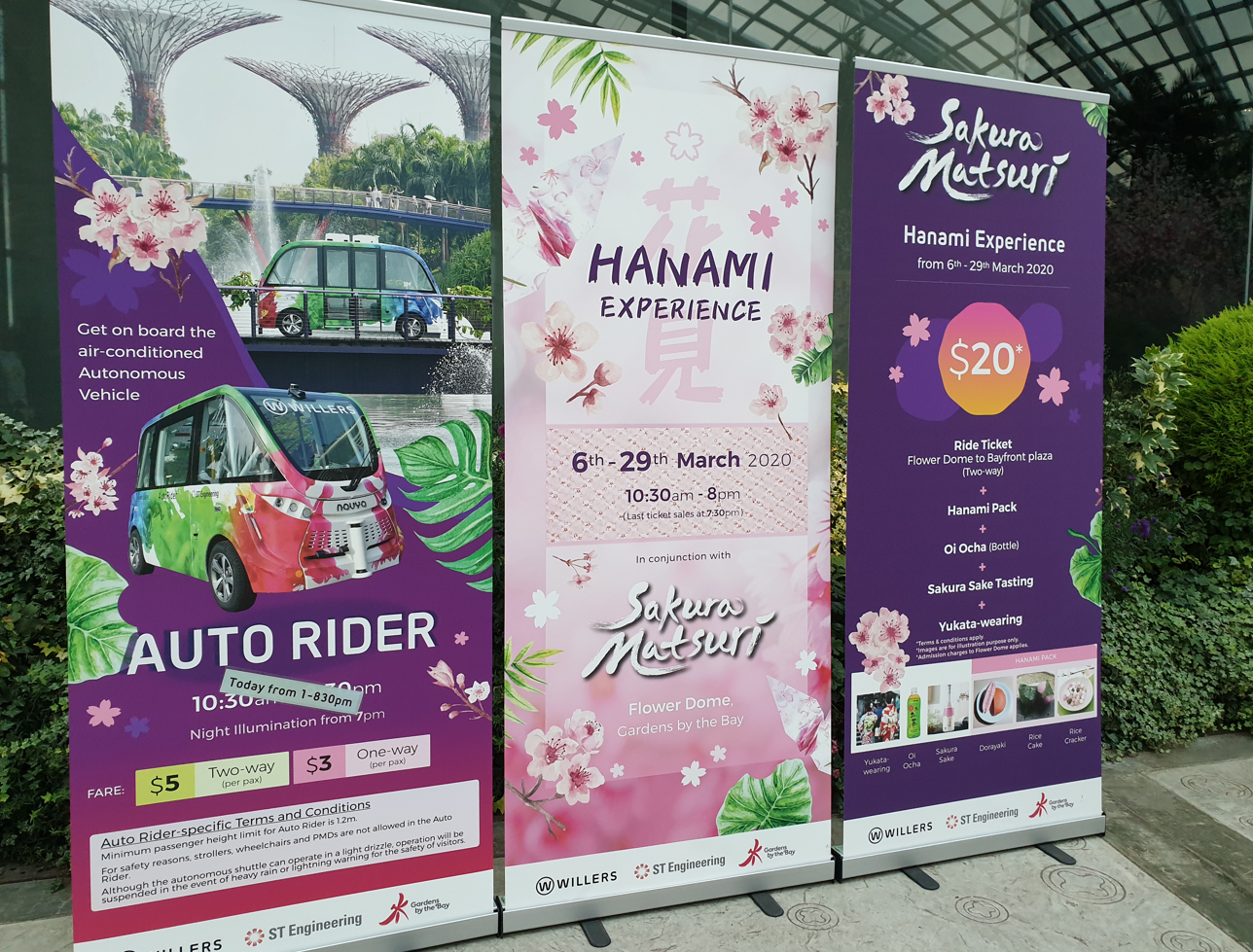 So we made our way to the main cherry blossom area and of course there were still quite a few people around. I'd say this "crowd" is significantly less compared to a normal Sunday though.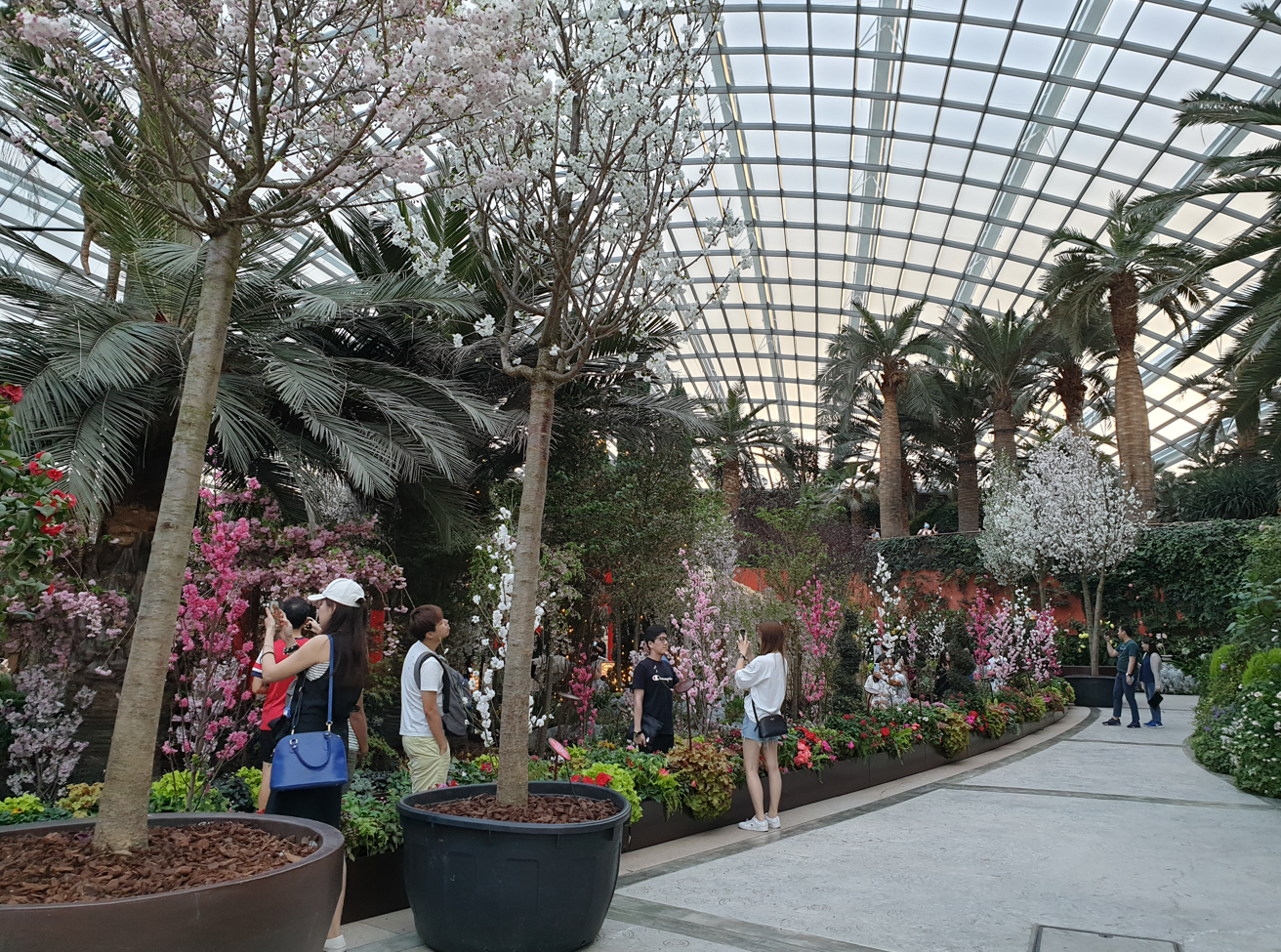 You could see the huge palm trees from the Mediterranean Gardens which we visited earlier in the distance.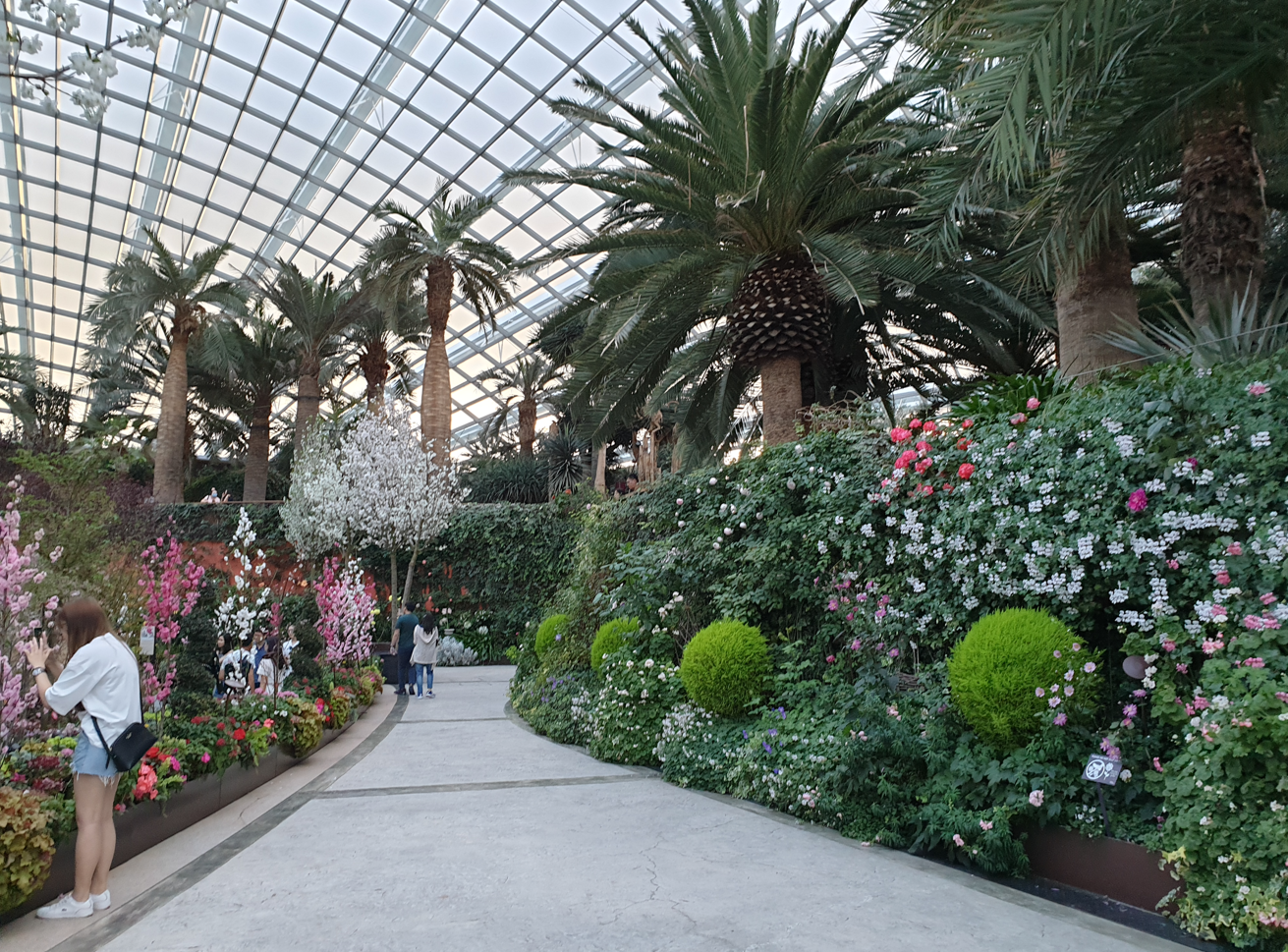 We took a walk down the main area despite all the people around and tried not to get in anyone's way of taking photos while taking some myself.
There were so many different types of cherry blossoms on display! And these were significantly different compared to the ones we saw in Hiroshima (which tbh I think were plum blossoms).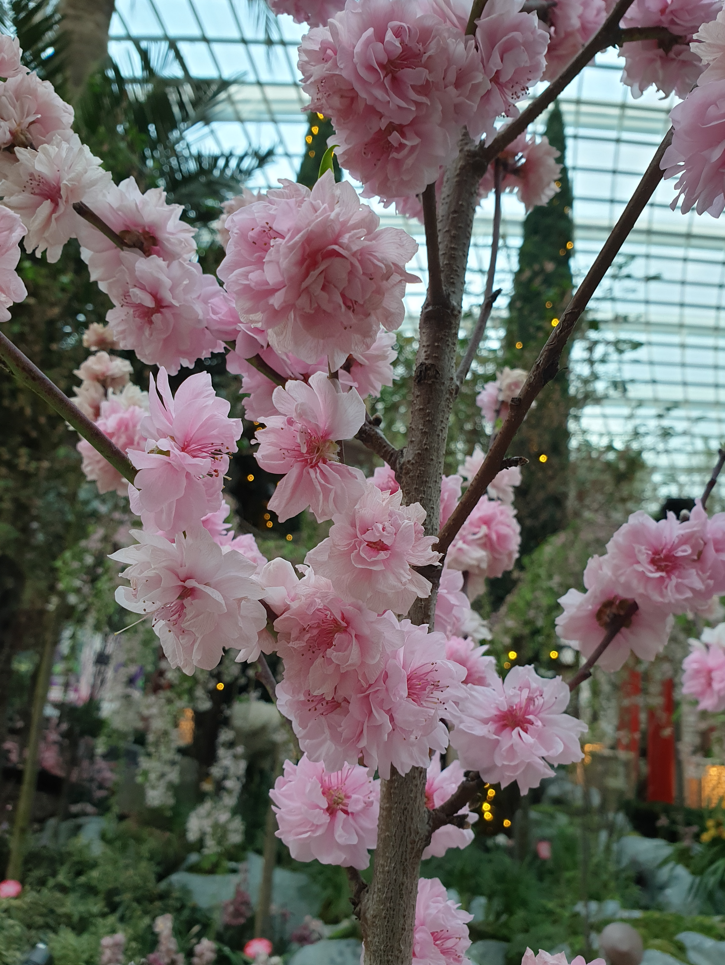 These were huge compared to those and so bright with the light dabs of pink!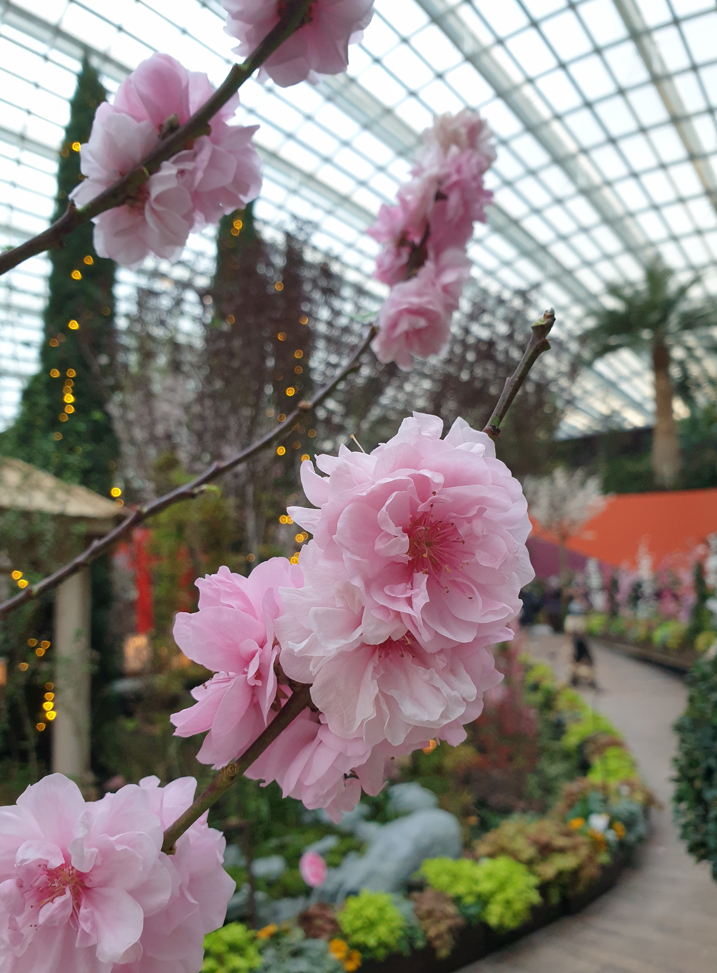 They looked absolutely beautiful! I don't think they really had a scent though but they were really pretty to look at!

There were so many small branches of the cherry blossoms just lining this pathway, made of different shades of pink!

I guess it must be difficult to transport cherry blossoms and have them grow healthily so they can only fly over some small trees. This actually reminded me of when we went to see cherry blossoms in Helsinki while we were in Finland for college!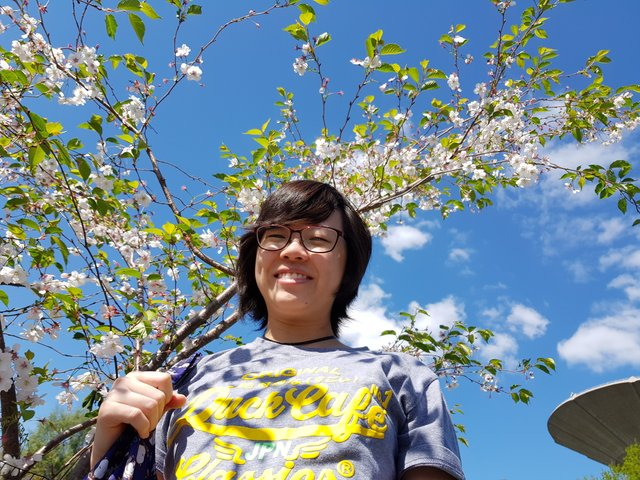 The "trees" there were pretty small too, and most of them had unfortunately wilted. But this showcase at Gardens was definitely more impressive!
On the other side of the main path was a wall of vines and pretty flowers too, like this curious one:

Some of these flowers were huge too! It's a shame that everyone was only paying attention to the cherry blossoms because these were absolutely lovely as well!
There were so many different species of colourful flowers just on this side of the wall alone!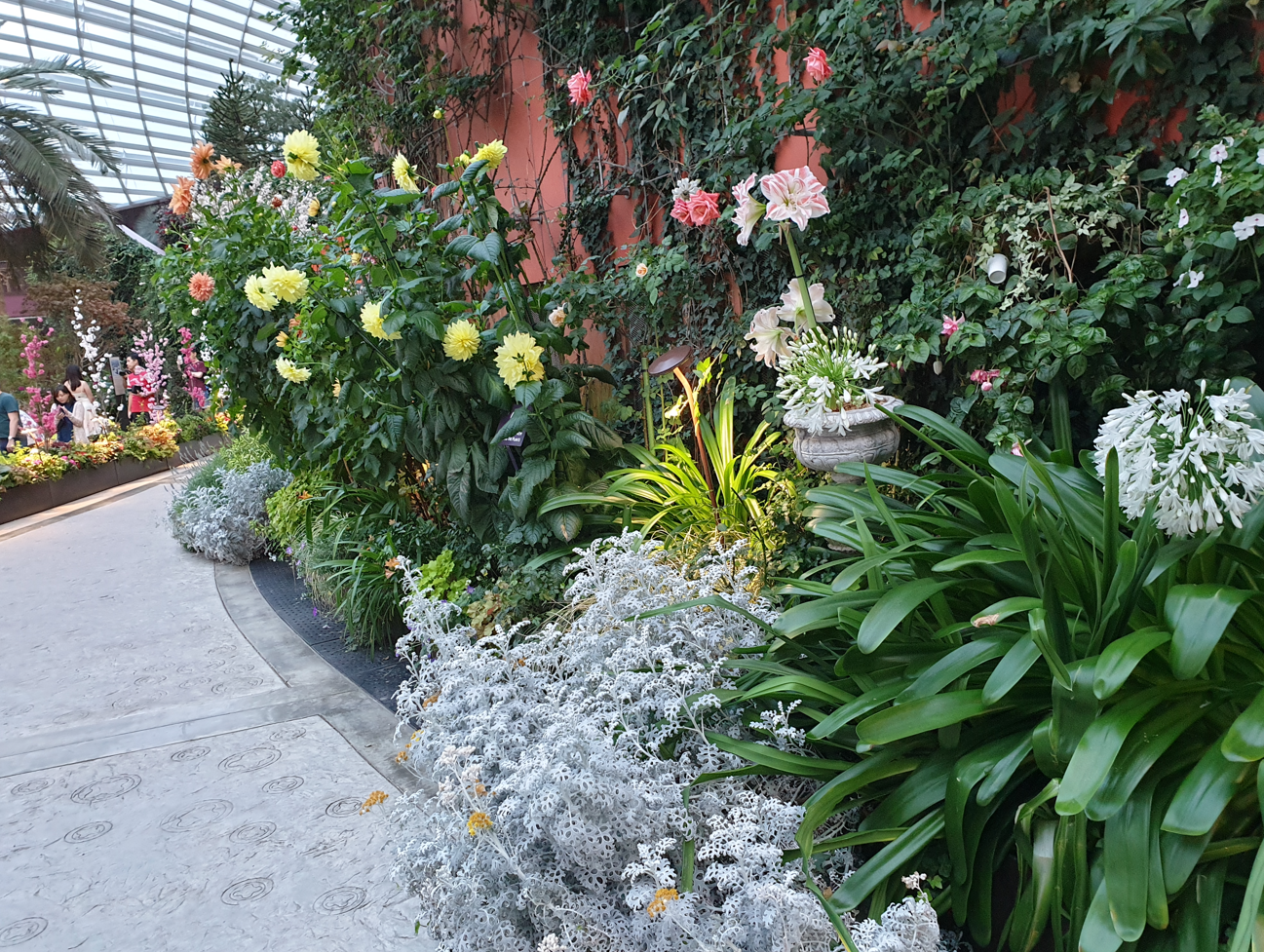 Some of the plants were almost spilling out onto the pathway so we had to be careful not to trip on them.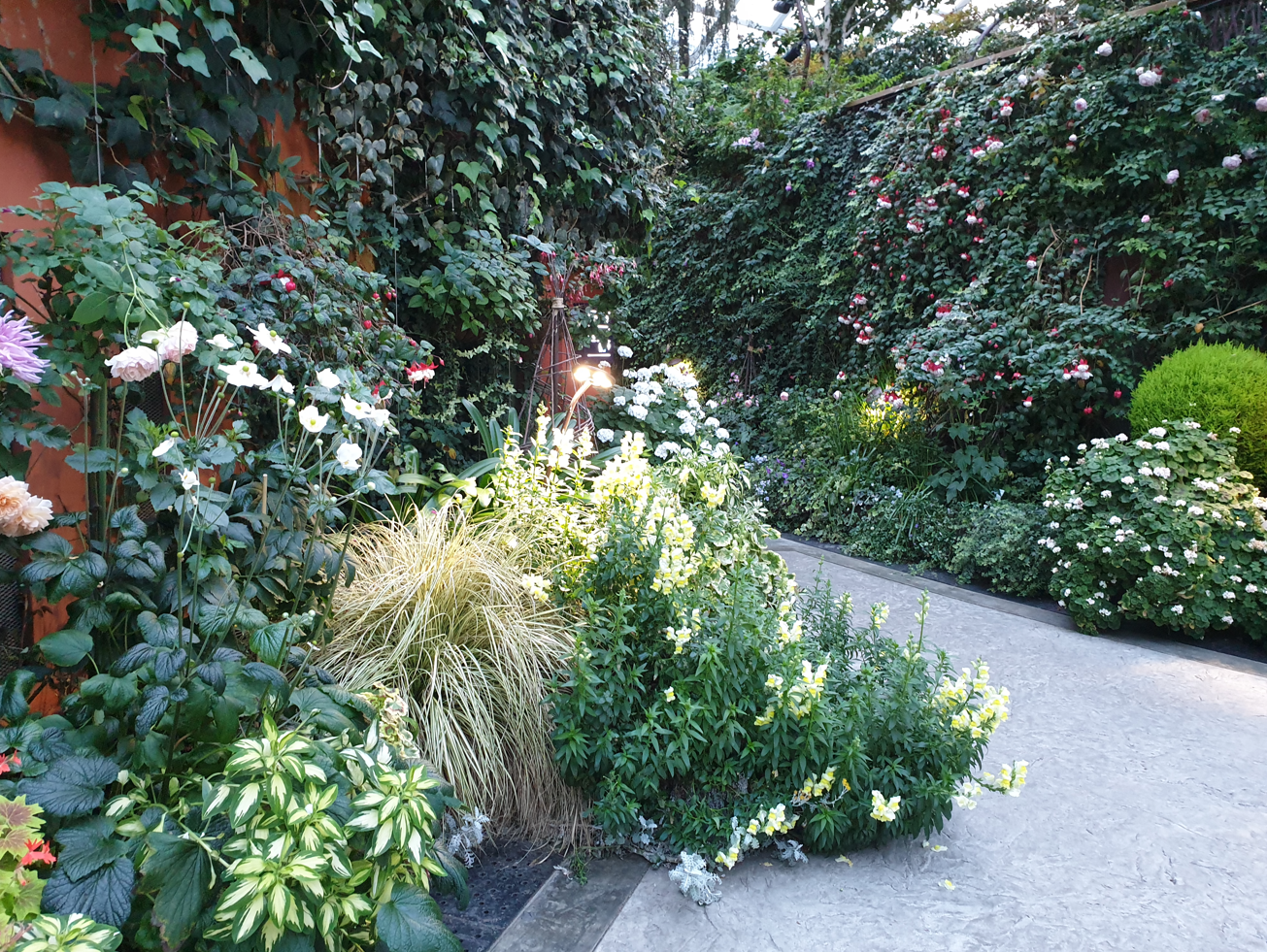 I liked this other huge pastel yellow flower that gave off sundress vibes!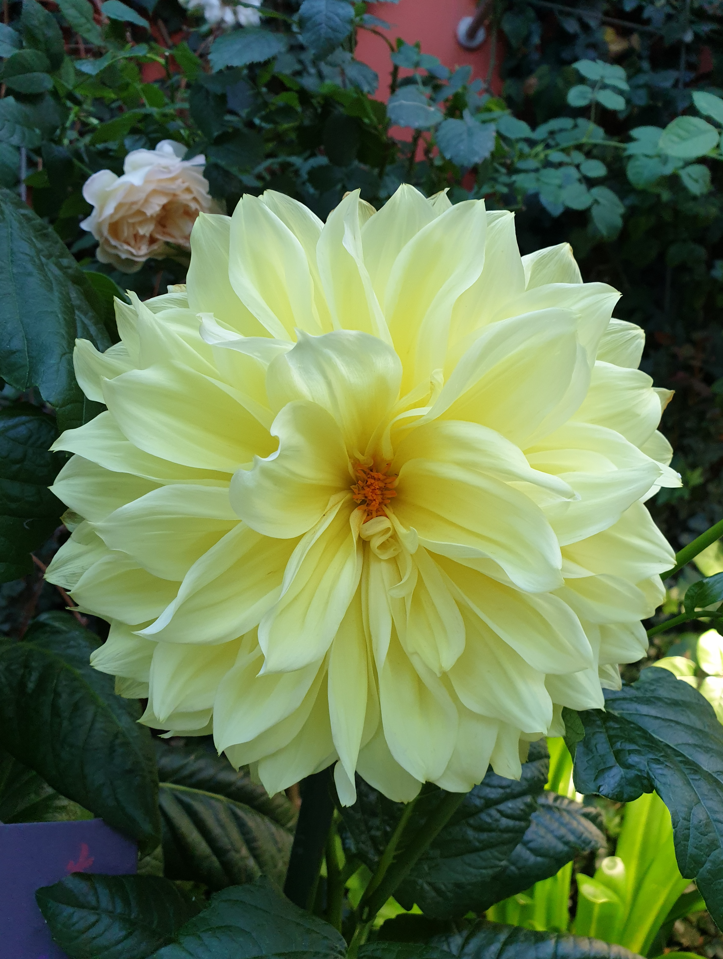 And this coral coloured flower which I think is a type of lotus but I'm not sure. It's really pretty though!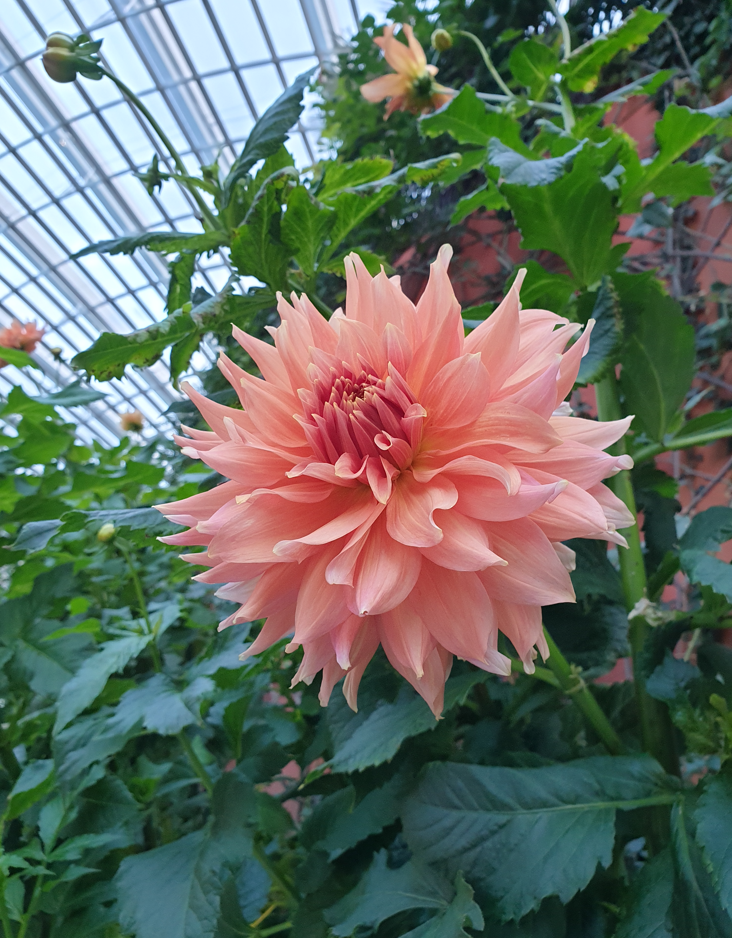 There were little huts to resemble traditional Japanese housing which I believe are called minka, and were used to house a wide variety of people from farmers to village headmen, merchants and low level samurai back during the Edo period.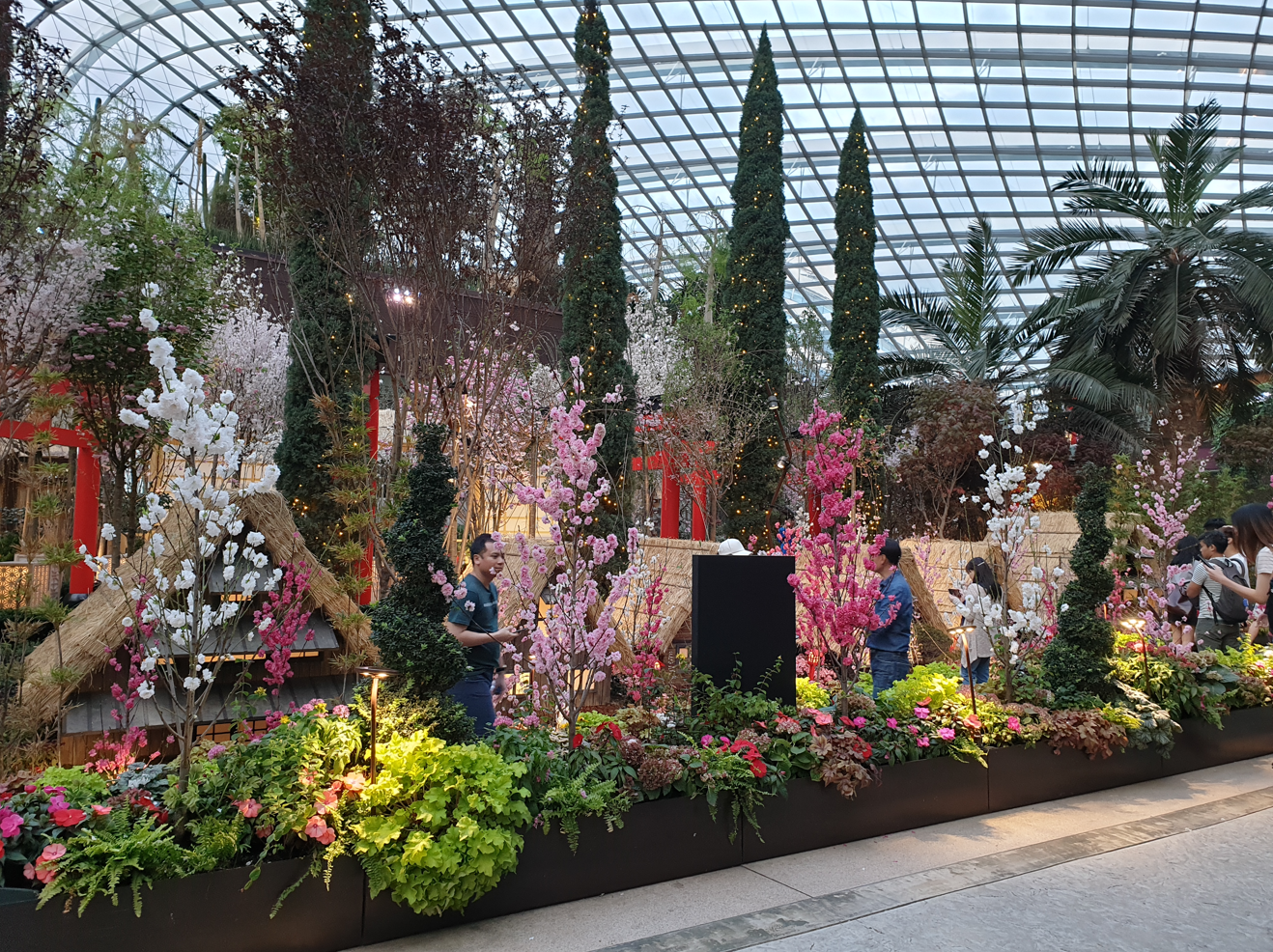 These were more miniature in size though and they looked cute! I could imagine some miniature samurai living in there in this flower forest.
It was getting pretty crowded here but as the evening wore on, the lights came on and made everything even prettier! I wish I could've gotten some better shots though.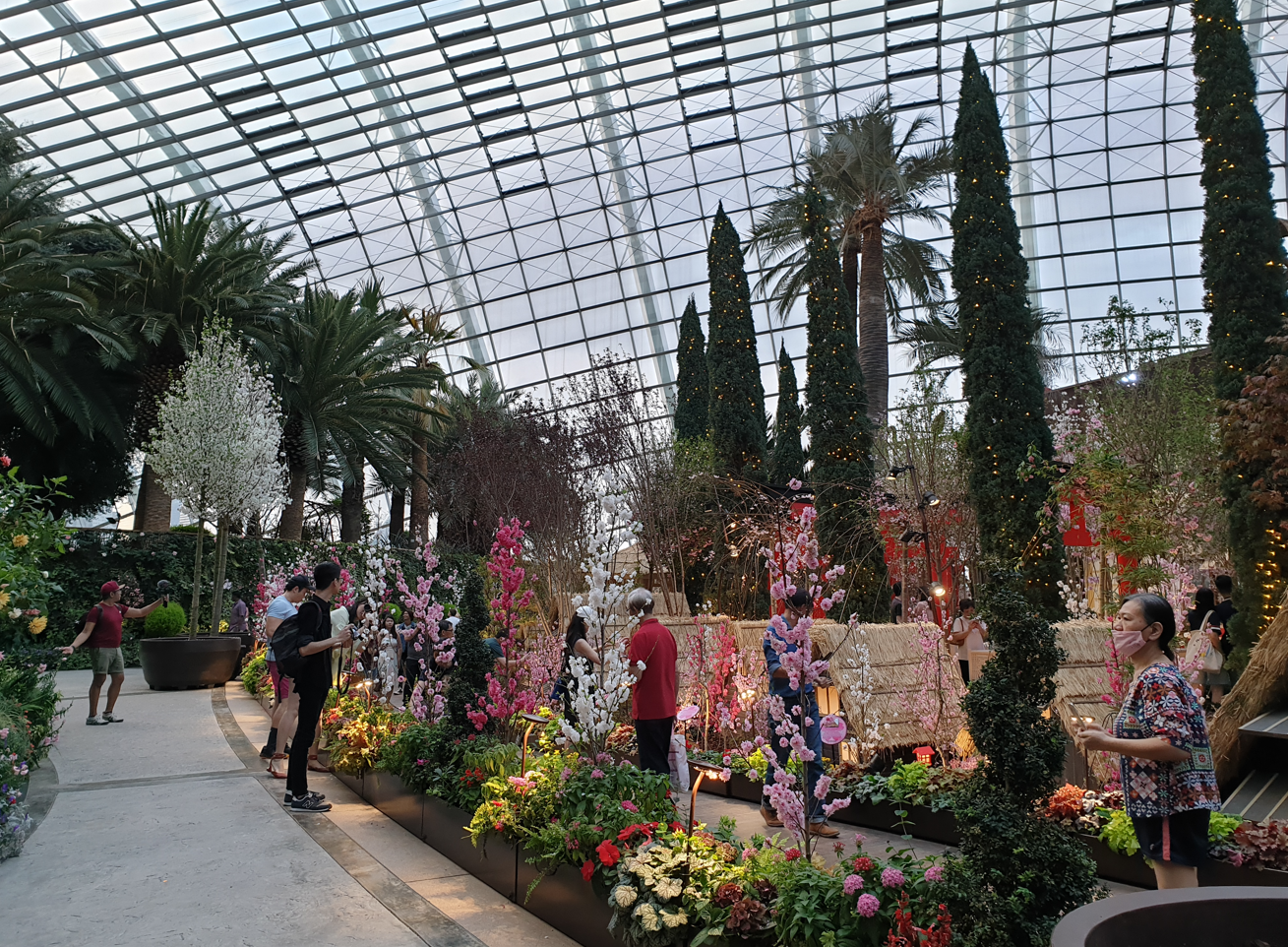 I think the houses here were modeled after these Gassho-style Farmhouses in Shirakawa-go! They have the classic slanted roofs so that snow won't collect on the roof.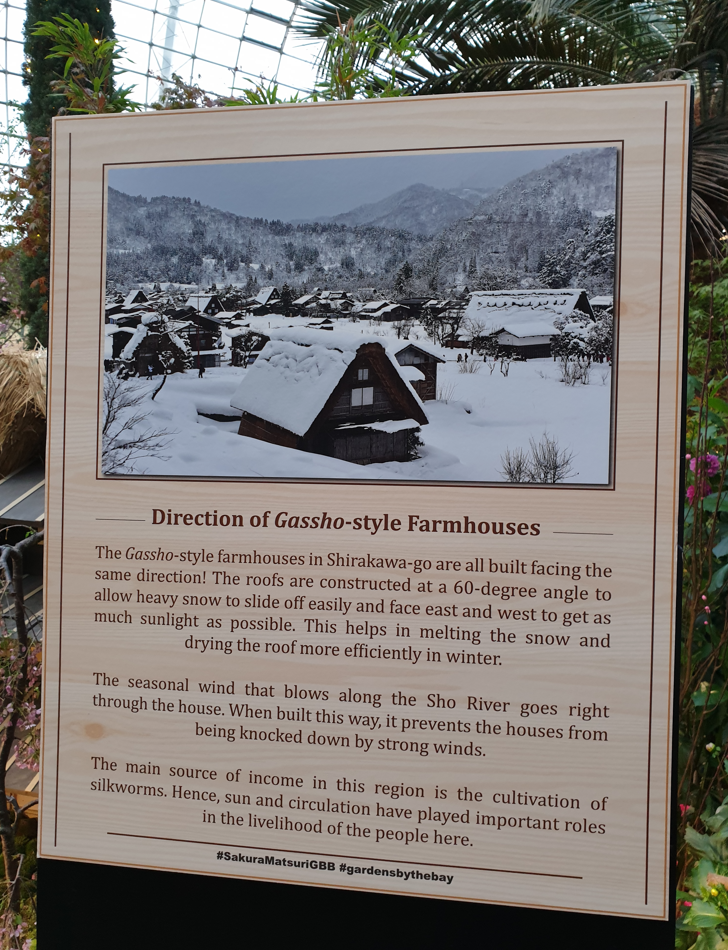 Apparently these houses are made without nails too! They use oak beams that are held together with straw rope and a cable made from Mansaku trees!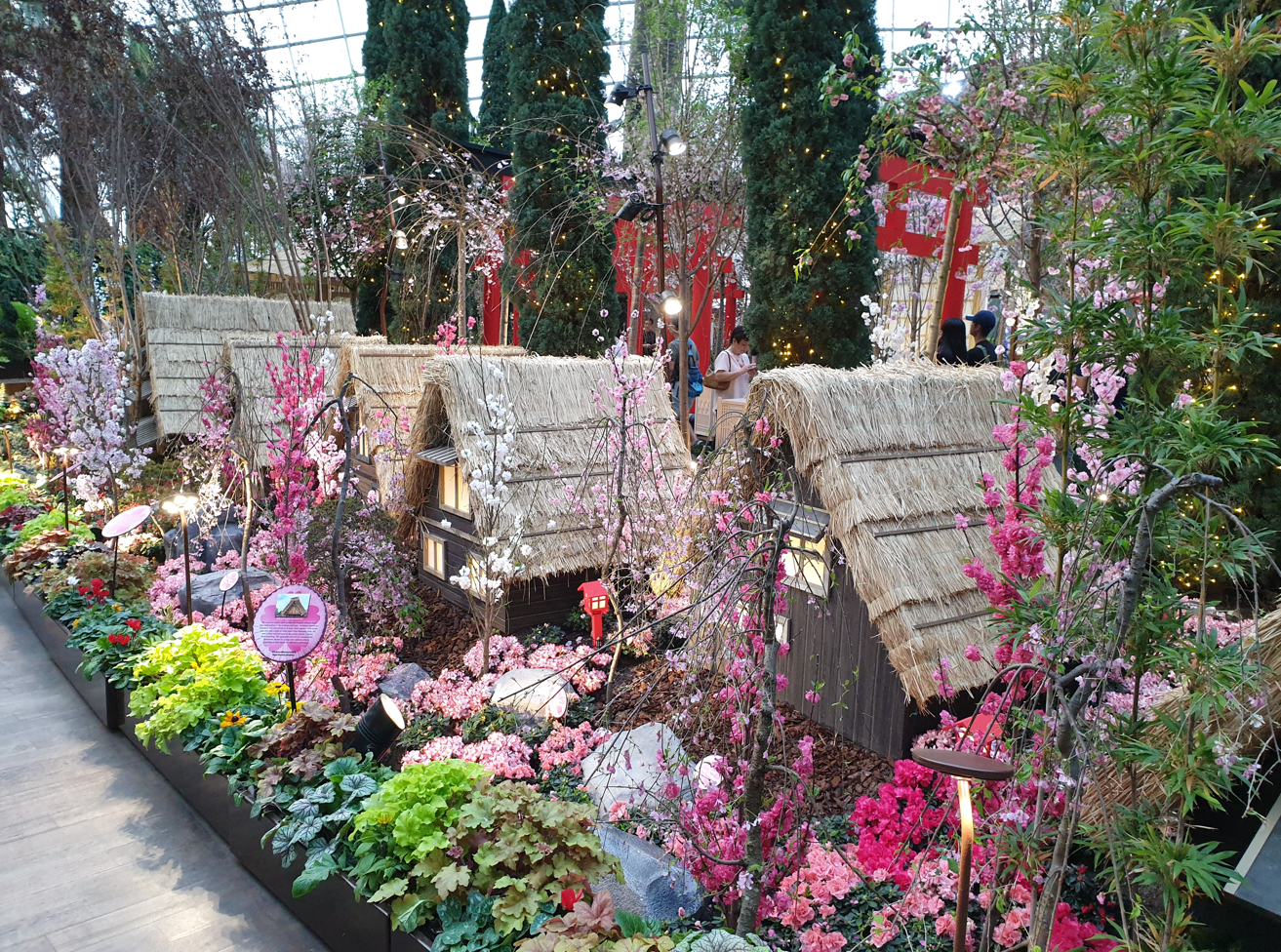 I like that the flower beds in front of the houses made it look like they were the backyards of the houses too!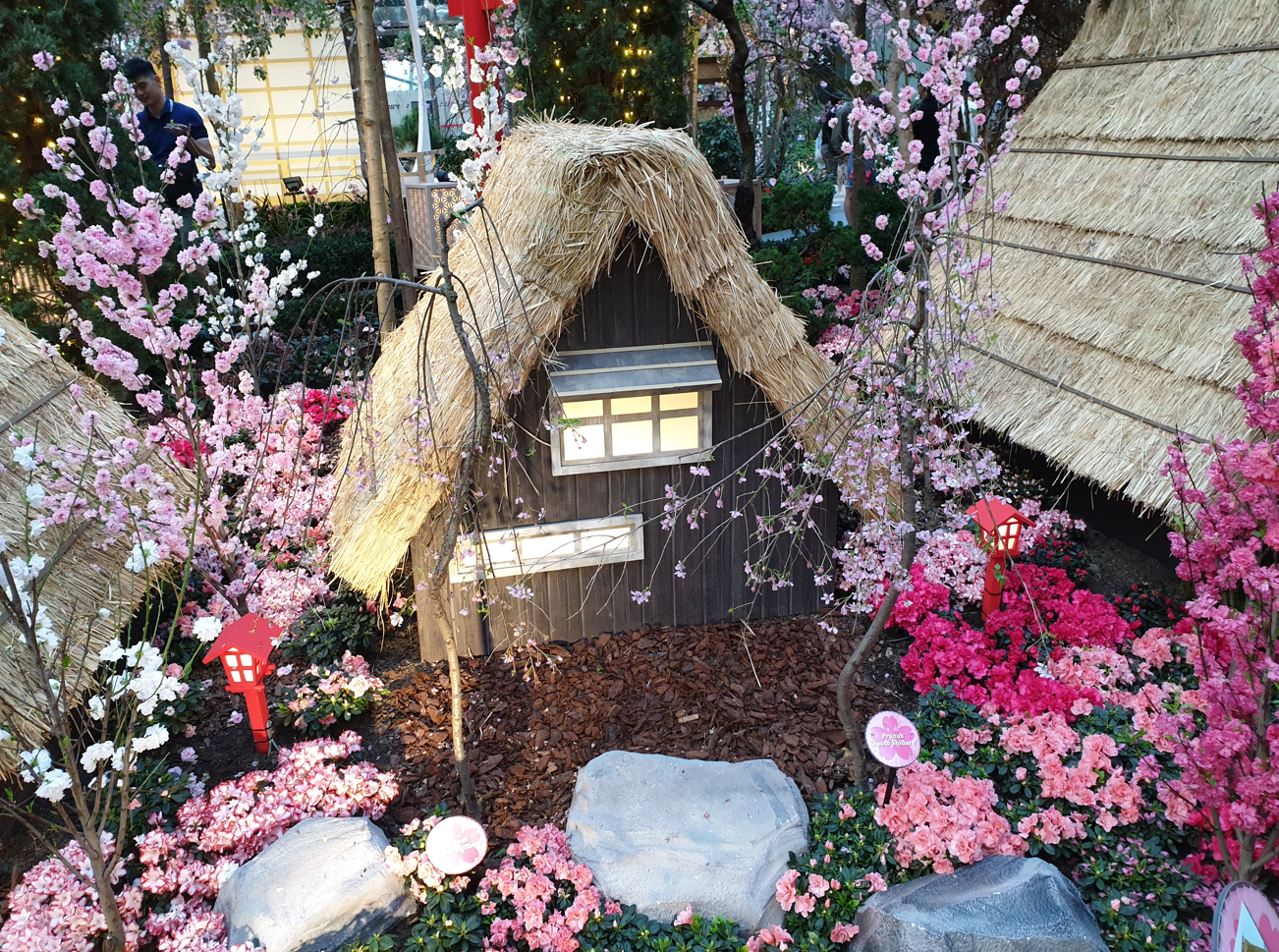 Here are more beautiful flowers from the flower wall!
These kinda resemble umbrellas to me
I loved the colour on these daisies.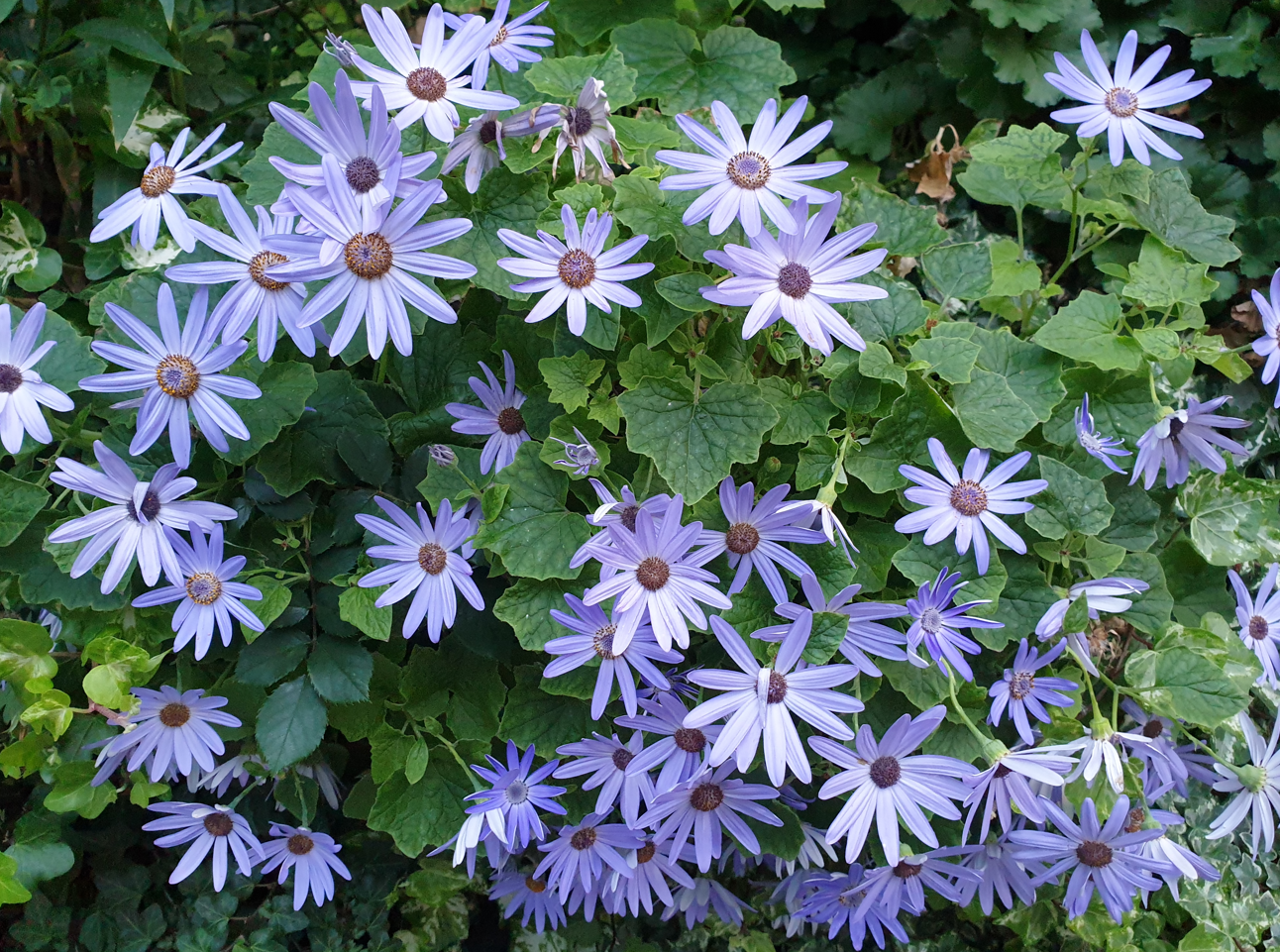 Everyone was mostly enamored by the cherry blossoms of course. There were bigger trees here with more flowers for photos.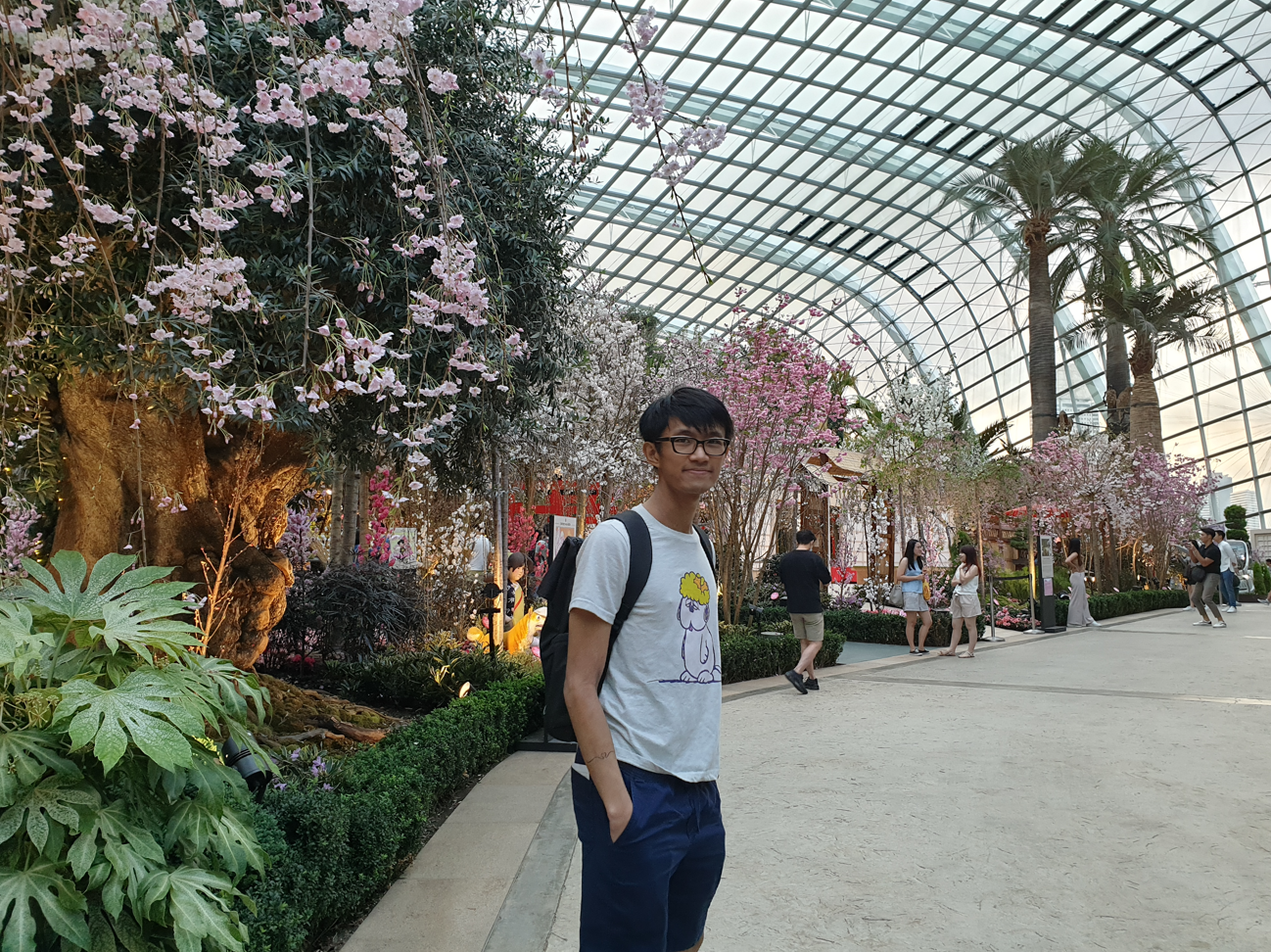 Because this Sakura Matsuri event was also called Tale of the Peach Boy, there was a special story to unfold as we walked through the forest.

There were a few different stops along the path with these statues of the Peach Boy and plaques detailing the story.
I think this folk tale is pretty popular and I remember there being a similar story about a Peach Boy in Chinese folklore too.
I'm not sure how popular the story was or if people cared about it, but I suppose it's good to have a different theme for each Sakura Matsuri otherwise they would all be the same.
There was this stretch of torii gates and we saw a girl dressed in a yukata there.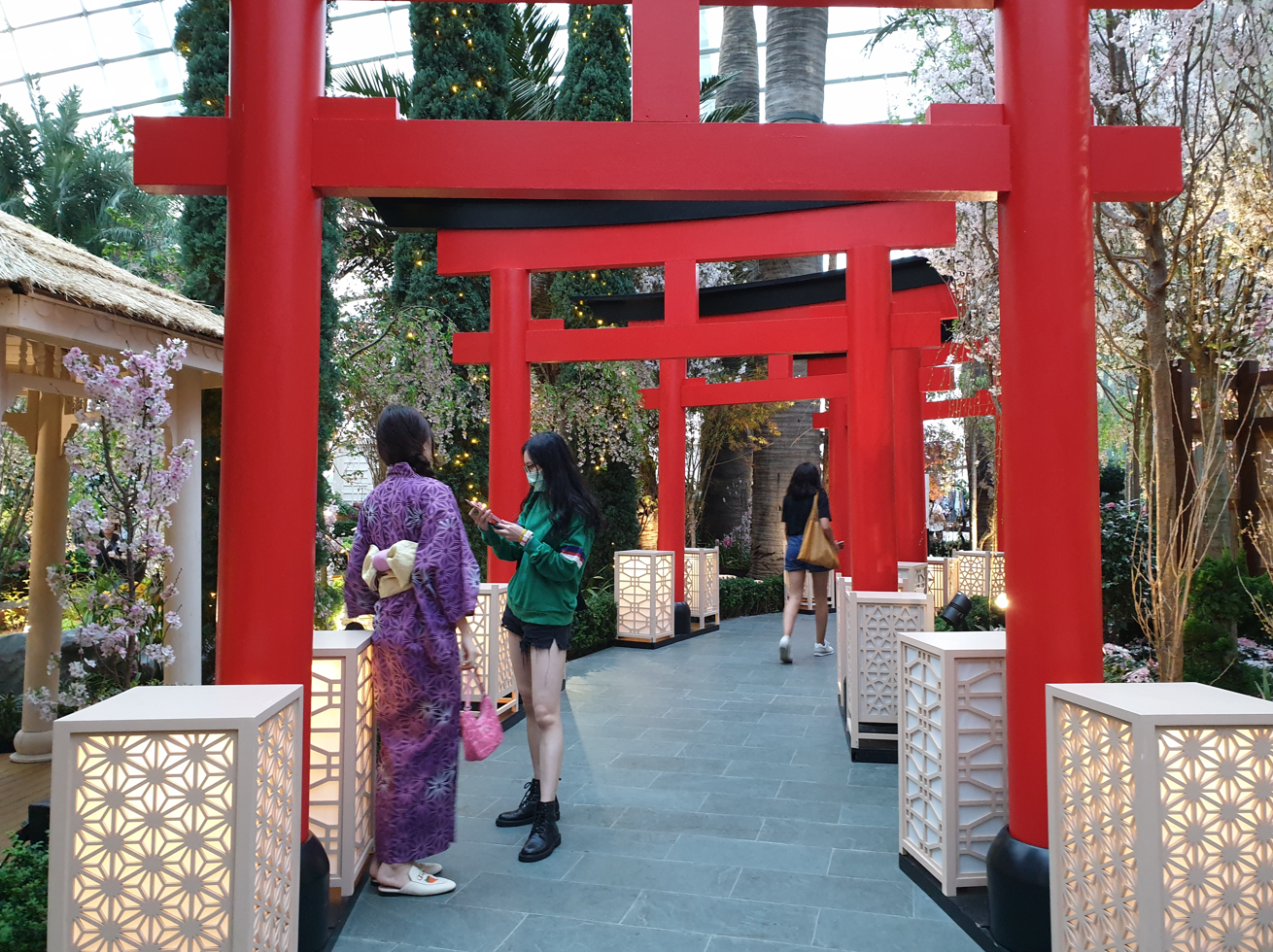 We tried to take photos there but my camera was not cooperating unfortunately.
We left the more crowded inner area and got some breathing room in the spacious walkway outside.
And there was actually a stage for Japanese Tea Ceremony! I think there were supposed to be different Japanese cultural performances but because of covid they got canceled.. Truly unfortunate.

It would've been cool to see some of the performances but since we were mainly there for the flowers, I guess it's not a big deal.
I loved the colour on this rose! I'm usually not a flower or pink type of person, but this was lovely.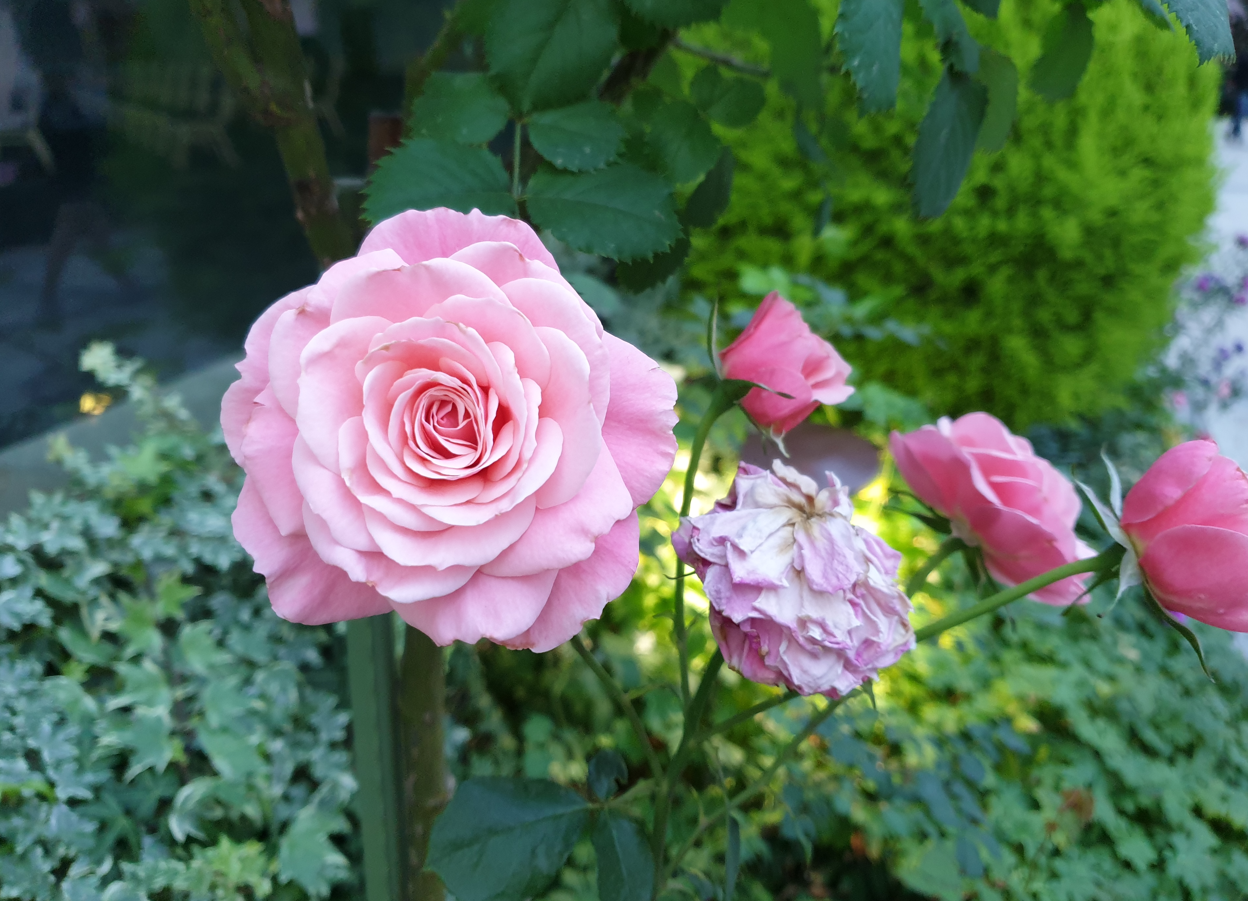 I really wish I could identify all these flowers. I guess they mostly put pinks and white ones on display to be on brand with the sakura theme.

After taking a few last looks at the flowers, we found our way to the gift shop. There were fewer levels in this dome compared to the Cloud Forest but the area itself was bigger for sure.
We started making our way to the exit and we saw some wildlife, like this guy with a bunch of small sparrows.
And this good boi!
After that it was time to leave the Gardens! We started our walk back to Marina Bay Sands. It was a nice evening for a walk too since it's so windy there and the sun was setting.
There are many cycling and jogging tracks so we came across quite a few people exercising.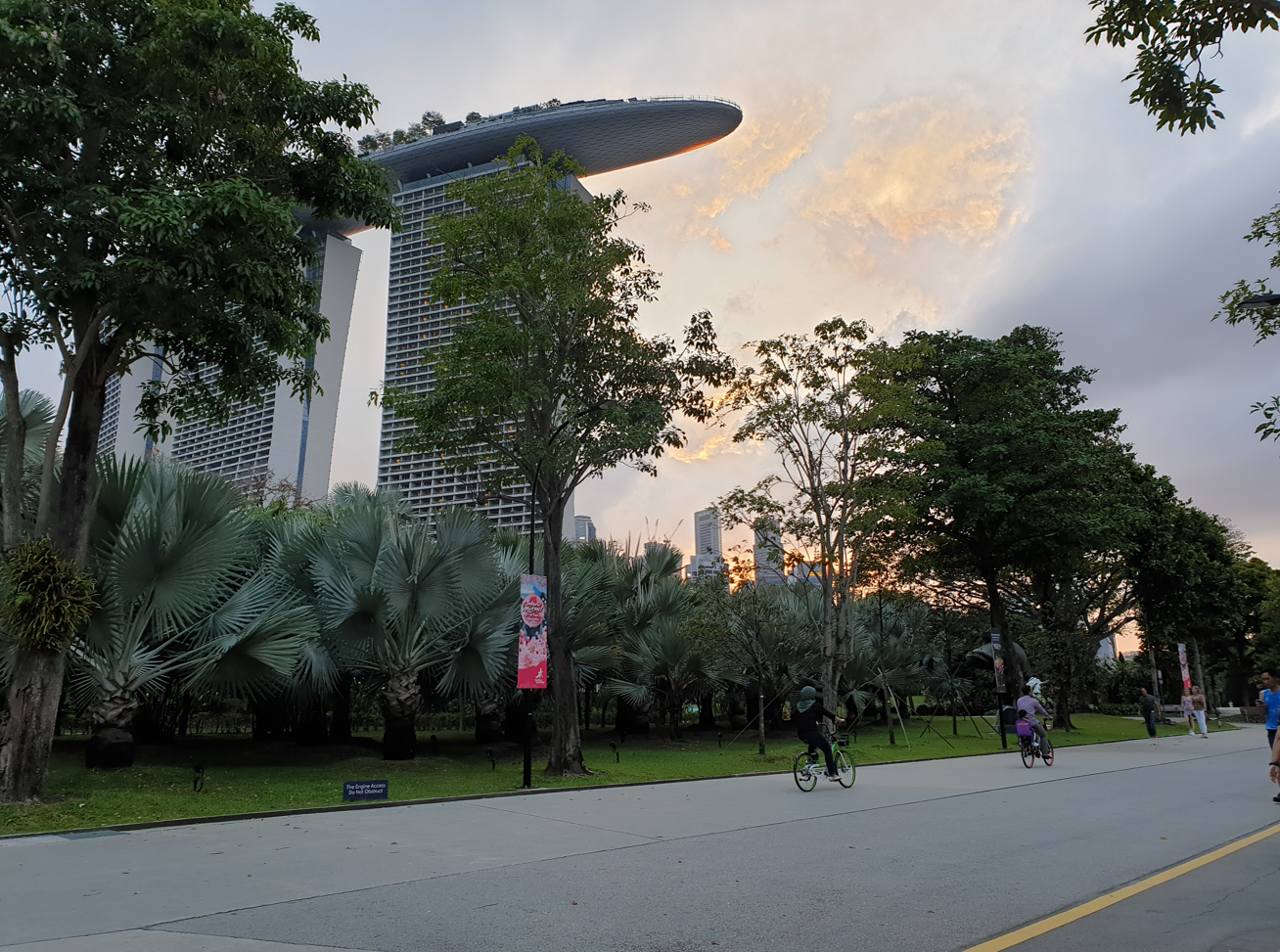 We took a quick pic of the helix bridge before heading into MBS.

Marina Bay Sands is the famous integrated resort here in Singapore which has a 5* hotel, a convention-exhibition centre, the fanciest mall, a museum, a large theatre, "celebrity chef" restaurants, two floating crystal pavilions, art-science exhibits, and the world's largest atrium casino!
This mall is probably the fanciest mall in Singapore; they even have this shiny light fixture in one of the atriums!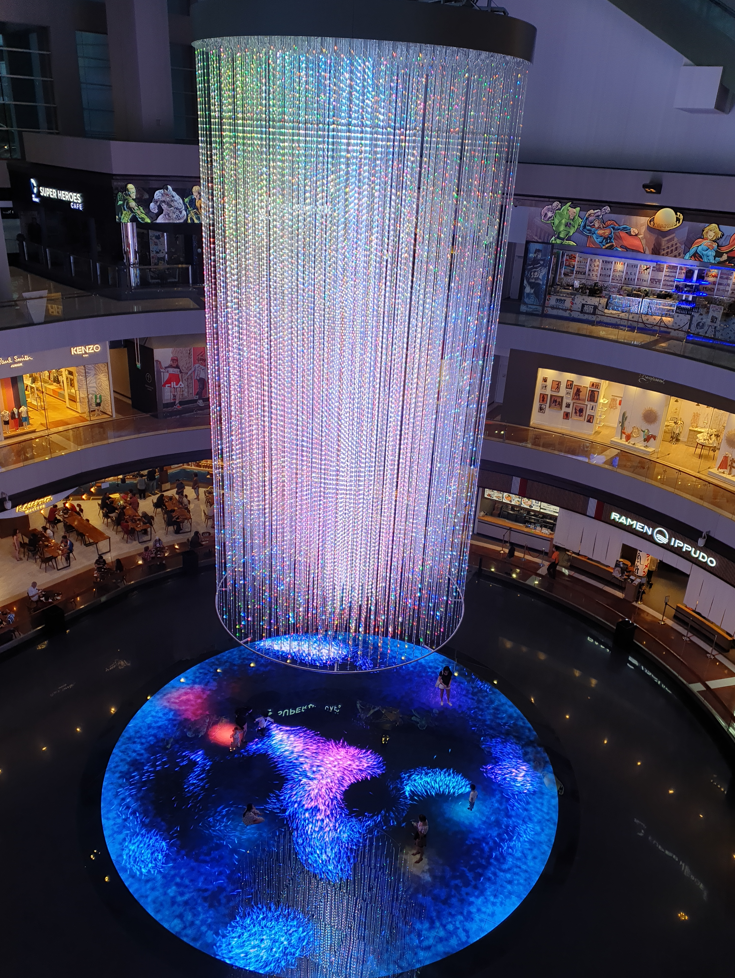 But of course we didn't buy anything there since none of it to our taste or budget. So we left and took the train home.
Overall, it was truly an amazing date at Gardens by the Bay! All the flowers were so lovely and of course the Sakura Matsuri is an event not to be missed. If you happen to be in town in Spring I highly recommend it!
Thanks so much for reading!

To find out more about me, check out my intro post here!
---
Check out my previous post in this series!
TacoCat's Travels #186 (SG): Frolicking in Flower Dome 🌼