Head over heels in this magnificent skyscraper where a Michelin 1 star restaurant, Stay, is perched on overlooking Seoul. Stay is created by Yannick Alleno, a French chef who has been awarded with 3 Michelin stars. With such accolades, it was expected that our meal will end in extreme satisfaction.
Stay
The way to Stay is by taking the exclusive lift that takes you up to the high rise floors. With only 4 floors available for stops, the dedication to these restaurants are worth mentioning. Stay is located on the 81st floor of the Signiel building.

The lift opens up to a hallway with three different logos for the two other restaurant and bar that is sharing the same floor. We followed the Stay sign and landed ourselves in a highly modern restaurant where the color scheme is worth getting inspired over. The copper chandeliers are not overpowering but harmoniously floating over crisp clean white table clothes with sunshine yellow chairs. The floor is laid out in grey and black marbles sticking to the black, white, and yellow color codes of the place.

Starstruck by these chandeliers. It was a sight for sore eyes. The ceiling was more that two storeys tall, creating a grandiose aura of the place. Couple this with a breathtaking view of Seoul city that can be seen through the windows to the left. We visited on a day that was rather foggy and missed out on the view, nevertheless no complaints were made as the meals that soon came after made history in our books.

The Dishes
The menu is simple. Nothing elaborate on the covers, just a plain black beginning with the name and the concept embedded in its covers.

The bread on the house is served with creamy butter, and a square patterned butter with pate. Nothing special on the bread, but the butter was good.

For starters, crab meat salad. The crab meat was shredded to pieces and mixed in with a zesty salad placed on lettuce creating a hill.

Other main dishes included, the following images which may cause hunger and dissatisfaction in your stomach.

Stay's carbonara is mixed inside a cheese roll, maximizing the parmesan coated on the pasta finalizing the dish with an extreme creaminess to its after taste.

Their penne pasta which was cooked al dente and with the perfect equilibrium of tomato and herb.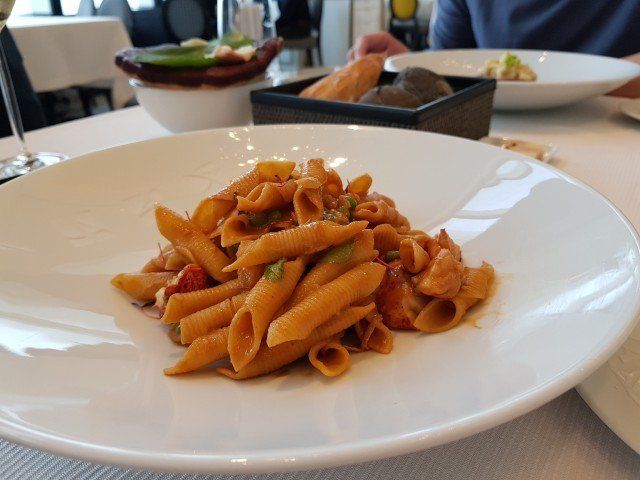 The details
Address : Stay
300 Olympic-ro, Jamsil 6(yuk)-dong, Songpa-gu, Seoul, South Korea
Thank you for reading
If you liked this review please follow me for more related posts 😇😇😇
📷All photos without source mentioned are shot from my Samsung Galaxy S8
---
Restaurant Information

Stay


300 Olympic-ro, Sincheon-dong, Songpa-gu, Seoul, South Korea
---
Rising above cloud nine - Seoul (Stay)
This post participated in the Tasteem contest Pasta vs Pizza