…'I wrote the below yesterday when I was fuming. I'm not anymore but I still disagree with some of the opinions of the overall NON-STEEM Urbex community'…
I have a headache right now, and that's due to stupidity. You see I posted something on the premier UK Urbex site, www.28dayslater.co.uk and was sent a whole load of shit back for doing so.
I have nothing against these regular Urbex sites. I find them a great source of information, but they have a stigma and reputation of hosting a selection of small-minded Elite motherfuckers.
Now because I'm posting this on the STEEM blockchain, I can say such things. There are no moderators to censor my words and perhaps that is why I have found a home.
My original post was to find a partner, not a shagging partner but someone to accompany me into buildings that are falling apart.
You see I don't like to solo them as I might fall down a hole, let go of my phone and then it's bye-bye world.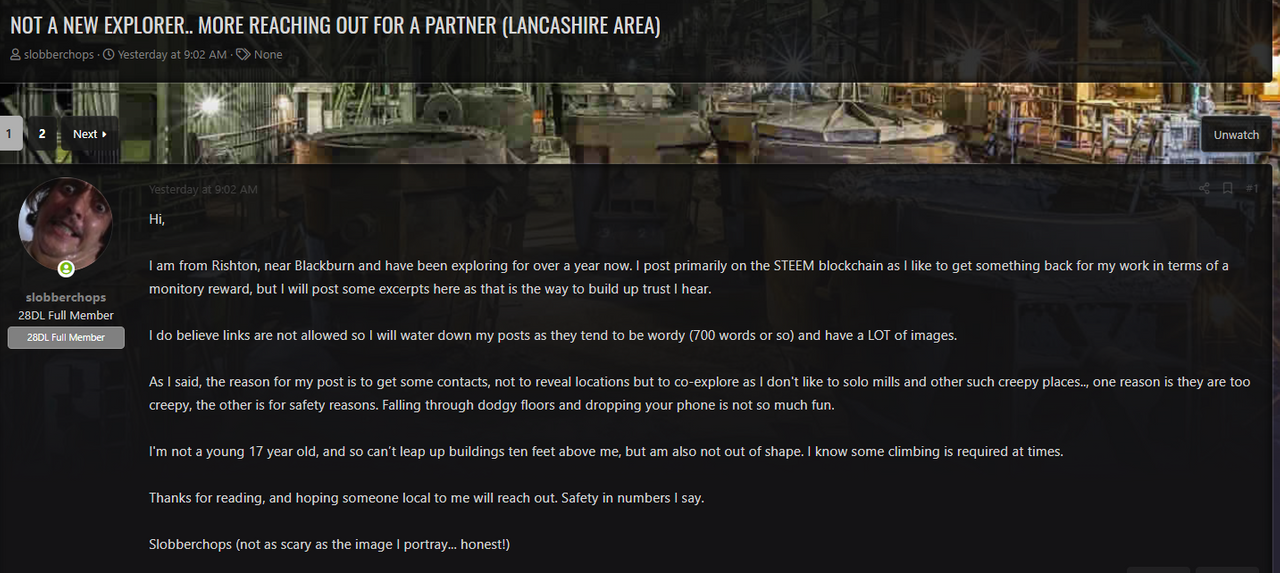 …'I do want to live, not be found in skeletal form some years later'…
From what I read, you need some creditability on www.28dayslater.co.uk for anyone to EVEN talk to you. I have found one of the moderators a friendly bloke and he's on another one named https://www.oblivionstate.com/community/.

...'Thanks 'The_Raw' for being a decent person and not being small-minded'...
Making money from Urbex is BAD, that's the word on the street and the word is GOD.
The community has made their decision and if you don't agree then you are an outcast.
Urbex is a hobby and you should NEVER make a penny from the countless hours of investigating, reconnaissance trips, unique photography, the individual writing of between 500-800 words per visit which goes into great detail.
No, it's frowned upon in the community.
It makes us look bad, you should not sell out.
Just who am I selling out too? I'm not selling my stories to a newspaper, and if that's the reasoning then I agree with the Urbex community.
I was not really aware of this until today. I won't be posting any more content on www.28dayslater.co.uk from now. I will need to find other ways of getting my connections.
...'I wish I had never mentioned STEEM, in fact I attempted to deter him about STEEM'...
Do these guys have a point, or am I being lumped me in with the YouTube boys who create video blogs giving away locations, and making it damn obvious where time-capsules are located?
I don't do that, I create stories. I don't reveal locations or how to get in. Locations are marked on the steeemitworldmap.com, but that doesn't mean they exist at that precise point.
Then some dude then started to accuse me of shilling STEEM and 'selling the dream' as I had mentioned it in passing, but NOT for this reason.
...'other people's content? Fuck off, it's all MY content'...
Can you please tell me about this dream, because I want to be there? STEEM for me now is more like a nightmare.
It's crypto-currency, its dodgy, its criminal, its weapons, its drugs. Of course, we are all the fucking same you ignorant twat.
…'did you know that my dream is to make LESS money than what McDonald's pay'…
That's the STEEM dream, why don't you all join… just for the fucking money, nothing else.
Yes, I'm pissed right now and for good reason. People should close their fucking mouths before spouting off in public about shit they know nothing about.
The STEEM Blockchain (steempeak.com) is a blogging platform for ANY type of content. Don't expect to make masses of money or you will be sorely disappointed. At least one of these guys knows what it is.
There I said it. Come for the freedom, the lack of censorship, the drama, the community but NOT for the money.
...'I'm not going to argue with 'tigger'. He knows nothing of STEEM and to be frank farting is more productive to me than responding to his accusations'...
I hope some of the www.28dayslater.co.uk crew see this. I will be tweeting it but we are in a different universe here in the STEEM world. It won't surprise me if it fails to get to any of them.
Maybe they will never read this but writing about it gives me a way to vent and earn some of those less than minimum wage riches that are going to change my life forever.
Jeeves.., bring my Lamborghini; yes the red one, the yellow one is reserved for Thursdays.

If you found this article so invigorating that you are now a positively googly-eyed, drooling lunatic with dripping saliva or even if you liked it just a bit, then please upvote, comment, resteem, engage me or all of these things.