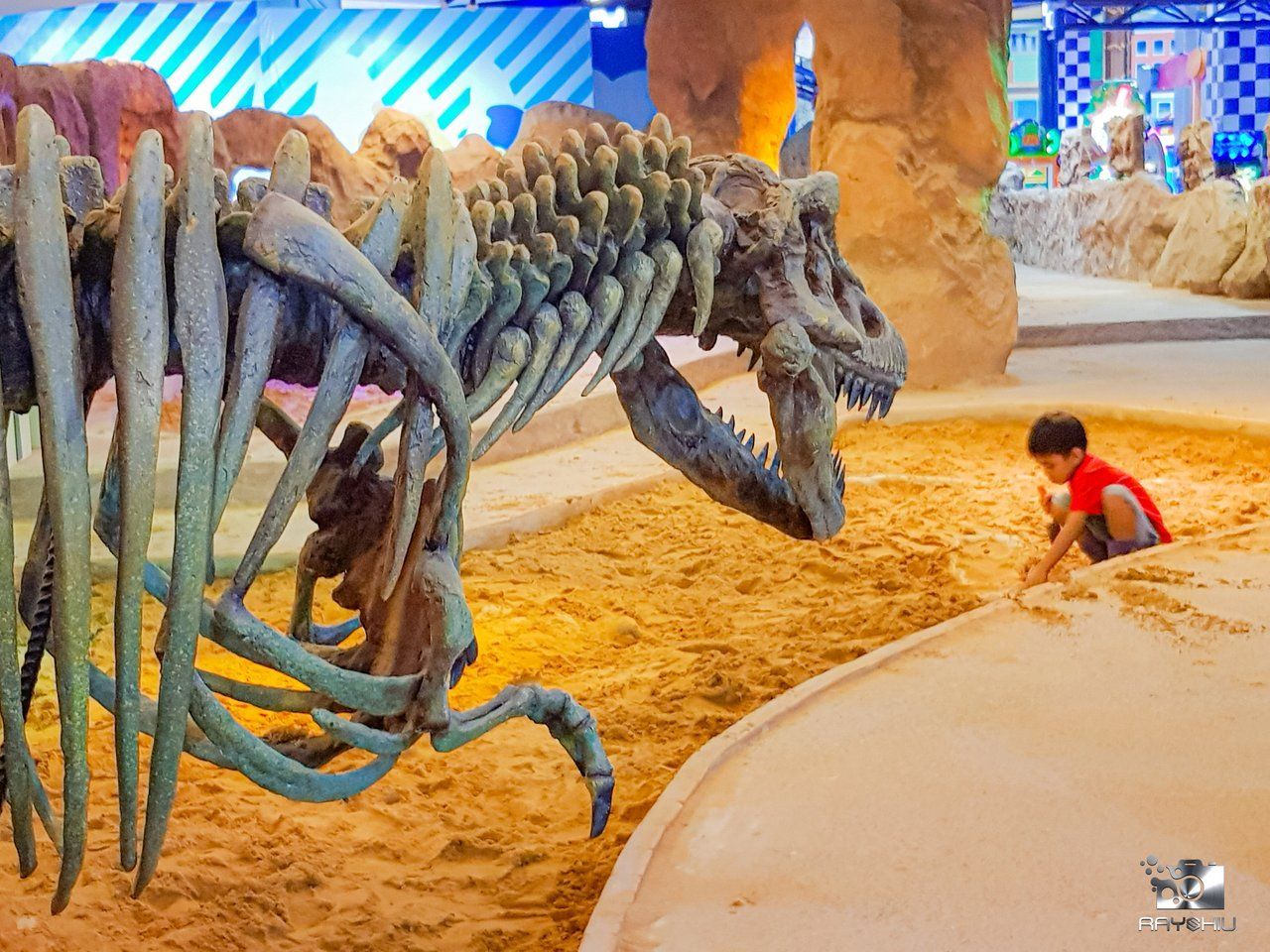 This was an unexpected day. My youngest insisted that she and 'mother' take me to a train night market even after I told them that I had been to one already (will post about the two train markets shortly). You know, it's very rare that my teenager wants to hang out all day with me, so of course I jumped at this fortuitous chance!
We hopped into a Grab taxi and off we went (from On Nut BTS station, it cost roughly $200 BHT). Around 30 minutes later we arrived at a mall called Seacon Square. I was told we were going to shop here because the night market doesn't open so early (it was mid afternoon). Great, NOT! Anyways, we walked around and did a bit of shopping since the Christmas sales were on. This mall is huge and we ended up in an amusement park. Yes, it's inside the mall. Whilst nowhere nearly as big as the Mall of America or West Edmonton mall nor as entertaining for adults, Seacon's amusement park is geared for the younger kids.
| | |
| --- | --- |
| | |
There's tons of stuff to do here, for kids. Lot's of kiddie rides, a ball pit, a sand pit, a sled pit (fake ice sledding), a fully padded jungle gym, a train ride that weaves it's way in and around the "park." Oh yeah, there aren't any drop down gates at the crossings so mind your little ones, don't let them get run over by the train. No carnival games but there were the claw machines and smaller kiddie arcade games. For teenagers, there were only a handful of arcade games, a shooter ride, a mini vking type ride and a bumper boat ride. Yes, bumper boats. I couldn't, for the life of me, get my teenager to go with me though. As you can see in the images below, the place is kinda deserted albeit it was a Friday afternoon, maybe the local kids are still in school?
I wish shopping trips were as fun as this one. Before I knew it, it was time to make our way to the night market. Although I was unsuccessful in getting my kid to ride/play anything, we did manage buy some dinosaurs to take home to paint. We could have painted them there but not enough time plus the little stools would have killed my back. The only thing I could get her to do with me is catch goldfish but I think she only agreed because she knew we couldn't take the fish home and so I wouldn't actually do it. Here's some more pictures:
As you can see from the photos, there's lots to do, I'm sure your little ones can find something fun to do here for hours. Just make sure you stock up on tokens from the token machines as they are pretty well spaced apart and hard to find. Oh almost forgot, there's a small food court with finger food type morsels but no candy apples or mini sugar donuts.
This post has more images than I usually post in hopes to give as much "heads up" to parents with younger kids looking for another place for that oh so important family time. Thanks for viewing and best wishes!
All the photos (unless otherwise noted in the post) were taken by me and are available for sale. If you're interested in buying an image or three, 😃 please don't hesitate to contact me for more details.
Consider following me for updates to find not only my other (usually travel) bloopers, blunders and shenanigans but also photography related news/reviews and the occasional contest entry. I might even post a rant or two when I just can't help myself, haha.
PS. If you want to check out my other 'works', you can find them here:
Let's hear about *YOUR* travel adventures. Click the banner to join me on Travel Feed !
Click here to read some awesome content on the TravelFeed platform