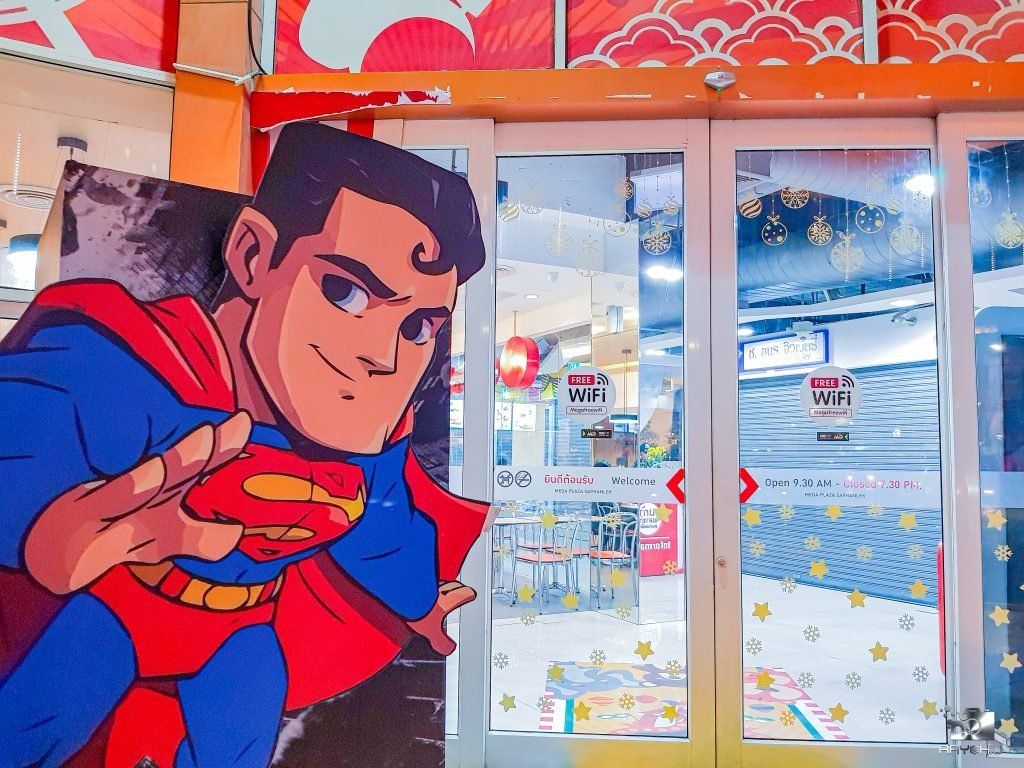 Ok so whilst wandering around the vicinity around Wat Saket/Golden Mount, I found a mall named Mega Plaza. Six floors of AWESOMENESS ! ! ! Yes, I'm a kid and I ain't afraid to show it, wiggle wiggle....uh ok never mind lol. If you're even remotely interested in anime, toys, collectibles and or camera gear you have to check this place out! Plus it's nearing Christmas time, so why not?
I would love to give you precise directions on how to get there but i can't because i found the place by accident. I can tell you, though, that the closest train station is Sam Yot MRT (blue line) and that Google Maps sucked. It was actually much closer than the path it led me on (I had to find Sam Yot, MRT). Also if you're into gold jewellery and firearms the vicinity is loaded with those types of shops but around 6:30 pm a lot were closing if not closed already.
The first four floors of Mega Plaza are filled with toy shops like baby toys, remote control stuff, lego, anime figurines (racks and racks full), Gundam models and mini drive able vehicles. I saw a figure that I really wanted to get (DBZ FiguArts Android 21)but I tried to bargain it down from $1800 Baht but was unsuccessful so I went to try to find a cheaper shop. I did find it in two other shops but one had it on sale for $2200 Baht and the other $2400 Baht so I tried to go back to the first shop but either they were closed or I couldn't find it. Too bad for me.
| | |
| --- | --- |
| | |
There are a few console game shops which offer repair services as well. Comparing prices I found Nintendo Switch games to be slightly cheaper than in Singapore but you'll have to shop around because prices differ, sometimes by a lot from shop to shop. I didn't buy any because most of the games are from the European region and that eshop is the most expensive (that I've encountered so far from buying DLC's). It looks to me that the Nintendo Switch games here are cheaper than the 3 shops I found at MBK mall. Anime figures are slightly cheaper too and I found an acrylic display box shop had really good prices but shipping is the deal breaker. If you're into air guns (BB guns) I saw a couple of shops with a wide variety of guns, they were really quite impressive and realistic looking.
Half of the 5th floor is all camera shops unfortunately not all were open, some of the ones open at the time I was there were the ones offering repair services, used (older stuff) and vintage gear. Quite cool, I enjoy looking at vintage stuff! If you're looking for camera gear I highly recommend checking out Mega Plaza before you go to MBK mall (where there are a handful of shops as well, mostly all the new gear though). The other 1/2 of the floor is occupied by TCG shops (trading card games) like Magic The Gathering. I still play every now and then with my daughter and she was upset she didn't get to check out Mega Plaza with me, haha.
On the top floor there is a food court and shops with the bigger models and diorama's. Man oh man, were there some awesome looking diorama's up there. I think there was a shop that takes custom orders meaning they custom make one to your design/liking. These shops makes the couple of shops in Singapore (that I've seen) look amateurish.
If I ever make it out to Bangkok again, I'd definitely make time to check out this mall again but this time earlier and with a list of stuff I wanna get this would be better than following my girls around Pratunam market looking at clothes. Oh, if you intend to go, keep in mind that shops start closing around 6 pm even though the mall doors says the mall is open until 7:30 pm so go early if you want the best selection.
Consider following me for updates to find not only my other (usually travel) bloopers, blunders and shenanigans but also photography related news/reviews and the occasional contest entry.
All the photos (unless otherwise noted in the post) were taken by me and are available for sale. If you're interested in buying an image or three, 😃 please don't hesitate to contact me for more details. Thanks in advance!
Comments & Critiques are always welcome, as are upvotes and resteems.
Thanks for viewing and best wishes!
PS. If you want to check out my other 'works', you can find them here:
Want to write about your travel adventures? Come join me on the TravelFeed.io platform