After spending 10 wonderful days at the Portuguese coast near Lisbon, it was time to leave for the next part of our travels. The island of Madeira is just a 90 minute flight away from Lisbon and we were to spend two weeks there. For some people two weeks might sound a bit too much, because the island is not very large and there are nearly no sandy beaches. But beaches are not really the reason to visit Madeira. And especially for landscape photographers two weeks can go by very quickly on this mountainous island with its many photographic treasures.
Because we had so much time, we split it to first explore the lush landscapes in the northwestern part of the island for one week and then focus on the eastern part of the island with its mountains and photogenic coastline.
The winding roads and mountains that cover Madeira were the reason for this split, which reduced the time spent in the car by a significant amount. For example, getting from Funchal in the Southeast to Porto Moniz in the Northwest takes around one hour. If you add a return trip then this is already two hours spent in the car.
While we stayed in Porto Moniz, we mainly drove around the mountain plateau that contains the ancient Laurisilva forest. There's a nice round-trip that you can do, which includes the Fanal Forest, the 25 Fontes waterfall and many beautiful Levada Walks. Just take the ER209 and ER110 roads and combine them into a loop.
And you might already have guessed it, you need a car on Madeira. We got our rental car from AnaLodges, through whom we also rented our first apartment. I can fully recommend their service as well as the Ocean View Cottage.
Photographing Fanal
During the week we had in Porto Moniz my main photographic focus was the Fanal forest. This ancient laurel forest is a photographer's dream, if the conditions are right. And, if you do a Google search for Fanal you'll quickly get an idea what those are.
Since we visited Madeira in late November I was pretty sure that I would get a lot of fog in the mountains. Especially for Fanal this is quite common I've been told. But to my surprise, despite plenty of rain in the first days, there was never enough humidity in the air for fog to manifest in this magical forest while other mountainous areas on the island were often shrouded in deep clouds.
Again and again I drove up to the Fanal forest to be greeted either by sunny or by grey skies, often with a lot of wind. On the first visit I managed to take a photo that I'm quite fond of though. As you can see above, the sun was casting beautiful shadows that served as an extension to this already very gnarly tree with its many reaching branches.
On sunny days you have to spend a lot of time to find compositions that work in this forest - the photo above is one of the very few successes I had. While this was a good exercise and preparation, after the fifth visit I was really longing for some fog up there. And it was hard to get a good weather forecast for this region and the Webcams that are spread all across Madeira were also no real help in predicting the conditions in Fanal.
In the end I got the best forecast by using the app MadeiraWeather and looking at the conditions in Ribeira de Janela. One day MadeiraWeather finally predicted 100% humidity combined with a light drizzle in the morning, so I started the drive for attempt number six.
And I was rewarded with five hours of dense fog. In the beginning there was much more rain than a light drizzle, but after some time it subsided and I was able to finally photograph Fanal in prime conditions.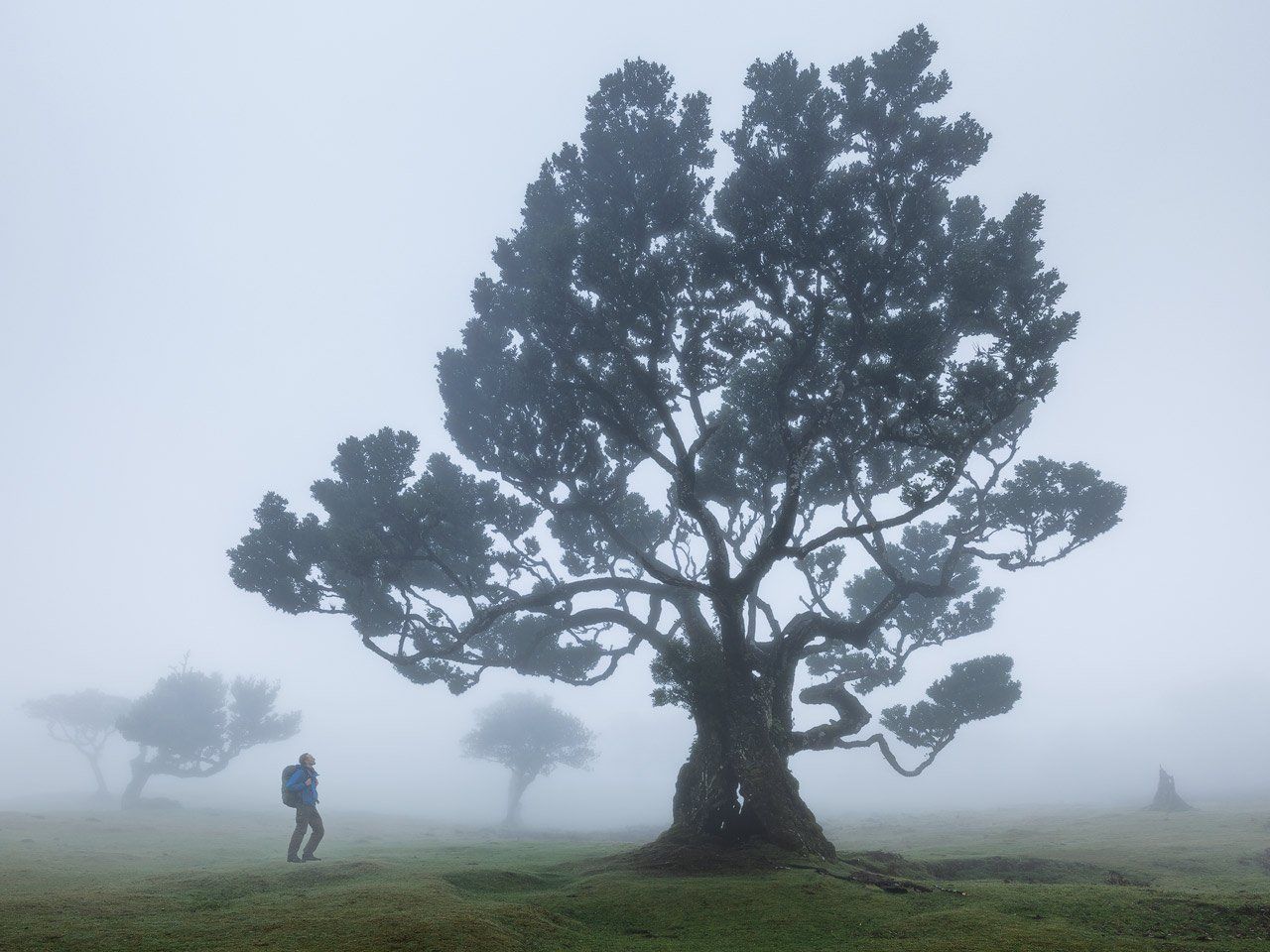 The two photos above are just a small excerpt. I photographed a total of 15 different compositions, which I show in the second video that is linked below. The first video covers the challenges I had the first days and how I had to adapt by finding other subjects to photograph. So, if you have some time, I definitely recommend to watch those videos, because you'll get a much better impression of how the area looks and what you have to do to come away with good photos from there.
PS: If you want to learn how to edit such photos, you might find the tutorials on my homepage helpful. Some are free and some are available with discount now - use nbf25 on checkout till christmas 2021.