As anyone who happens to read my blog knows, I have recently developed a bit of an obsession with the French street artist known as Invader. Anytime that I travel to a new city in France or surrounding European country I am always on the look out for his work. When walking through the towns and cities that we visit I can often be seen turning around in circles to view the street corners that we pass or peeking around and down dark alleyways.
In order to spot the Invaders of a city, one must be diligent in their search for the pixilated tile mosaics.
The town of Lyon France was especially fun for me because it happened to have a lot of invader installations scattered throughout the city.
The first Invader that I saw was on the night of our arrival to the city.
As I've mentioned in a previous post, Invader is known mainly for his renditions of pixilated 8-bit video game characters and true to form, here is an image of Luigi from the Mario brothers Nintendo videogame. Below is his companion Mario.
I think that its Mario anyway. It's kind of hard to tell without his red hat but I think that the mustache says it all.
Down the street a little ways I stumbled upon this image of a smurf. I've actually seen a few different versions of smurfs done by Invader, some of which are more detailed then others. This one is actually quite good in my opinion.
The next day I saw this space invader early in the morning in another part of the city. This was one of those instances where I first walked past the piece of artwork but just so happened to turn around and look back behind me. I've come to realize that Invader tends to place his pieces around corners and up high on the walls of the street.
I saw quite a few Invaders later on in the old part of town as well. The next one was located close to the Notre Dame cathedral. It depicts the Joker from the Batman comic which is fitting because there is a really cool film museum on the same street that houses a life size wax statue of the Batman Penguin villian in its shop window.
Same piece, just a little closer. Green hair, red scars, definitely the Joker.
The next little space invader was seen in the same area, the old part of the city.
The photo below was taken by my wife. She took a picture of me taking a picture of the invader. As you can see, the to go coffee cup in my hand clearly identifies me as a tourist in the area. Coffee to go is just something that people do not seem to do in France (or other parts of Europe for that matter). Its a Canadian (or North American) thing I suppose.
I'm pretty sure I spilled coffee all over my coat while trying to take the image. It was either here or when I took a picture of the Joker. Either way, I distinctly recall dumping coffee on myself. Just one reason not to carry a to go cup when in a new city where there are so many pictures to be taken.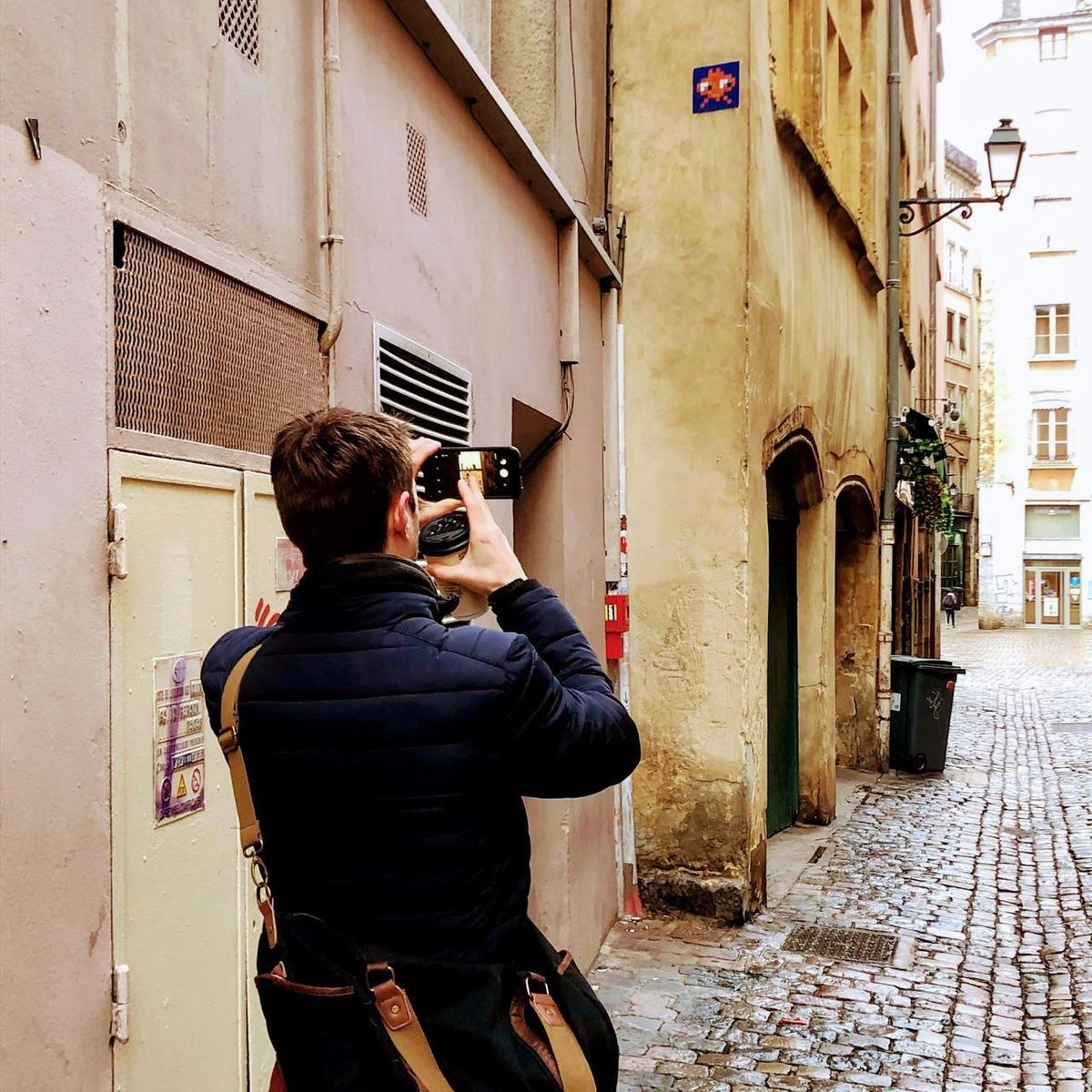 I saw the pixilated whale in the image below in the old town as well. It sits above a street sign that reads "Place of Whale" in French. Clever. I quite like this piece. Its definitely in my top ten favorites.
In a different part of the city, located at the top of the hill, I saw this space invader hidden behind some tree branches. In the spring and summer it's probably completely hidden by the trees leaves.
It's a simple piece and I'm guessing that it's probably quite old.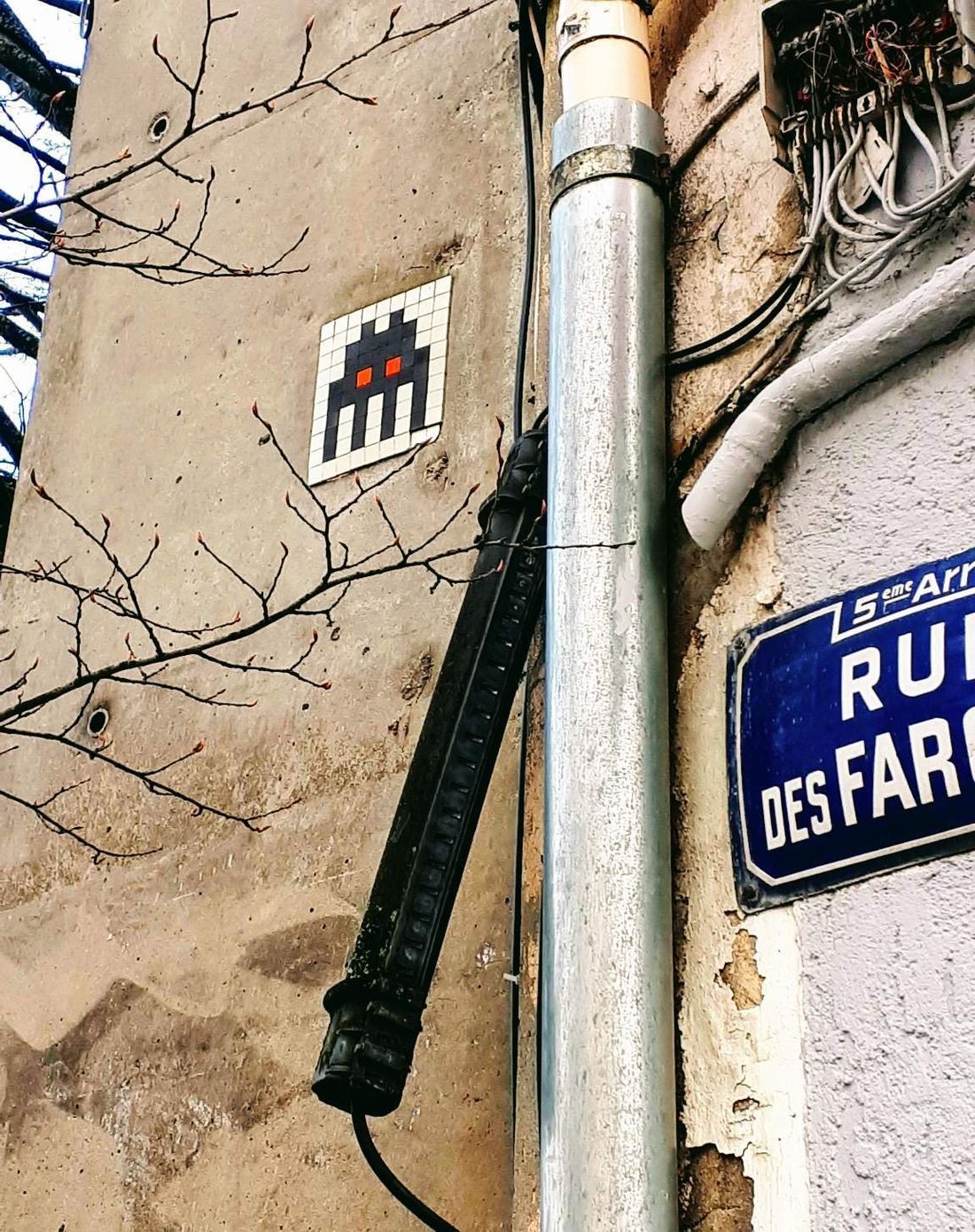 The last Invader was spotted as we were coming back down the hill. As we were winding our way through some very narrow streets I happened to turn around and walk up a little ways while my wife carried on downwards. Luckily I did because I happened to spot this gem up and around a corner. I believe that it's a depiction of the Flash superhero. It looks much newer then some of the other pieces and is really well done.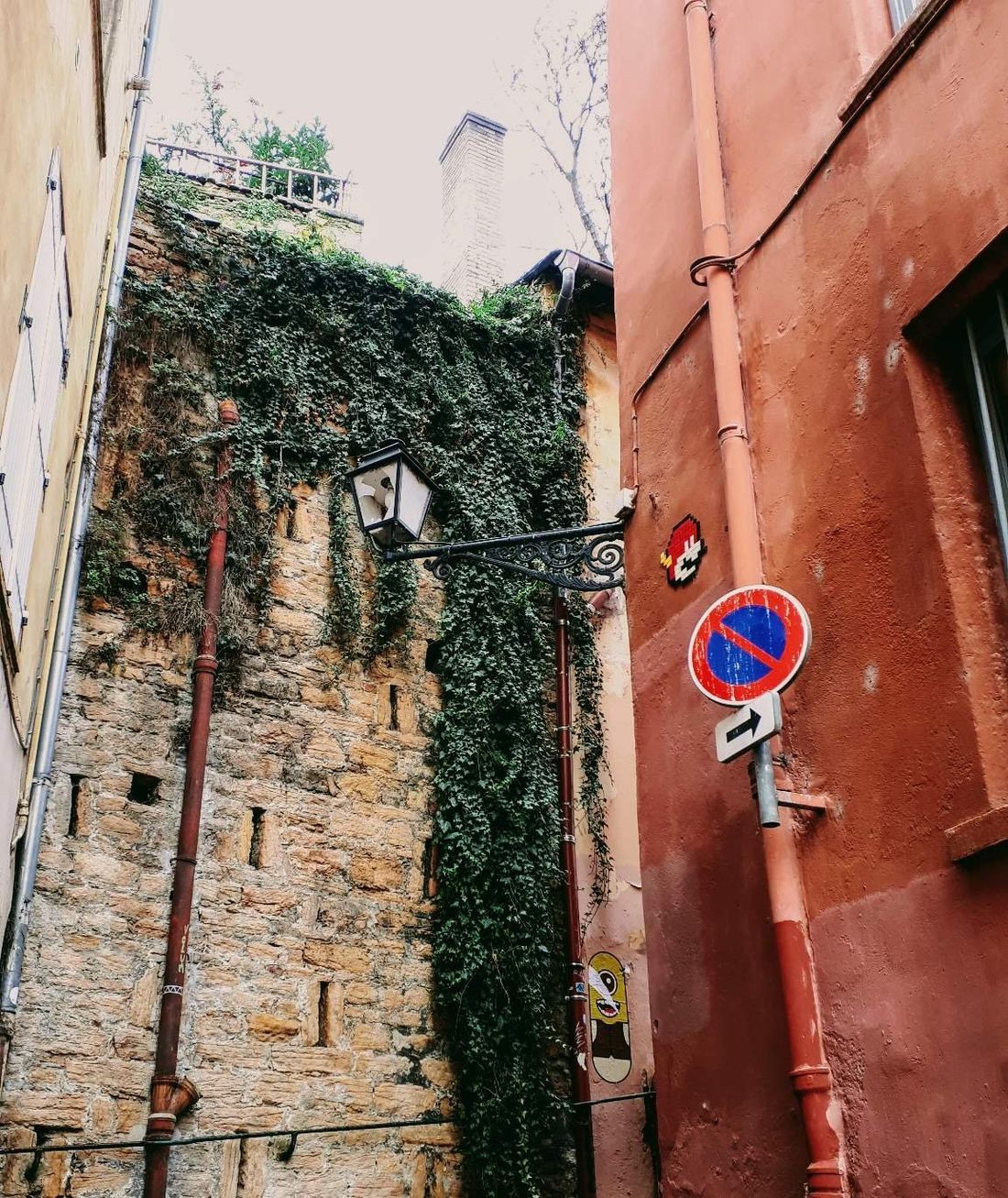 It's also in a really pretty spot in my opinion.
Well, the invasion of Lyon appears to have been quite successful for the street artist known as Invader. I was able to spot 9 of his installations on our visit to the city.
Thanks for Reading