Welcome to another edition of The Shape of The Cape, with your tour guide Julescape. In today's exploration I was extremely lucky to be in the right place at the right time to capture some footage of a massive school of dolphins passing by in the peaceful and sheltered Plettenberg Bay.
Plett, as it's known to the locals, is one of the top tourist resorts on the entire south coast of Africa. It is visited by millionaires from all over the world annually in the summer now. And it is also visited by whales in the winter annually. This particular bay is protected by the out-jutting Robberg Peninsula, which you can see in the distance if you take a look at today's video clip. The peninsula creates a perfect sanctuary for the whales to come for shelter and calving, and many visitors like to capture some footage of them while they bask in the bay.
Besides that though, the dolphins live here all year long apparently and it's possible to see them if you're lucky enough to be there when they pass. Dawn is often a good time to capture a sighting, but today for some fortunate reason I was led to take a tour at this particular time in the afternoon and I saw them passing by. The bay itself is very big and stretches for several miles, and the dolphins roam along the entire shoreline, so this is an amazing coincidence and quite a rarity to be able to get some live footage of them as they pas by.
My amateur camera video is nothing elaborate and the dolphin fins can just be seen bobbing up above the water's surface if you watch closely. The profound thing was that the line of dolphins just kept on passing for several minutes, and I came to the conclusion that there must be a massive amount of dolphins in this one particular school. They appear to be passing by in a really long line, just behind the waves. It is a particularly calm day and the conditions are just right to get this glimpse of the local marine life that shelters here in this beautiful bay.
This is a sight one can never tire of, especially when you see them actually surfing the waves just under the surface as they pass by. My humble attempt to capture them does not do them justice of course, but just the moment in and of itself felt really special. It's a rare opportunity to get such a glimpse, what to speak of actually capturing it on video. So I made two little clips here for you to take a look at. See if you can glimpse the fins of the dolphins above the water in the video clips.
There may even be hundreds of them by the looks of it, and for several minutes I simply sat and observed the long line of them swimming by, crossing the bay from one side to the other. By seeing them I really felt blessed and in touch with nature here, as if my months of exploration and travel along this coast is paying off, and I am tuning in to the rhythms and cycles of nature. It was purely by chance, or coincidence that I happened to be at the right place and time to capture this footage from the beach.
The sense of magic that one tunes into is merely the natural workings of the ecosystem and those marine creatures that inhabit it. This is nature at her best, here in what is actually a nature reserve for numerous marine and bird species that inhabit and breed in this particular bay. Due to its gentle - and one might say nurturing – design, the bay makes a perfect sanctuary and nursery, if that is the right word for marine breeding.
It's a whale nursery in winter for the massive whales that come here to calve, and it's a permanent seal colony too, particularly at the far end around the Robberg Peninsula itself. And as I say, millionaire tourist are attracted here as well, those with good taste and the money to be able to afford coming here for an extended period of time. My travel budget is limited but I have learned to keep it simple, and so my expenses are low. As a result I can make it to opulent natural surroundings like Plettenberg Bay, while still operating on a shoestring budget.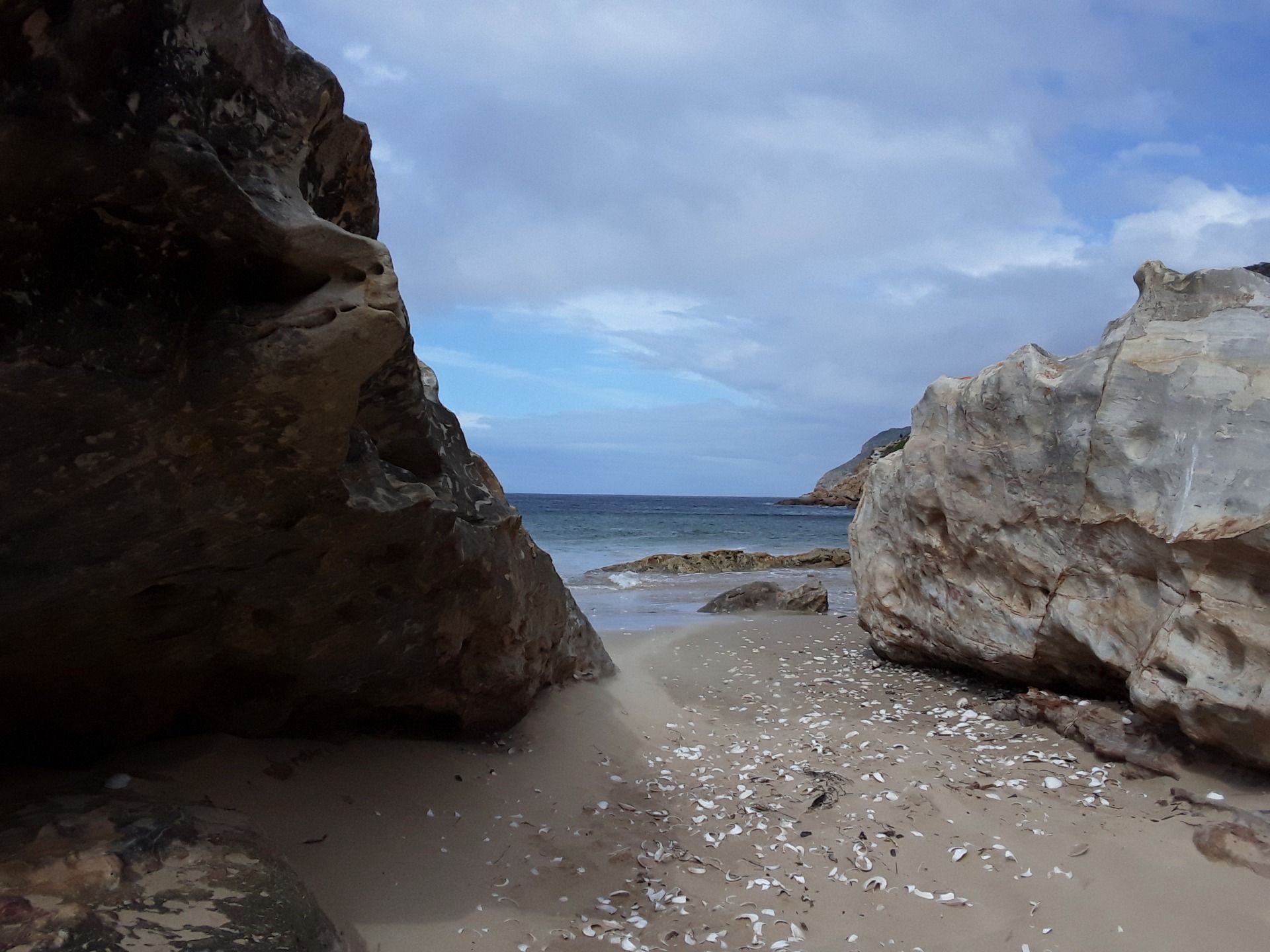 So don't let the idea of millionaires bother you or put you off when considering visiting this particular bay. It is exclusive in what it offers you as far as beauty and natural marine life is concerned, but at the same time you can book into a backpackers at affordable prices if you wish. And the beach is free. Catching a glimpse of the dolphins like I have today is priceless of course, as it is quite spontaneous and one can never plan such events or sightings. You need some luck for that, or somehow nature has to smile upon you, which she does when you tune into her mystery and appreciate her beauty with an attitude of gratitude.