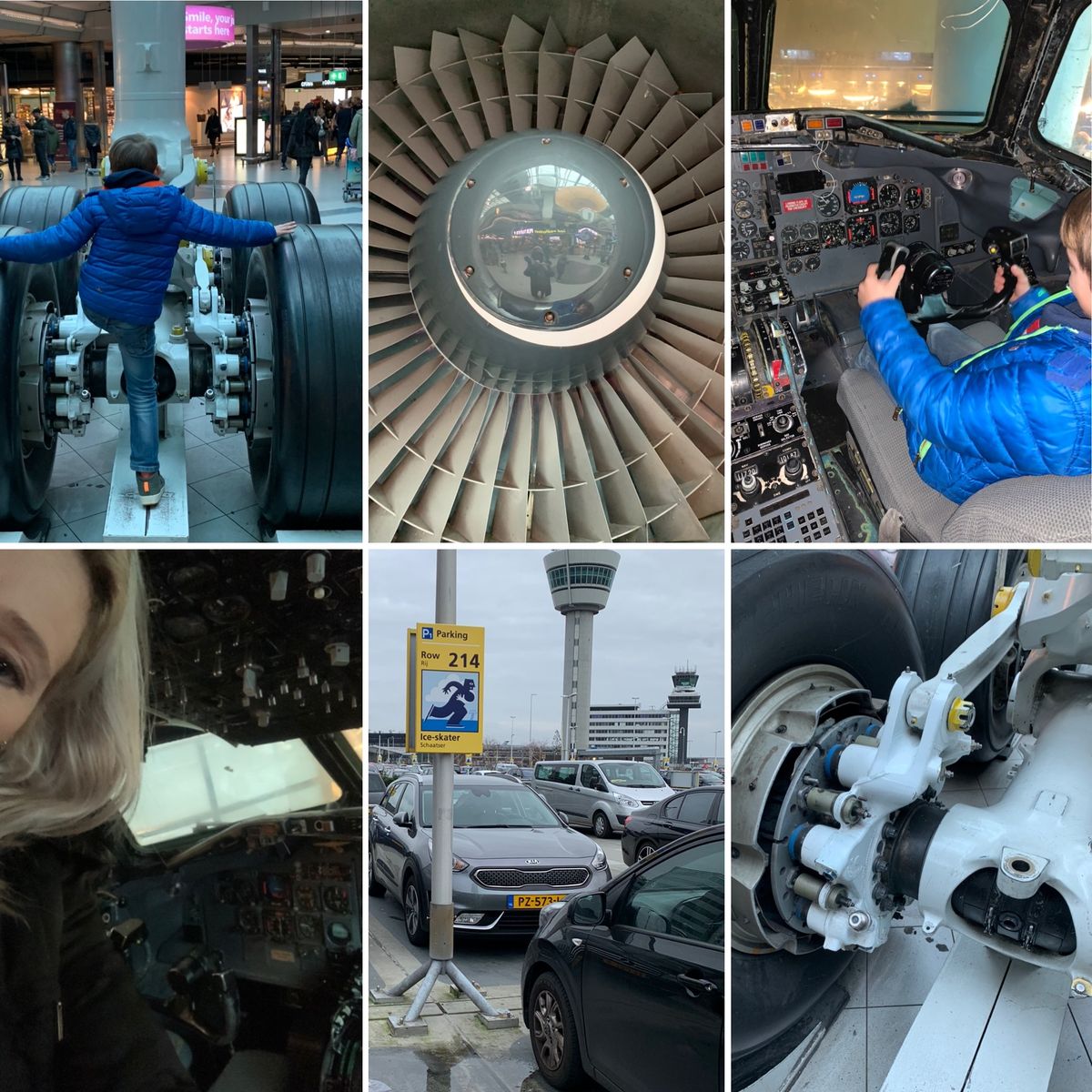 Source is through my experiences today and photos are mine, videos are Schiphols free useable from the bus behind the scenes excursion!!
We had the chance to see our national airport from the other side. We love flying and planes, so this was a great chance for us. So today we went to Amsterdam after having breakfast with eggs and cheese. During the Schiphol Behind the Scenes Tour we were as the name already suggested, taking a look behind the scenes at Schiphol. It's a multi million airport and about 71 million passengers per year are passing through or leaving from Amsterdam this way. The excursion is a present for hubby's birthday weekend, and it's by bus to ensure that everyone does not just walk around and for us to see as much as possible. Schiphol behind the scenes tour is exciting for everybody that goes on holiday by plane. Or just as us as an outside holiday thing. Most of us will often first think of flying from Amsterdam Schiphol Airport, the largest airport in the Netherlands. But even if you are not going on vacation, it is nice to go to Schiphol for a day.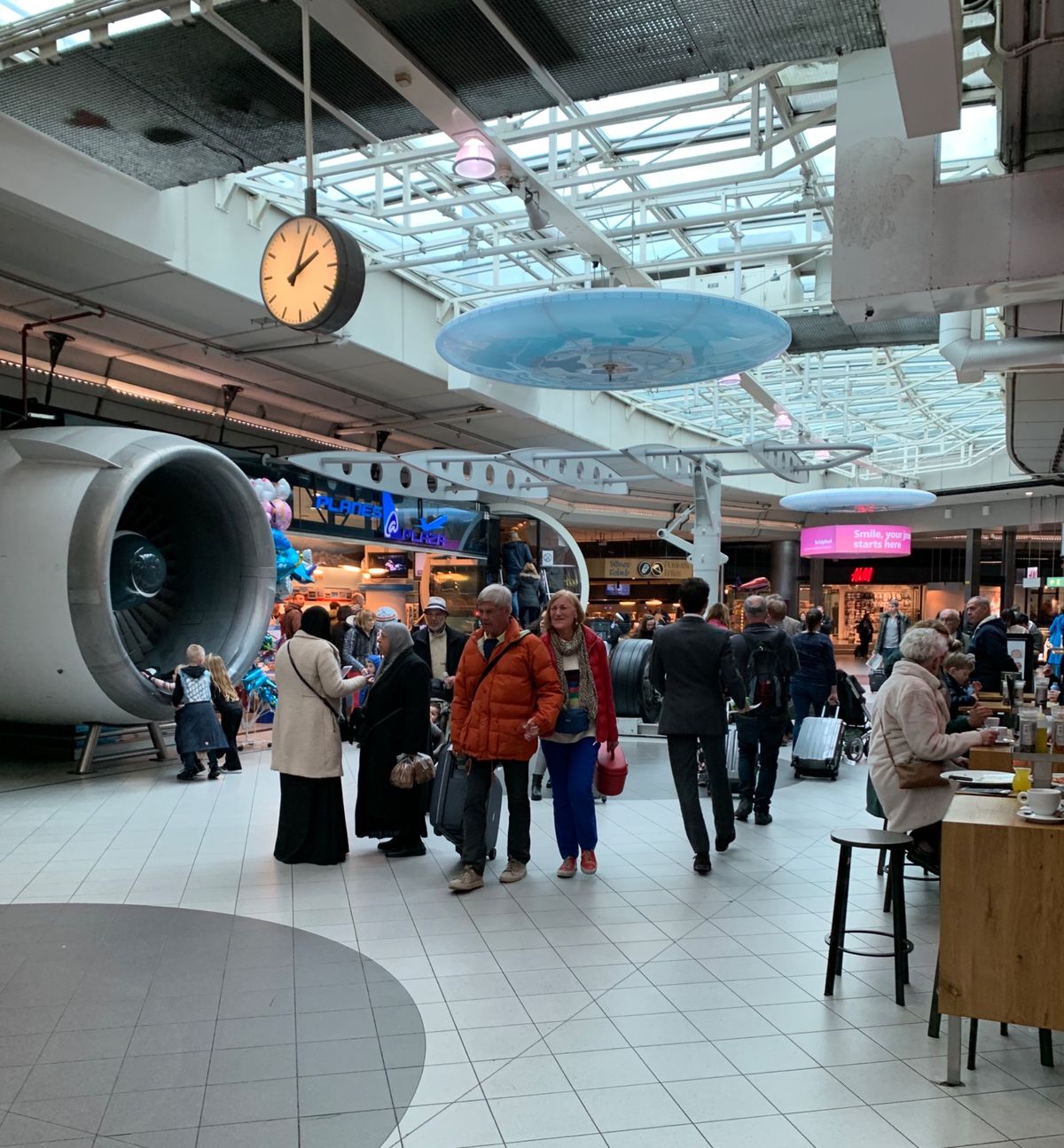 There a so many shops you can go by train, watch aircrafts form the special camera places in the terminals from up close. Aircraft watching from the panorama terrace from a far or just looking around and shopping, yep a great way to spend family time, if you ask me.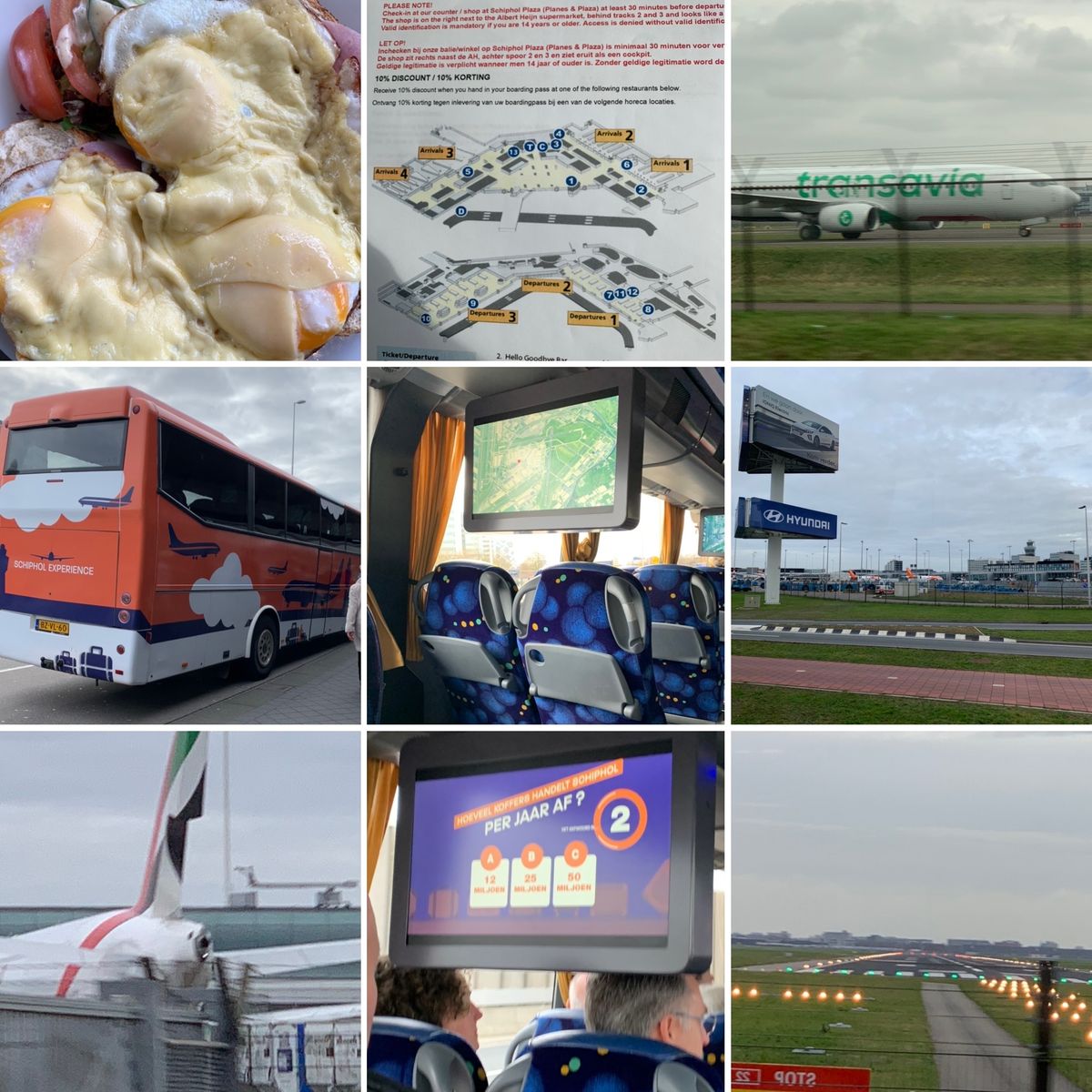 During the tour, the bus driver talked about what there is to see, but most of the information also came from the television screens that hung everywhere in the bus. You will learn more about what is happening at Schiphol, how it is all done and managed, and you learn alot. The films are made in such a way that the younger visitors also understand the information, although our youngest were a bit bored that they weren't allowed to go outside to go near a plane. All for the security. What is there to see? The Behind the Scenes Tour starts, as indicated earlier, at Schiphol Plaza. Where we had to be 30 minutes in advance. There are a set of airplane wheels where you could take pictures in, and a plane motor and a cockpit to go and take pictures aswell. We also had a drink an waited to go to the bus. From there, the bus runs along P3 (the long-term parking space) towards the police station, where you can see the police helicopters, among other things. The helicopters were great and they were tail rotered. Via other important buildings you then arrive at the site for the private aircrafts. Great to see the royal wing and the private planes. Both small and big ones were there. And the private lounge area with all the luxury you want to experience one in your life. Travelling is a hobby and the private part could be a hobby aswell. You will also see various buildings of airlines along the way, you will be told about the history of Schiphol and you will pass the aircraft maintenance buildings. The turbine tunnels with the 2 meter thick walls to test the motors. The driver explains extensively how aircraft maintenance works and how long it takes to completely check one engine. That takes about 65 days, and they check about 80 a year. Schiphol is as big as 150 football fields.
During the tour, the bus will of course pass various aircraft, telling about the different types and how certain types can be recognized. We saw an Airbus A380 up close, and all is also explained about the procedures for taking off and landing aircraft. Furthermore, the bus passes the detention building and a visit is made to the snowflake: the large machines that must ensure that the runways remain snow-free in the winter.
A video shows exactly how this works. Also a visit to the fire brigade is not lacking, there are 3 stations on the premises, nor is attention to the control towers at Schiphol. They even kept the old little control tower which was there in the past and now is a restaurant. That A380 airbus plane can house 550 people on two decks and weighs 550 tons. Its about 80 meters long and 70 meters long, really huge when you are next to it.
The landings strips are in areas with houses and in no-man's land here is a video of that :
Schiphol has 71 million travellers every year that go from or travel through our great airport. There are two spotting places and i am sure gonna visit one to test my camera stuff and lensball. We also learned about the special bird watch, they are bad for the air traffic so they are there to get the birds off the premises. They use a signal gun, sound or gas. At schiphol we have 1,5 miljoen take offs and landings. And we are number 3 in Europ behind Heathrow and Charles de Gaulle. Schiphol also cleaned their own aircrafts, trying to do it as green as possible. It takes 10 people to clean a plane. And about 600 clean planes leave Schiphol a day. There are 7000 secrurity employees to keep us safe these days, and i think thats a great reassurance. Even the luggage handling is a business on its own. We saw the road a suitcase carries to eventually come to the plane you are on aswell.
And that on its own was the most impressive thing i saw. And all the suitcases that are there for a stop over, well you have to see that online in a video to believe it. ( its in Dutch sorry )
We also learned about the SWIRL, thats the round curly thing one a motor to see that its really turning and working. Otherwise you cannot see it because its turns around so hard when they are in reparation with the mechanics. There also was a plane, a 737 that was in chains because of the owner had not paid the taxes and went bankrupt.. We drove along the 6 landingsstrips. And that way you see how huge the Schiphol complex is. The air traffic control is in control and oversees everything, and the people their work 2 hours and than have to take a break for the safety of the airspace, to scare of the 70 + bird species.
Very now is the large excistence of a detention centre and the refugee centre, https://youtu.be/WiwF7VMiF_M
And there is also a courtroom under ground. Cause of the safe environment at Schiphol the major crimes cases are judged there. Offcourse there is a morgue aswell, and needed, i didnt know but quit a few times a year someone dies of dead people are moved through Schiphol back to the land they were born. Its a city that never sleeps, and where a lot of people work, and get work from ar can work because through Schiphol a lot of cargo gets to our country to be sold or whatever. So indeed and industry on its own. As a world traveler or a aspiring traveler of the world in the future, do visit the travel world behind the scenes.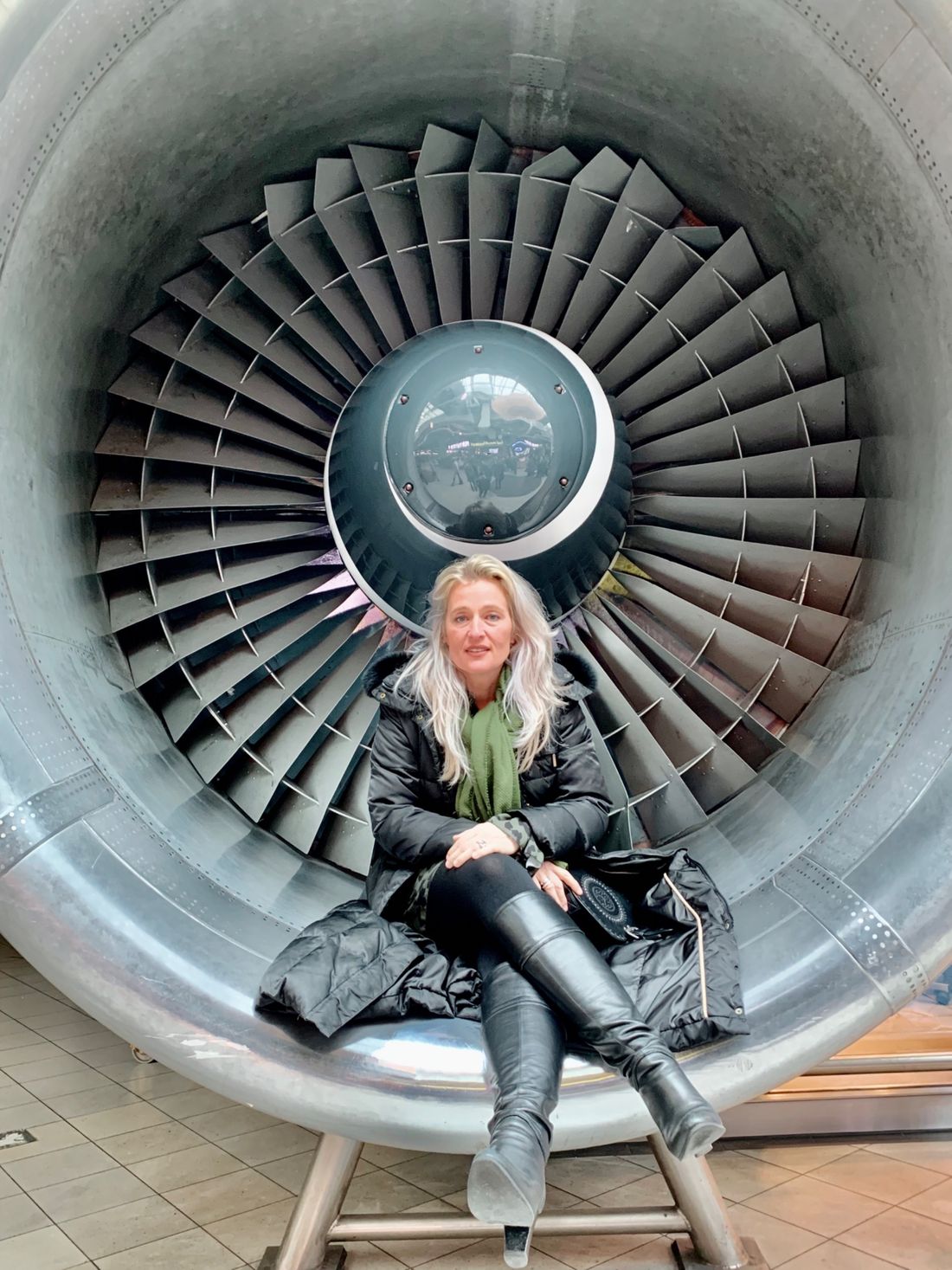 In every country and every major airport there is a possibilities to take a look behind the scenes. And it is fascinating, i promise. After the video about processing the luggage, the tour ends again at Schiphol Plaza, and we had so much fun. I tried to write some of the information we got down to make this blog. So if i made a mistake please let me know. I am a first time visitor and knowledge is not 100%.
I used Schiphol.tv as we also saw those videos while we were on the bus, so hopefully you get the best information about this travel that is also a part of travelling, and very interesting for travelfeed.io i think.
About 2 years ago I've written about the ['best' time to submit a blogpost](https://steemit.com/life/@brittandjosie/4-oclock-steem-time) so you'll receive worldwide exposure. I came up with the term *4 o'clocky* and I thought this might be a great idea to make a blogpost every day at 4 o'clock local time with this title. Every day I'll submit a blogpost about something that keeps me busy, a challange, a contest or something important enough to share so Lets blog on and See you every day here at 4 !
# Thank you for stopping by, its highly appreciated, and please let me know your vision on steemit life in general.
# Please remember, focus on being creative instead of being busy!
# - "Consistent Actions, Create Consistent Results"
# - "Not everyone is a blogger, but everyone has something great to offer"
https://cdn.steemitimages.com/DQmPNygrzsSBZo3TFKyB5W64q6JAQjCEJQWQohxdZKGBzUn/brittandjosiegold.gif
*Lover of Life and L❤️ve in General - @brittandjosie*
https://cdn.steemitimages.com/DQmf2SZp7qL73nKiPiy93ujVPTfd9mmVo4CabF6GaPiYuAp/@brittandjosie.gif

I fully support witness and developer group @blockbrothers for the Steem blockchain. If you want to support them, they would appreciate your vote [here](https://steemit.com/~witnesses).

They build Steemify, a notification app for your Steemit account for iOS.

Get it Here:
# Member off the :

### #heyhaveyamet #steemterminal #powerhousecreatives #needleworkmonday and #payitforward and on Discord @ brittandjosie3488

(c) All images and photographs are created and owned by me. @brittandjosie originals

Sources used : Pixabay and Pexels and with others its mentioned in my blog. I only use a canon camera and my iPhone.

Sources for the videos are from schiphol.com free available on YouTube.

# I would like to thank You for Reading my blog but Feel free to leave me any feedback.
If you want to learn more about either of these projects, please visit: @heyhaveyamet or @steemterminal #marlians, #neoxian, #creativecoin

#palnet #steemitmamas #powerhousecreatives #CC

#mediaofficials #steemterminal #heyhaveyamet #built-it

[//]:#sbi-skip